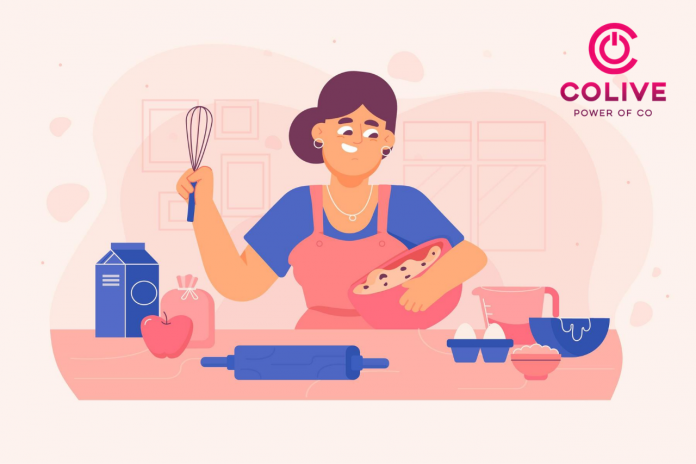 The coronavirus crisis has left the world in panic and utter chaos. Hundreds of positive cases of the virus are being detected in India every day, leaving numerous casualties behind. To keep ourselves safe, we have been advised to stay at home. How about utilizing this time by testing your cooking skills by trying out some amazing lockdown recipes you can prepare yourself at home?
There have been a total of around 1.2 million positive cases of the virus in the nation. To keep ourselves safe from the virus, we have been directed to stay at home and follow adequate safety measures like maintaining social distance and hygiene. Fooding becomes one of the biggest challenges then, to those who usually dine out. Moreover, while the pandemic continues your cooks or bais must be on leave. 
In the wake of the current scenario, most corporate offices have directed their employees to work from home. And being an employee, it is hard to find some spare time to cook for you. While the weekends were the best to enjoy with friends and family or to dine out in a popular restaurant for foodies around us, it no longer remains an option. So why not try some easy lockdown recipes?
Book Now – PG Accommodation in Sarjapur
As the pandemic continues, apart from staying at home to remain healthy, we must also eat healthily. Ordering food whenever do not want to spend our time in kitchens cooking food is an easy option made available to us in the modern era. So what other alternatives can we have if we want a homestyle, hygienic meal and do not want to take the risk of ordering food online? 
The only option to take into consideration would be to learn some interesting lockdown recipes which would be healthier for you. Confused about how and what lockdown recipes to prepare at home? Our list of 15 interesting lockdown recipes should help you out. 
Related: 20 Awesome Movies To Watch During The Lockdown
1. Ghar ka Poha
Poha is a favourite when it comes to Indian households. Ranging from Maharashtra to Bihar, our mothers fondly cook it for us either as an evening snack or as breakfast on Sundays. It is composed of Flaked Rice (Chiwda), Peanuts, some veggies, and mustard seeds. While Poha is popularly made from flaked rice, it is also cooked using vermicelli or sewai. 
Poha surely is one of the best lockdown recipes you must give a try. Here's the recipe to the good, old Ghar ka Poha:
2. Baingan ka Bharta
While all of us as kids have hated eating brinjal or baingan, yet when roasted on an open fire and cooked with onion, tomatoes, and garlic, it tastes like heaven. While the recipe of Baigan ka Bharta may differ state to state, yet the aroma of roasted brinjal smoked on fire brings-in the flavours of our hometowns and is palimpsest to your homemade food.
Baingan ka Bharta can be eaten with rice, chapatis or even with parathas, making it one of the easiest lockdown recipes to be prepared at home. Here's the recipe:
3. Fried Rice
Thank the Gods for being introduced the many Indo-Chinese dishes since your childhood days. Though we, the millennials have grown up and now are one of the responsibility bearers in our respective families, our heart melts every time we think of these Indo-Chinese dishes. Such is the case with fried rice too which has many flavours of veggies, soy sauce, garlic, chillies, and onions. 
Do you have some leftover rice in your refrigerator? Well, do not worry you can easily make some fried rice with it and enjoy one of the most awesome lockdown recipes at home. To enhance the flavour, you can even add eggs, chicken slices or paneer cubes to it. Here's the recipe:
4. French Toast
Are you prepared to taste some international flavours this lockdown? Well then, French Toast is the perfect thing for you to satiate your tastebuds in your breakfast. But as 'Rani' from the movie 'Queen' said that you would get this only in India, we Indians surely cook this in the most 'desi' way! 
It is one of the simple yet tasty lockdown recipes worth trying. Watch this video:
5. Besan Cheela
Though Besan (gram flour) is a popular ingredient in Punjabi, Gujarati, and Rajasthani cuisines, it can be used to prepare a variety of other dishes as well. Take for instance the famous Southern Bajjis and the Bihari version of them with the name of Bachkas and Phulauris. Yet, it can also be used to make the desi Cheelas (Pancakes).
Though pancakes are usually supposed to be sweet, Cheelas bring in the desi, mouthwatering northern flavours to your tongues. Here's how you can include these pancakes in the list of your lockdown recipes:
6. Jeera Rice
Though most of us are accustomed to eating the good, old esteemed rice, a little bit of tadka to it is the perfect way to spice things up. So, why not try making the all-new Jeera rice with a lit fun and excitement of flavours to your lockdown recipes?
Here's the how you can make Jeera Rice at home:
7. Dal Tadka
Talking about adding tadka? Even your old everyday boring Dal can become exciting when you add some spices to it like Ginger and Garlic, Tomatoes, Onion and Garam Masala. 
Less talking, start enjoying this exciting lockdown recipe of Dal Tadka or Fried Dal. And we bet you would also recommend your friends too.
Related: Say No To Ordering Food During This Lockdown Phase
8. Oats Khichdi
Oats truly are superfoods. They are high in fibre and are recommended to those seeking to lose weight. But you can even spice things up here by preparing the nutritious Oats Khichdi at home. It is one of the lockdown recipes which will help you in two ways —  one is enjoying healthy, delicious cuisine and the other is discovering the inner chef within you!
Here's the recipe:
9. Palak Paneer
Time to bring-in some flavours of Punjab to your taste buds. While Paneer can be cooked in different ways depending on your taste like Matar Paneer, Paneer Butter Masala, and many other ways, Palak Paneer is one the least time consuming and easiest lockdown recipes you can think of. 
Here's how to cook it at home:
10. Cheese Pakoda
Cheese and Pakoda —  these two terms seem miles apart when it comes to the place of origin of these food items. While we would have loved eating many besan rolled and fried dishes like pakodas and bajjis at home, these two do not seem to be connected at all. Well, there can be exceptions like Paneer Pakodas which are their distant relatives but Cheese pakodas can truly bring in the flavours of both Indian and Continental cuisines.
Already imagining the melting flavours of cheese in your mouth. Then, why not include Cheese pakodas to your list of lockdown recipes? 
11. Jhal Muri 
After taking the foodie within you to Punjab, it's time to give Bengal a try. Popular street food in Bengal, Jhal Muri is one of the lockdown recipes, we recommend you to try at home. Composed of nuts, roasted grams, mustard oil, spices, chillies and of course, the famous puffed rice, Jhal Muri can totally take you to the streets of Kolkata.
12. Egg Time for Eggetarians 
Any eggetarians out here? Well, eggs can be one of those things for them they simply can't resist eating —  whether it's in their breakfast or as Egg curry eaten with Chapatis. It surely is a versatile ingredient in all forms of cooking. 
Here are a few easy lockdown recipes with eggs you can try your hands on:
13. Biryani in a Pressure Cooker
While the long-standing debate of Veg Pulao vs Veg Biryani goes on, why not include Biryani to your lockdown recipes? Biryanis are simply irresistible and can be found in many varieties like the famous Hyderabadi Biryani here in the South, Lakhnawi Biryani from UP or the famous Murshidabadi Biryani from West Bengal. 
Here's an easy Briyani Recipe you can prepare in your pressure cooker:
14. Maggi with a Twist
While nothing comes between 'Me and Meri Maggi', it unarguably remains one of the most popular snacks in Indian households. A flavour introduced to us Indians, in the late 1970s remains reminiscent and a lifesaver when it comes to bachelors. The 2-minute-noodles are easy to cook and can be enjoyed at any time.
But we bet you wouldn't have given many twists to it. Include these in your lockdown recipes too:
15. Desert Time: Oreo Icecream
Everything ends well with some sweetness. So let's wrap up our list of lockdown recipes with an easy dessert you can prepare at home using vanilla ice cream and Oreo biscuits. Here's the recipe worth giving a try:
While cooking can be a major challenge while staying at home all the time and not being accustomed to it, our top 15 easy lockdown recipes will surely help you stay at home and cook easily. 
Related: 7 Quick And Healthy Recipes For PG Residents
New to the city and looking out for a rental home with awesome amenities at an affordable price? Why not make Colive your ideal partner in your home search. We at Colive, provide the best technologically enabled rental homes across Bangalore, Hyderabad, and Chennai with stylish rooms and top-notch safety features near top IT Parks and well-known Corporate Offices. 
Book Now – PG in HSR Layout
Even in the ongoing health crisis, we have continued providing our residents clean, well-maintained, and hygienic homes to reside in. We even serve delicious meals with amazing discounts across our properties to the Colivers, becoming a reason for them to place their trust in us, and letting them enjoy our delicious lockdown recipes and exciting menus. Visit our website to know more!