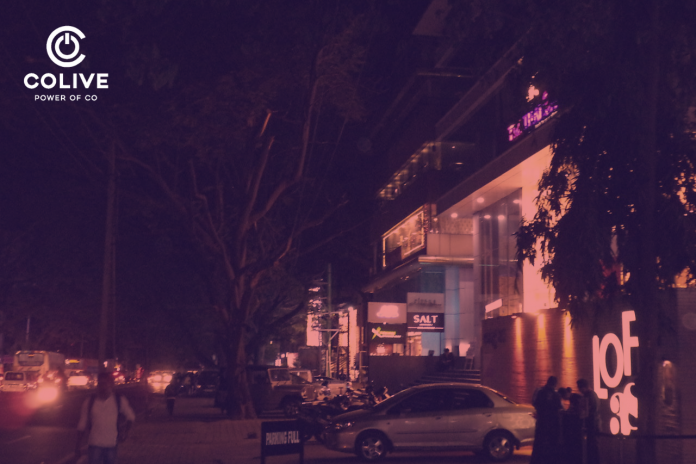 Indiranagar —  one of the most popular areas of the Bangalore to reside in is much adored by all millennials. With a number of places to shop, eat out with friends, gifts shops, brand stores, pubs, and much more, it fades all other residential areas of Bangalore. Well, talking about why millennials and youngsters love this locality so much? It is because of the many places they get to enjoy the nightlife in Indiranagar. 
We will surely talk about the nightlife in Indiranagar but let's first talk a little bit about the history of this amazing locality of Bangalore. It was formed as a BDA Layout around the 1970s, named after the former Prime Minister Indira Gandhi. Once a residence of defence personnel and public sector employees, lined with big bungalows and houses, Indiranagar today is one of the best places of Bangalore to reside in. 
With Bangalore being established as the major IT Hub of India during the 1990s, Indiranagar too transformed from a suburb of the 70s to a major residential commercial zone of Bangalore. Talking about the structure of this locality, it is well-placed between Domlur and Bayappanahalli respectively to the south and north of it. Likewise, it is also placed between Vimanapura and Ulsoor respectively towards the east and west. 
The construction of Namma Metro has facilitated the travel here and offers easy connectivity to other major areas of the city via the purple line metro like MG Road, Majestic Bus Terminal, and many others. Being divided into two stages, it is also surrounded by small BDA Layouts and villages like Kodihalli, Tippasandra, Binnamangala, Jeevan Bhima Nagar, Murugeshpalaya, HAL 2nd, and 3rd Stages. 
Indiranagar is also well surrounded by BDA Parks, Churches, and schools like National Public School, The Frank Anthony Public School and New Horizon Public School. Overall, seeing the amenities that this area provides, it can be said that you are lucky to be residing in Indiranagar.
Coming back to the main topic and talking like a millennial, let's discuss a few places in this locality to bring in the best and enjoy the nightlife in Indiranagar. 
Where to enjoy the nightlife in Indiranagar? 
1. Vapour
Vapour is a millennial-favourite pub cum brewery located near 100 Feet Road, Indiranagar. One of the best pubs in the area, it is adored by Manchester United, Chelsea and Tottenham Hotspur fans, who love to spend their weekends with friends here to cheer for their favourite teams. We should rather call it a 'Sports Bar' rather than a normal bar or pub. 
This is a perfect spot to enjoy the nightlife in Indiranagar. This sports bar is famous for its selection of craft beers and even foodies like to munch on the famous Vapour Fries and Nuts Masala.  
Burma-Burma
Burma-Burma is yet another famous place to enjoy the nightlife in Indiranagar. Bored with the usual dal, curry, and rice? Then, Burma-Burma is the perfect place for you to enjoy some Burmese cuisines on a weekend near 80 Feet Road, Indiranagar. 
The place is well known for its variety of Burmese tea and many other Burmese dishes like the Samosa Soup and the Khao Suey, which are served alongside numerous spices and sauces. It is truly a perfect place to enjoy with family and kids as well and is purely vegetarian. 
3. Chinita Restaurant to taste some Mexican food
One of the best places to enjoy the nightlife is Chinita —  a Mexican restaurant that serves a variety of mouthwatering Mexican cuisines including Tacos, Quesadillas, Churros, and much more alongside a number of mocktails and drinks. 
Since the weekend nights in this small but awesome restaurant can be a bit crowdy, make sure that you are an early bird before deciding to dine in here with your friends and family.
4. Bob's Bar for some cheap liquor tasting
Looking out for a cheap place to drink and enjoy can be hard in a city like Bangalore but thanks to Bob's Bar, the experience becomes the best alongside cheap booze. Sometimes people are even bored with the usual chana masala and continental dishes served along with the drinks but Bob's Bar has got you covered with spicy and authentic South Indian dishes along with the drinks served here. 
Being one of the cheapest places to booze with your friends, Bob's Bar becomes one of the best places to enjoy the nightlife in Indiranagar. 
5. Daddys Indiranagar
With funky interiors, Daddys Bar in Indiranagar is spread across 1800 sqft and divided into two levels. It is much adored by all the millennials across the city of Bangalore within its ambience and has one of the best services in the entire city. Being spacious, the place can support numerous people at once and is the best for large gatherings. 
Various cuisines served here range from Vietnamese Fruit salad, Orange Asparagus, Garlic Prawns, and Chicken Salad. 
6. NH8 Restaurant to bring-in flavours of the North
Feeling homesick and wondering about the good old homestyle, North Indian food? Then, NH8 Restaurant near 100 Feet Road in Indiranagar is the perfect place for you to dine in and enjoy with your friends and family. 
Though the restaurant also serves Punjabi dishes like Paneer Tikka, NH8 is best known for its Northern flavours and traditional vegetarian Rajasthani cuisines like Dal Bati Churma, Jodhpuri Gatta, Rajasthani Bati, Rajwadi Kadhi, and Gunjiya. Overall it is one of the best places to enjoy the nightlife in Indiranagar if you are a family man! 
7. Tipsy Bull, a rooftop restaurant and bar
Coming back from restaurants to bars, Tipsy Bull is another famous bar cum restaurant to enjoy the nightlife in Indiranagar. Built on two levels, the place is mostly adored for the rooftop restaurant cum bar youngsters and millennials love to enjoy their weekend in. 
The bar serves a number of alcoholic as well as non-alcoholic drinks which you can order on their app in the bar. Apart from the beverages, Tipsy Bull also has a line of cuisines ranging from Nachos to Pizza to Chips and dip and much more. Moreover, the place also has an open space where you can stand and talk with your friends. 
Lazer Castle, Indiranagar
Evading the arena of bars and restaurants, let's talk about the famous Lazer Castle situated near 80 Feet Road in Indiranagar. What is it famous for? Well, you can guess it from the name that it is famous for being one of the best laser game arenas in the city. 
So if you are planning to enjoy the nightlife in Indiranagar and have some fun with your friends during the weekend, head out to Lazer Park in Indiranagar. Apart from laser warfare gaming, there are other games here too like the Foosball which can give you the feel of the TV series F.R.I.E.N.D.S.
Blistering Barnacles
Blistering Barnacles is a themed pub and one of the best places to chill and enjoy the nightlife in Indiranagar with your pals. Enjoy the rooftop ambience of this amazing Tintin/Captain themed pub where you can enjoy many alcoholic and non-alcoholic drinks alongside a line of many non-vegetarian cuisines as well like Chilly roasted pork, chicken salad, and much more. 
Overall, because of its ambience and affordability, it is one of the best places to enjoy the nightlife in Indiranagar.
Glens Bakehouse
Not only in Indiranagar, but Glen's Bakehouse is one of the best cafes in the entire city of Bangalore. This place is a heaven for people with a sweet tooth as it offers numerous sweet cuisines like cakes, pies, smoothies, and brownies. 
Do not miss out on the famous mini red velvet cupcakes and the caramel tarts. Not only the desserts but you can even satiate your tastebuds here with a variety of pasta and wood-baked pizzas.  
Indiranagar can surely be one of the best places to live in Bangalore currently. Providing many amenities like bars, restaurants, pubs, hospitals, churches, and even the Indiranagar metro for easy connectivity to other areas of the city, this locality is overall the best locations to reside in the city. Moreover, what better reason to enjoy the millennial life here than the above places to enjoy the nightlife in Indiranagar. 
Moving to Bangalore and looking out for a suitable home in Indiranagar? Why not make Colive your ideal partner in your home search?  Enjoy a comfortable stay at Colive which has taken a number of steps to keep its residents safe in the ongoing health crisis, without compromising the services offered at its facilities located near prime tech and business parks around Bengaluru, Hyderabad, and Chennai. At Colive, we always care about the security and safety of our residents. 
Find affordable rooms for rent in Indiranagar by clicking here!