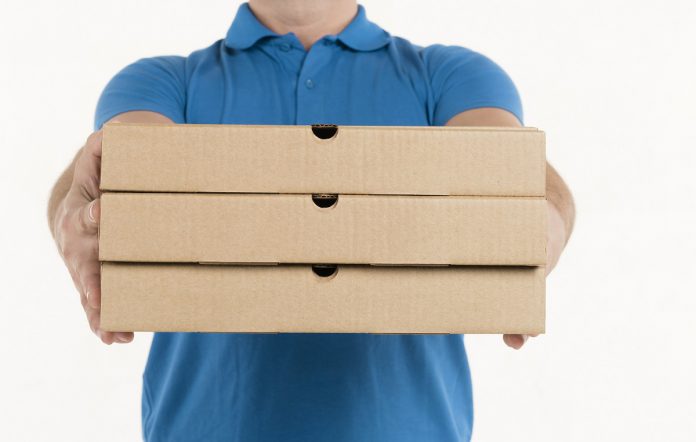 Ordering food isn't a new thing for millennials living across metropolitan cities like Bengaluru, Chennai, and Hyderabad. Most of them living away from their home crave for homestyle food. Then they either have to subscribe to a tiffin service or opt-in for ordering food online via the website or the many apps available on mobile phones. But in the wake of the current health crisis, is ordering food still safe for you?
Most of the people staying outside their homes especially the ones living too far, suffer the issue with food. Though sometimes it doesn't feel like the priority, eating healthy and fresh is an important thing when you're living in an unfamiliar place. Your health depends upon your hygienic habits and especially on what you eat. This is the reason why our elders and parents seem to have the biggest worries in the world about what their children, staying outside their homes are eating. What are you eating? Did you have your lunch? —  are the many relatable questions that most of us are asked when we live outside our hometowns. It may seem funny enough to you, but in order to stay healthy, you must eat healthy too! But should you opt for ordering food?
Talking about the current health crisis, the Coronavirus has taken the world by storm and has been declared a health emergency by the World Health Organization (WHO). Originating in China's Wuhan back in December 2019, the entire world has been bogged under the COVID-19 crisis and the chaos it has invoked globally. A total of 2.4 Million positive cases of the deadly disease have been detected so far, leaving behind casualties which go as far as more than 160,000. Our Nation has suffered too —  both in terms of the number of positive cases which have gone above the 17,000 mark and the economic crisis resulting from the same. When compared to countries like the USA and Italy, India seems to have the situation under control all thanks to our Prime Minister Mr Narendra Modi who declared a 21-day-long lockdown in the nation on March 23rd, 2020. As the number of positive cases of the virus still continues to grow rapidly the lockdown phase has been extended till May 3rd 2020. 
This seems to be a positive step but it has changed our lifestyle manifolds. It has changed the way we used to live —  our eating habits, our hygienic habits and even the way we interact with the people around us. We have been advised to stay at home all the time unless we do not want to end up being one of the victims of the COVID-19. We have been asked to maintain hygiene and take into consideration other best practices in the wake of the disease like maintaining social distance, covering your face with a mask and washing your hands with soap and water. Are you maintaining hygiene with your eating habits? Are you ordering food online? 
Except for the emergency service sectors like Hospitals and grocery stores, all shopping malls, multiplexes and corporate offices have been shut down in the phase of lockdown too. The corporate sector too has directed its employees to work from home as a precautionary measure in the wake of the widespread coronavirus. Many of us have to work for long hours even though it is done within the comforts of home. But apart from staying at home to remain healthy, we must also eat healthily. Ordering food whenever do not want to spend our time in kitchens cooking food is an easy option made available to us in the modern era. Some of us keep domestic helpers and cooks at home who can cook us homestyle food with our choice of food and ingredients. Yet, given the ongoing health crisis and the period of lockdown since the last four weeks, we can't hope for this option. So what other alternatives can we have if we want a homestyle, hygienic meal and do not want to take the risk of ordering food online? Explore the alternatives with us. 
Also Read: Preventing Coronavirus: 7 Nutritious Shots To Boost Your Immunity
1. Buy ready to cook meals
During the lockdown period, it is important to get ready all the essentials including food items within as you can barely step outside your home. There is also the uncertainty that these items might not be available and might go out of stock soon. For this reason, you need to stock them in quantity before moving into quarantine. 
While listing out the necessary food items to buy, you should put ready to cook items on the top as they take less time and are easy to cook. These include noodles, soups, etc. and you can easily prepare them by following the instructions provided with them and get rid of the need for ordering food. 
2. Look for easy, healthy recipes
A situation like a lockdown means staying at home all the time but it also means that since you are at home, you will find enough time to develop a new hobby. Want to discover a chef residing within you? Look for easy, quick and healthy recipes online —  there are a lot of them on YouTube and even on social media websites. Take some time to learn these new and exciting recipes. Believe me, you will find a new satisfaction when you will know that you've cooked your meals yourself. And when in time, you would have successfully learnt these recipes, you will surely love to share them with your friends and family. 
3. Opt for salads and fresh fruits
Want to try something healthy this phase of lockdown? Then you should definitely opt for a lot of green vegetables and fresh fruits during your stay at home. You should add-in lots of them in your diet to stay fit and healthy during the lockdown phase. You should eat nutritious green vegetables and fresh fruits as you need to increase your immunity to fight the pandemic of coronavirus.
Start by buying a lot of them from the grocery store near you and store them so that you don't have to venture out time and again. Get a lot of fruits and vegetables like apples, peaches, bananas, grapes, pomegranates, carrots, green salad leaves, lettuces, etc.
You can even buy some nutritious superfoods like garlic, lemon, tulsi, and turmeric. And, if you want to show some creativity, blend them into nutritious shots which can be used to boost your immunity.
4. When you are working from home…
During the lockdown phase, most of us are working from home and the biggest challenge people face while working from home is finding time to cook meals. You can't work effectively in an empty stomach and need to keep your body energized and hydrated all the time. For this, you need to take out spare time to cook your meals.
Since we are talking about finding alternatives to ordering food, you would need to find time to cook your meals even when you are working from home. The best option is to prepare your meals before beginning to work from home. You can do the preparation the previous night like cutting the vegetables and storing in the fridge and prepare it right before your work. This way all you need to do would be heating it up over the stove or in the oven, before taking your meals during the lunch break.
5. Choose a hygienic food service when ordering food
Again, if none of the options above work fine for you like cooking your meals, buying ready to cook meals, etc. the only option you will have is ordering food online. But you need to understand that coronavirus is a pandemic which spreads through the air and it is spreading rapidly in the nation. You need to be cautious while ordering food and find a hygienic food service that maintains all precautionary measures while delivering food to its customers. Moreover, you need to take care of a few things while choosing your food service provider like cleanliness, contact-less delivery, delivery executives using a mask and gloves, etc. if you want to take care of your safety and order food simultaneously. 
The COVID-19 pandemic is real —  nobody can deny that with the number of cases rising rapidly every day. And staying at home completely during the phase of lockdown can be hard for all especially the foodies. You can't dine out, can't visit the famous food street around you and are restricted within your home with no alternative rather than cooking yourself or ordering food online. But in the wake of the ongoing crisis, you need to make sure of your safety while opting to order food. As stated above, you can always choose to say no to ordering food and choose one of these alternatives to keep yourself safe. 
In the ongoing crisis, Colive continues to care for the safety and security of its residents. While many worry about a safer stay, we continue to provide residents with a premium stay at an affordable price with top-notch safety near IT parks and top corporate offices. We not only provide our residents with a hassle-free stay but even in the lack of availability of raw materials, continue to provide them healthy, homestyle meals through our in-house food service 'Foodgasm' with hygiene at their doorsteps. Visit the website of Colive to know more!