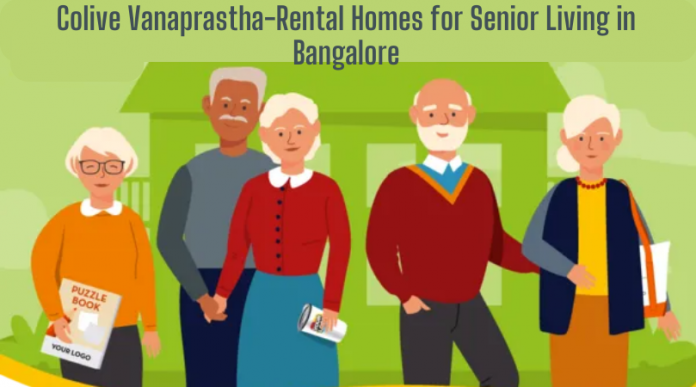 Colive Vanaprastha – Rental homes for Senior Living in Bangalore
Bangalore is the undisputed city of choice for retired couples owing to the favourable living conditions that the city offers. Good climate, greenery all around, world-class healthcare, good infrastructure and quality of life are some of the features that define Bangalore as one of the best cities to settle post retirement. And the best part is that homes for senior living in Bangalore are not restricted to merely buy-only option rather one can simply go for rental option to ensure more flexibility and less expenditure.
Colive 'Vanaprastha' is a special initiative by Colive to provide a safe haven for couples in their twilight years. And don't mistake this initiative as just another elderly home in Bangalore as the idea of Colive Vanaprastha has been curated based upon the needs and requirements of elderly population.  The features provided here include fully furnished rooms, high speed wi-fi, professional housekeeping facility, dedicated community spaces for health and fitness, cafeteria, recreational centre, on-demand chefs, chauffeur-driven cars and much more.
When talking about senior living in Bangalore, one can definitely not skip the most important aspect i.e., medical security. Colive has given due importance to this aspect and thus partnered with Portea Medical for successful accomplishment of Colive Vanaprastha. Medical security of the elderly people is taken care of by ensuring presence of onsite healthcare support like doctors, nurses, physiotherapists and an ambulance. The Portea powered medical team will ensure that Colive Vanaprastha residents always have the necessary first aid and primary care available 24*7.
After the Colive's concept of Co-living spaces for youth; this fresh concept of rental homes for the elderly has also been welcomed with open arms. The focus of Colive Vanaprastha is not only to provide all the desired amenities to the residents but to build hyper local cultural communities to make it easy for seniors to blend in and feel comfortable. To help the community get along well, we have ensured presence of community delights like library, jogging tracks, a rec-centre and other prime hallmarks, developed by the BCD Group.
This medically secure retirement community is definitely the future of happy retirement living. And we look forward to keep evolving this community for safe and happy senior living in Bangalore. Happy Coliving!!
If you're in search of the best senior citizen homes, look no further than Colive Nirvana. We are here to assist you in finding the perfect retirement home for senior citizens in Bangalore. Our medically secure retirement community is designed to provide a future of happy retirement living.