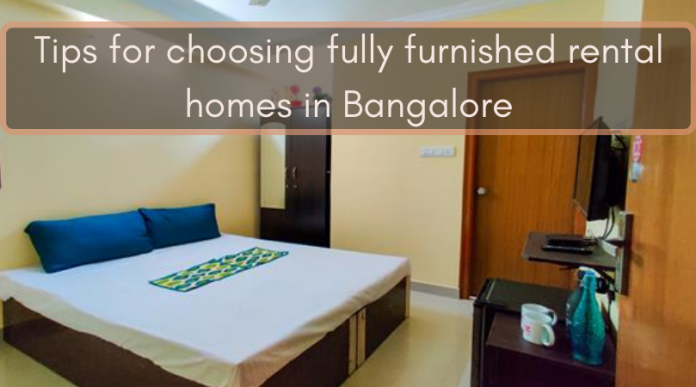 Tips for choosing fully furnished rental homes in Bangalore
Renting a fully furnished apartment in Bangalore is not a big deal as you have ample options available to choose from. But there's a catch! Not all fully furnished rental homes are the same when it comes to fulfilling your desired criteria. More so if you're a first-time renter. So rather than falling for the wrong options and getting your hard earned money stuck, go through the following tips.
When you start hunting for a fully furnished rental home in Bangalore, don't forget to make a checklist of the below mentioned tips and believe us the one that ticks all the checklist points will be the right choice for you.
4 Tips for choosing fully furnished rental homes in Bangalore:
1. Consider the Area-wise Average Monthly Rents
In a new city, you are clueless about the basic rental amount for a fully furnished home as the prices vary for different locations. So, it's best to visit some property listing website and search for the average rents in each of your shortlisted localities. This way you can easily narrow down your search and also confidently bargain wherever required.
2. Furnished or not-Check yourself
Rather than believing about the features listed online about the fully furnished rental homes; check everything personally to save yourself from disappointment later. Many times, the apartments listed as 'fully furnished rental homes in Bangalore' are actually nowhere close to furnished either. So don't just fall for the photos posted in an online listing, check the property personally and finalise only if it ticks all your criteria for a fully furnished rental home.
3. Furniture quality
Looking for a fully furnished rental home does not mean that any sort of furniture placed in a room would solve the purpose. Right? So, when you make a property visit; do check the number of furniture pieces placed in the room as well as closely inspect their condition. Then analyse if the furniture look and condition justifies the monthly rent. If the furniture seems a bit old and creaky then bingo! You got your point to bargain on the rent.
4. Rental terms and conditions
If the locality, furniture and rental amount; all seems perfect then you can take the discussion forward to finalise the deal. Negotiate to push the deal in your favour and get clarity related to all the rules of staying there. Make sure to read the rental agreement carefully and get the required amendments done wherever necessary. And you are good to go ahead with signing the agreement once all seems perfect and favourable.
We really hope that the above mentioned tips would prove helpful in choosing the best fully furnished rental home in Bangalore for you. Happy Coliving!!