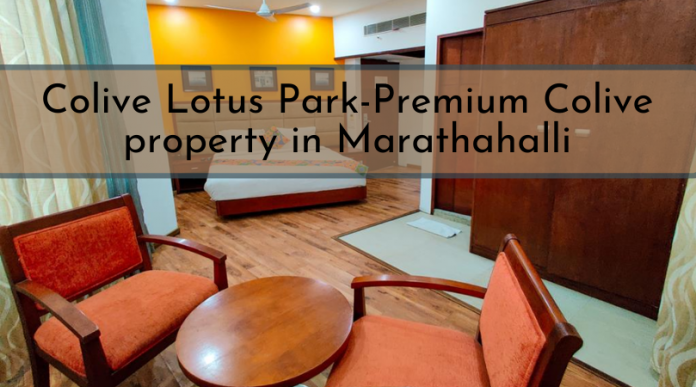 Colive Lotus Park – Premium Colive property in Marathahalli
While scrolling through online PG listings, you must have come across properties being mentioned as top class or premium but have you ever wondered what special features make a particular property fall under these exclusive categories. Well, if you have not given enough thought to it then we are here to give you a brief insight into the features that differentiate a basic PG from a premium PG. To get the point across clearly, we will take the example of Colive Lotus Park which is one of the premium Colive properties in Marathahalli.
Before we move ahead with the Colive Lotus Park details, you must know that Colive has enormous range of PG and Coliving accommodation options to suit the varying requirements of people. While some might look for a basic budget friendly PG, others may be interested in Luxury PG. Hence, we cater to each and every one of you with ample PG options at all the important locations of Bangalore.
Colive Lotus Park is premium firstly because of its location i.e., Marathahalli which is close to many IT hubs; making it a preferred accommodation option for working professionals in close vicinity.
Second important factor contributing to the premium nature of Colive Lotus Park is the rooms which are not basic like any other PG. In fact, the rooms are well sanitized, chic-designed, fully-furnished, tech-enabled, &equipped with modern amenities and lively community spaces. Apart from premium bedding and cupboard, the rooms are equipped with AC, bedside table, shoe rack, TV and ledge with chair.
Third come the amenities that make your stay in the property comfortable. Hence, Colive Lotus Park provides you bi-weekly housekeeping, hot water, electricity, geyser, power backup, lift, repairs as well as breakfast and dinner.
Fourth but most important defining factor of this premium property is the advanced features i.e., lounge, community kitchen, terrace lounge, reception with waiting lounge and dining hall.
The monthly rent of this 4.2 rating property can range from 13K to 27K based upon your room preference. This simply means that premium living is very much affordable at Colive.
Community, Connection, and Togetherness
Colive Lotus Park isn't just about a physical space; it's about building connections. With a diverse community of individuals from various walks of life, the environment encourages social interaction and shared experiences. Whether it's participating in community events, collaborating on projects, or simply sharing a meal, the sense of togetherness here is unparalleled.
After reading this blog post, you must be super excited for premium Coliving experience at Colive Lotus Park. So, schedule a tour and book your PG accommodation with us for best coliving experience. Happy Coliving!!