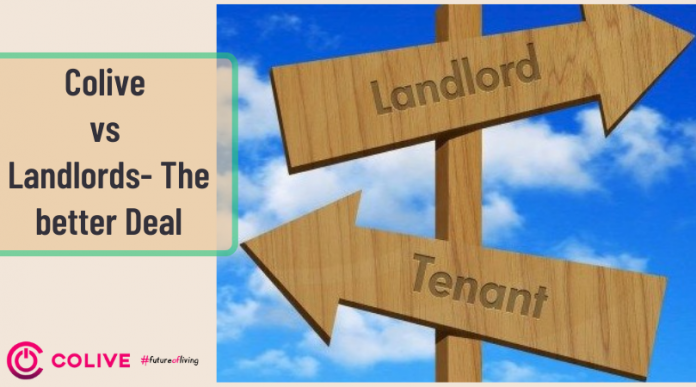 Colive versus Landlords – The better deal
Planning to relocate to a new city? If yes then you have two accommodation options to choose from i.e., Coliving or renting a flat. Renting a flat simply means going for a landlord powered accommodation option whereas Coliving means opting for tech enabled modern living spaces. If you are confused regarding which one to go for then worry not as team Colive is here to guide you. But before moving ahead, lets acquaint you with the fact that when it comes to best Coliving experience; Colive is the best in the industry. So this blog post is Colive versus landlords. Let's get started!
Colive offers you community living wherein you get to stay in a property with group of individuals sharing the common spaces and living in their own private rooms. Living amongst the community members can increase the networking opportunities and make your stay comfortable. On the other hand, renting involves living in a room, house or apartment owned by the landlord which means that there is lack of social connect.
Colive offers more features at lesser cost unlike renting a flat. This is because coliving eases the rental burden as the amount is split among the roommates whereas renting can anytime cost more especially if you have to pay additional security deposits as well.
Colive offers flexibility and convenience in terms of lease terms and hence you don't necessarily have to commit for longer lease tenures unlike renting a flat where the landlords force their lease terms on the tenants.
Colive offers you more freedom whether it's related to having your friends over or even your timing of returning back to the accommodation. Landlords are generally strict and impose more rules than you can handle.
Colive gives you access to shared resources like kitchen facilities and appliances as well as washing machine. This makes the regular tasks easy. But while renting a flat, the availability of resources and their accessibility will definitely vary according to different landlords.
In Colive versus landlord scenario; Colive is the undisputed winner in terms of better facilities and lesser cost. Choose your desired PG option and initiate the journey in a new city with best wishes from our side.