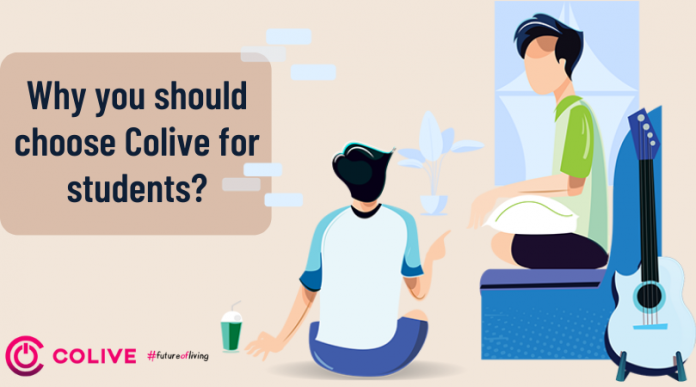 Why you should choose Colive for students?
Gone are the days when neither students were advanced enough to move to a new city for higher education nor parents were courageous enough to leave their child alone in a new city. Today, increased number of students is opting for pursuing their higher education in the college of their choice irrespective of it being in a different city from their hometown. The preferred city being Bangalore as once you complete your higher education in the city; many top ranking firms are available there for prompt hiring.
The reason for this shift is not just the changing times but also the advancement in technology. While finding a college in Bangalore, getting admission and doing other formalities required a lot of additional effort before the advent and access of technology became so easy. Today everything is just a click away; right from searching the best college to filling the form and even giving the entrance exam. And once you get admission in your desired College/University, finding a PG accommodation in Bangalore is also as easy due to presence of Colive in Bangalore. Now if you are thinking why choose Colive for students then we have enough reasons to prove it. Let's get started:
Top 3 reasons to prefer Colive for students in Bangalore:
Safety features
The first priority of parents while choosing a PG for their child in a new city is the safety features. But if you choose Colive for students then you can be assured of tech enabled safety features at all Colive properties. Ranging from security staff to CCTV and emergency response team; all security features are in place to ensure safety of tenants and their belongings.
Comfort
Students are already burdened with a whole lot of pressure of tests, exams, practicals and assignments. So, expecting them to do any other task apart from study is so not cool. Hence, we provide you with bi-weekly housekeeping, timely meals, laundry services and fitness rooms. High-speed Wi-Fi connection is also available as we understand that no assignment is complete without browsing through infinite webpages online. Right?
Entertainment
Who says that students just have to study and study? Well, we at Colive at least don't support this for the fact that recreation is also very important to freshen up your mind. So, we party on weekend! Team Colive organises weekly parties to bring the community members closer and spend some good time together. And since the party is within the Club Colive property premises, you parents too won't restrict you from it.
So, opt Colive for students without any second thought. Happy Coliving!!
Are you searching for PG accommodations in Bangalore? Look no further – discover more below!