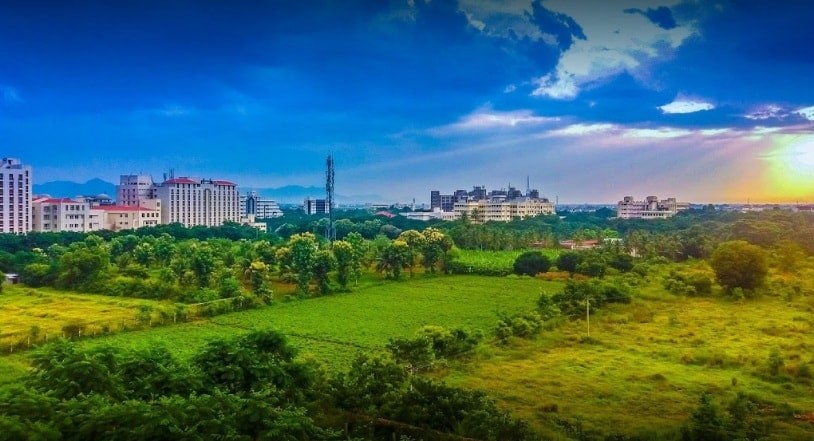 Vellore is one of the most scenic cities in South India, it is located in the state of Tamil Nadu, more precisely on the banks of the river Palar. This region has an interesting and rich historical past, as the city has been ruled by different leaders at different times, the Pallavas, Vijaynagar Empire, Medieval Cholas, Later Cholas, the Rashtrakutas, the Carnatic Kingdom, and then even the British.
Located only around 135 kilometers from Chennai, the state capital metropolitan is one of the most happening cities on the Bengaluru-Chennai Highway. Vellore is also very close to Bangalore, at only 210 kilometers, and can be reached within 5 hours by road. Hundreds of students from all parts of the country are seen migrating to this beautiful city, mainly for the VIT University, or CMC (Christian Medical College) Vellore.
This blog aims to discuss how it is to live in this Smart City, basically, it's a guide for the newbies living in Vellore.
Living in Vellore
College life in Vellore, especially the VIT life, is reported to be one of the most memorable and learning experiences for the students. The region has an agreeable climate and makes for serene surroundings, nestled amidst vast swathes of greenery.
If you are considering applying for VIT University, or the CMC Vellore, then these are the 6 main things you will need to know about college life in this quaint South Indian city:
1. Climate
The region around Vellore is at around 220 meters above MSL (Mean Sea Level), in the Palar River basin, which gives it a generally semi-arid climate. The temperatures are mostly in the mid-range mild but it only gets hot between the months of April to June.
2. Public Transport
The municipality of the city maintains around 105 kilometers of roads, with over 50 km of concrete roads within its jurisdiction. There are 3 national highways which connect the city to numerous other large cities, including Chennai, Bangalore, Coimbatore, Tirupathi, Salem, Hyderabad, Mangalore, etc. The rail connectivity is also excellent from here as it has 3 main railway stations – Vellore Town, Vellore Cantonment and Katpadi Junction. Apart from road and railways, the city is also having a small airport with chartered flights being operated by Air India Airlines between Vellore and Chennai.
3. Eating & Shopping
When it comes to shopping, any college life does not allow you to splurge. Well, shopping options are quite limited and for those who love malls, the Annapoorna Complex and the AGS Mall are few budget shopping destinations for students.
Coming to eating in Vellore, well sadly there aren't a lot of options. There are very limited number of "Good" food joints in the city. While the number of food joints is limited, the food here is very cheap here irrespective of the cuisine (south Indian, north Indian or Chinese). Well, shopping malls do offer some decent food, but again don't expect too much. The advice is to learn a bit of basic cooking before you move in here.
4. Total Cost Of Living
When you are a student, your basic habits and necessities, such as meals at cheap restaurants, along with a bottle of water, would cost around INR 110 – INR 120. For those living independently, the daily cost-of-living in Vellore would come to around INR 150 (includes milk, bread, and sundry grocery), apart from a monthly expense of around INR 6,000 – INR 8,000 (includes rent, entertainment, and transport).
5. Places to See
Some of the most visited sites in the region include Sripuram Golden Temple, Vellore Fort, Jalakandeshwar Temple, Vallimalai Subramanyar Temple, Delhi Gate, Vainu Bappu Observatory, Yelagiri, and the ASI (Archeological Survey of India) Museum.
6. Best Places To Stay
If you are looking for student accommodations near the VIT University or CMC Vellore, then your best options to live in, with respect to convenience and affordability, are Senur, Sevur, Modur or Perumugai.
CoLive offers student accommodation at affordable rates across all the prime locations in Vellore. We are a technology-powered network of Branded Serviced Homes which are conveniently located near all educational institutions & workplaces in Vellore.
Final Thoughts
Now that you have good knowledge about living in Vellore, you can easily decide how it is going to be to stay in this beautiful and scenic city. Well, on the whole, living in Vellore will not be that bad if you ignore few things, like food and shopping. Yet again, from the education perspective, this is surely one of the most perfect choices you can make.