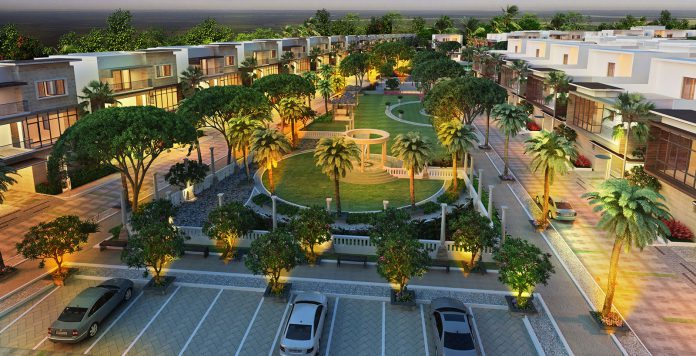 With a rich history filled with people and buzzing with commerce, the city of pearls is one of India's most ancient quarters. From its chai shops and monuments to mosques and spice merchants, you'll encounter a masala of color and commerce. In Hyderabad are some of Islamic India's most impressive architecture and evidence of our affluent Mughal history.
But the other side of Hyderabad is completely different. It is far younger, quick and effective in its growth. It's HiTech City or Cyberabad and other localities like Banjara Hills are filled with glittery malls, theaters, cafes, pubs, and snazzy restaurants.
Also Read: 20 Best Areas To Stay In Bangalore – From The Most Expensive To The Cheapest Ones
Here are the Top 8 Gated Communities in Hyderabad
1. Rainbow Vistas- HiTech City
This is one of the largest gated communities of Hyderabad. With two lakes in close proximity, Rainbow Vistas is spread over 22 acres and has over 2000 apartments.
This luxurious community is almost like a town by itself with its top-notch amenities, modern security features and vast breathing space.
It is known for its eco-friendly design and is a perfect abode for residents to come back and relax after a long day at work. The prices start at 73 lakhs.
More Info
Area   1250 sq ft to 3000 sq ft
Variations 2 BHK, 3 BHK and 4 BHK
The last tower of the project, Sapphire block was launched in July 2019. It is 24 floors high and consists of premium 3 & 4 BHK apartments from 2000 to 3000 Sq ft.
2. Divine Allura- Chandanagar
Divine Allura is a community that is loaded with ultra-modern amenities such as clubhouse, gym, multipurpose hall, swimming pool, creche and a kid's play area. With an affluent parking facility and top-of-the-line 24×7 security features.
Divine Allura is one of the most trendy and modern community space you could invest on. The price range of the properties here starts from 45 lakhs and go up to 80 lakhs.
More Info
Area  1074 sq ft to  1,722 sq ft
Variations 2 BHK and 3 BHK
No. of Towers 8 Towers
No. of Floors 5 Floors
Distance from Different Places
0.6 km from Bombay National Highway,
2 km from Lingampally Railway Station,
8 km from Hitech City,
12 km from Financial District and
30 km from KMRGI Airport.
3. Floatilla- Manikonda
Located in one of the prime areas of the city, Floatilla is a luxurious enclave of spectacular apartments with amenities like swimming pool, gymnasium, clubhouse, kids play area and more in-campus. All apartments are spacious and Vaastu compliant.
Amenities are regularly maintained by professionals and the community is also secured with top-notch safety and security features. The price of properties at Floatilla starts at about 40 lakhs.
More Info
Area  1300 sq ft to  3240 sq ft
Variations 2 BHK and 3 BHK
No. of Towers 6 Towers
No. of Floors 5 Floors
4. Aparna Cyberzone- Nallagandla
With over 1500 apartments and a spread of over 21 acres. The lush greenery with open spaces provides clear view and peaceful and pleasant environment.
Aparna Cyberzone is loaded with top-notch amenities and comforting ventilation. It is a self-sufficient community with facilities like parks and supermarkets located within the gates.
One of the main attractions of the community is its clubhouse that never fails to mesmerize residents and their visitors with its high-end amenities and breathtaking design. The price range is in Aparna Cyberzone is between 56 lakhs to 90 lakhs for 2 and 3 BHK apartments.
More Info
Area  1245 sq ft to  1855 sq ft
Variations 2 BHK and 3 BHK
No. of Towers 21 Towers
No. of Floors 10 Floors
5. My Home Navadweep- HiTech City
My Home Navadweep is a plethora of breathing space amongst the bustle of HiTech City. It is spread over 9 acres and has around 55 flats. Known as one of the best-gated communities of Hyderabad, My Home Navadweep is loaded with all top-class amenities that are required for modern living.
Some of them are- Tennis courts, gymnasium, kid's parks and a jogging track. All of these amenities are regularly maintained by professionals. The prices of apartments in this luxurious abode start from 68 lakhs which isn't much for the dream lifestyle.
More Info
Area  1200 sq ft to  2100 sq ft
Variations 2 BHK and 3 BHK
No. of Towers 4 Towers
No. of Floors 10 Floors
6. Malaysian Township- Kukatpally
One of the most popular and best communities of Hyderabad, the Malaysian Township is located in the Kukatpally locality of the city.
The community offers 1, 2, 3 and 4 BHK luxury apartments, has all the amenities of a full-fledged elite community and provides a comfortable hassle-free lifestyle to its residents.
More Info
Area  550 sq ft to  2475 sq ft
Variations 1 BHK, 2 BHK, 3 BHK and 4 BHK
No. of Floors 16 Floors
7. Hill Ridge Springs- Gachibowli
Gachibowli with its booming IT space is one of the most prime locations of Hyderabad.
Hill Ridge Springs in Gachibowli is a luxury community that offers 2,3 and 4BHK apartments and a breathtaking landscape with premium amenities like swimming pool, clubhouse, gymnasium and many more.
If you would like an apartment at Hill Ridge Springs, the investment ranges from 60 lakhs to 2 crores depending on your choice between renovated, redesigned or a fully-furnished property.
More Info
Area  1100 sq ft to  3700 sq ft
Variations 2 BHK, 3 BHK and 4 BHK
No. of Towers 16 Towers
No. of Floors 11 Floors
8. My Home Jewel- Miyapur
My home Jewel really is a jewel. With meticulously designed apartments and amenities like a food court, clubhouse, jogging track, swimming pool and a barbeque pit, the community is something that will redefine the experience of home.
There are over 2000 2 and 3 BHK apartments that are professionally guarded 24×7. The community also comprises of a spectacular landscape and is filled with greenery all over. The price of the apartments at My Home Jewel starts at 60 lakhs.
More Info
Area  842 sq ft to  1685 sq ft
Variations 2 BHK and 3 BHK
No. of Towers 14 Towers
No. of Floors 15 Floors
Conclusion
With an intriguing aesthetic and a reasonable cost of living, Hyderabad has proven to be one of the best cities to live in the country. In recent decades, Hyderabad is also opening up to more migrants and working professionals in order to serve the workforce requirements of the corporate giants housed in the metropolitan city.
If you are one of those talented working professionals looking for premium accommodation at rents like never before, Colive should be your first and will your best choice. All rooms of Colive are fully-furnished and professionally managed. With top-notch amenities and an amiable community, Colive makes you part of the best co-living community in India.