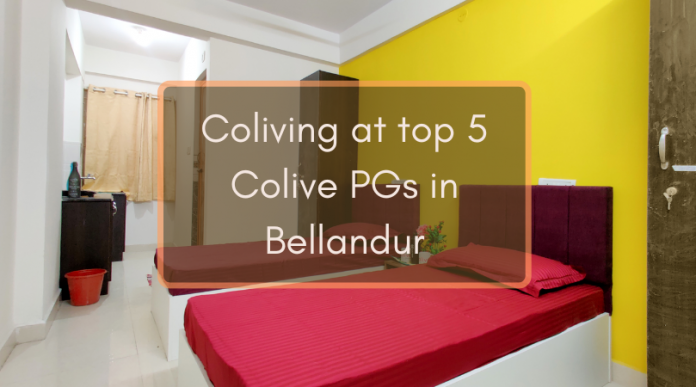 Coliving at top 5 Colive PGs in Bellandur
If you are looking for Coliving PG in Bellandur within 10k monthly rental then relax coz your search ends here. This blog post enlists the Top 5 Colive powered coliving PGs in Bellandur that aim to provide you top class facilities within very nominal monthly rent. Read on:
1. Colive St. Paul
Colive St. Paul is located in one of the lively areas of Bellandur. The credit goes to the presence of shopping malls and restaurants in close proximity. And it's not just the surrounding of this property that are impressive but the interiors are also top class. The spacious, chic style studio rooms of Colive St. Paul will impress you at one glance. Moreover, all the modern amenities are available here to make your stay comfortable. Last but not the least, tech-enabled safety features are in place to ensure safety of residents and their belongings.So, Colive St. Paul is an option that you should not miss out when looking for affordable PGs in Bellandur.
2. Colive Palmer
All you couples out there searching for coliving PG in Bellandur; Colive Palmer is your desired PG.  This is because Colive Palmer is a premium Colive Cuddle property located in Bellandur where couples can enjoy perfect coliving experience without the fear of being judged. Aimed at providing you upgraded living experience, Colive Palmer has designer rooms, contemporary interiors & thoughtfully designed common spaces with premium amenities and tech enabled security features.
3. Colive Glory
Colive Glory, a premium Bellandur based Colive property has studio rooms with kitchen. All the modern amenities are provided here to the residents for comfortable stay. Unlike basic PGs, the rooms are designed in attractive colours to compliment your personal sense of style and are available in single, double and Triple sharing.
4. Colive Minneapolis
Colive Minneapolis is located opposite to Central Mall in the famous residential location of Bellandur. The mall is not the only attraction as this property is surrounded by many luxury restaurants and bars like Tipsy Bull,The Irish House, Pallet Brew House, and Kitchen, Charcoal, and Nizam's Kitchen to name a few. Reasonable monthly rent, availability of premium amenities and good safety features make Colive Minneapolis the best choice for residents seeking a modern living alongside comfort.
5. Colive Alpha
Colive Alpha is located in the heart of Bellandur near RMZ Ecospace. It is one of our premium offerings in the Bellandur area owing to its location and connectivity. The ground floor consists of studio rooms whereas the other floors are in apartment style with living rooms. Here, you can easily choose your preferred room option in single, double & triple sharing.
The above mentioned PG options are just a few from the list of many Colive PGs in Bellandur. You can browse through them on Colive app or website and even have a look at the images of each property. Happy Coliving!!