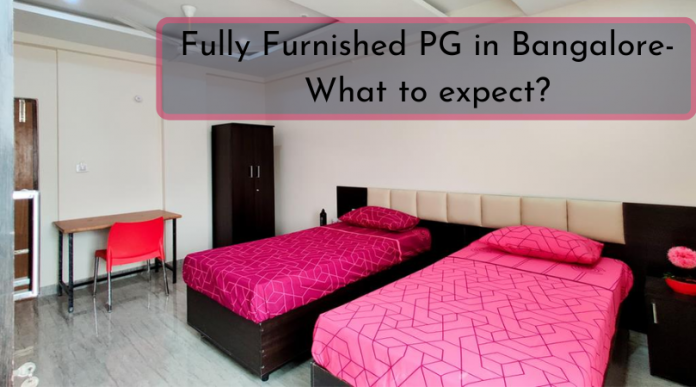 Fully furnished PG in Bangalore-What to expect?
The term 'fully-furnished PG' seems quite enticing… Isn't it? But have you ever given a thought to what you actually get on opting for a fully-furnished PG in Bangalore or any other city? So, let's enlighten you with some information on this. In general, the fully-furnished rooms don't include much especially the ones that you randomly browse through Google. The reason being, Google is flooded with PG options and the ones that rank up in search results may or may not meet your requirement criteria. The basic ones would end up providing you an old bed, vintage table and stinking curtains, maybe. If you are lucky enough, Google might show you the best fully furnished PG in Bangalore on first page else you can keep browsing through further pages.
But hold on, this is not the case with every PG; hence, all you need to do is refine your search.Today, managed accommodations like co-living spaces and managed flats are ruling the rented accommodation industry as they aim at providing not just a room but also apt homely look &atmosphere. If the term is new to you then for your understanding, managed-living spaces like Colive can be defined in simple terms as ordinary PGs levelled up. While ordinary fully-furnished PG in Bangalore provides you a room and daily meals; the managed coliving spaces like Colive provide you rooms with chic interiors, more professional services like laundry, housekeeping, safety, repair and maintenance. And this is not it; the Club Colive properties also provide its residents the access to fitness rooms, coworking spaces, weekend parties and entertainment lounge.
Now, let's take you through the stuff that comes along with a basic furnished PG:
Bed
You are sure to get a bed to sleep in a basic furnished PG. Count yourself lucky if bed has a mattress too! Getting stuff and getting good stuff is what makes all the difference. If you get a bed but it's old and creaky then you are certainly not getting value for money.
Table
A table that quite often is used as a multipurpose table. Confused? The same table that is used for study is also used for dining and not just that… if there is some repair work then it might also be used for keeping tools or as a ladder to step on and fix an electrical issue. But this is not so if you go for Colive rented accommodation as there you get a study table in your room and a dining table in common area.
Chair
Yes, you get a chair too as otherwise the table would feel lonely! But it again has no different fate than table for being used to serve different purposes like keeping the clothes or books.
We are sure that by now you have got enough information about the stuff offered by both ordinary furnished PGs and professionally managed fully furnished PGs in Bangalore. So choose wisely to ensure lively interiors and comfortable living. Happy Coliving!!