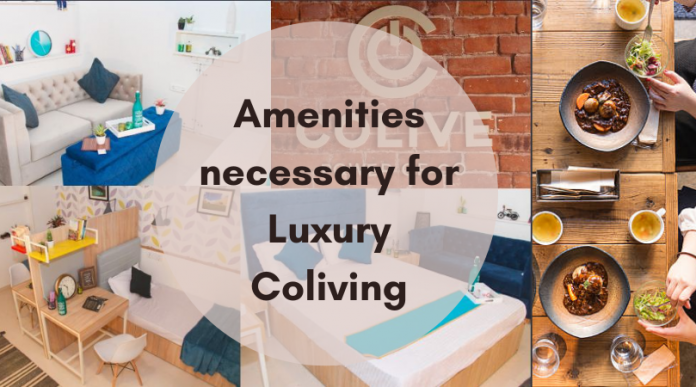 Amenities necessary for luxury coliving
Moving out from the comfort of your home and stepping into a PG is a big transition. Not just because you move away from your family and hometown but also because you leave behind the luxury living. And luxury living is not just about expensive stuff rather it's about the comfort and lifestyle requirements. So, if we talk about the amenities necessary for luxury coliving then the list could greatly vary depending upon each individual's requirements yet we list down the ones that are most desired and sought after. Read on:
Top 5 features of a luxury coliving space:
1. Yummylicious Food
No meal in the world can be as comforting and satisfying as home cooked food or mummy k haath ka khaana. So when choosing a PG, make sure to taste test the food. At Colive powered PGs, professional chefs are allocated to prepare delicious and healthy meals for the residents.
2. Fully furnished rooms
Room interiors and furnishing truly matters when you are looking for a residential space that makes you feel at home. Here, Colive is definitely a step ahead as it provides you well furnished, chick and contemporary design rooms that imitate the luxury of hotel stay.
3. Housekeeping Service
Housekeeping seems like a tedious task and thus you go on ignoring it until the dust piles up on every nook and corner of the room. The work week is hectic and thus keeping up with the daily chores is difficult. Hence, Colive provides you professional housekeeping assistance within the monthly rental.
4. High Speed Wi-Fi
Believe it or not but in today's time, having a good Wi-Fi connection in PG is a true luxury. This is because Wi-Fi is important for work as well as social media surfing and binge watching your favourite series on OTT.
5. Provision of Amenities
If we keep it short and simple then you undoubtedly require access to all the major amenities that were available to you back home for comfortable living. Hence, these include water purifier, AC, geyser, washing machine, refrigerator, power backup, lift etc. Don't ever miss out on a PG that provides these.
You must be thinking that luxury coliving comes at a high price. Though it might be true elsewhere but at Colive, luxury coliving in Bangalore is affordable and budget friendly. Check out the Coliving PGs on our website and pick the one that best suits your requirements. Happy Coliving!!