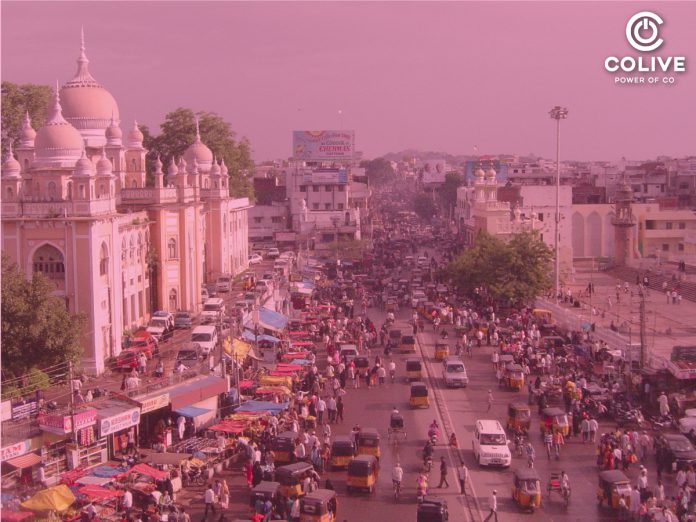 Hyderabad —  the capital of Telangana is a historical city in India known for its rich cultural heritage and beauty all over the world. Most famous of the astounding Charminar and the famous Golconda Fort, Hyderabad is popular for its street food and is well known as the 'City of Nizams'. But did you know that much-like Chennai and Hyderabad it is also one of the most preferred cities in India to live? But, where would you find the best affordable areas to live in Hyderabad?
Hyderabad after Bangalore and Chennai is the most preferred city of India, especially by the millennial generation. It is less populated and has a lower cost of living when compared to other cities like Mumbai, Pune, Delhi, Bangalore, Chennai, and other cities.
According to the 2016 survey on 'Buy vs Rent', it was reported that Hyderabad was one of the best affordable cities in India to reside in. Also, it suggested that over four years, the prices of the properties here have declined too and went down as low as 10.46%, while in the other cities rental prices have gone up over the years.
This research surely reveals that the opportunities to buy and rent in a city like Hyderabad look attractive and thus, give the millennials more chances to prefer it as their ideal city to move in. Still, they want to seek out the best affordable areas to live in Hyderabad. Can the city of Nizams fulfill their quest both for ideal and affordable homes?
Though Hyderabad is mostly known as a popular tourist destination in India that serves the best cuisines like Biryani and is home to the famous Ramoji Film City, it is also much preferred by the working people in India. Much-like Bangalore, people come to Hyderabad too in search of opportunities and to fulfill their goals and aspirations. Many well-known IT Companies and Corporates reside here and thus millennials find this city a good choice to achieve their desired goals.
A typical relocation is followed by numerous rental challenges of finding the best areas to live in, budget, the amenities offered, and many others. Getting back to the topic, apart from the well-known posh areas like Jubilee Hills, Banjara Hills, and Mehdipatnam, there are many affordable areas to live in Hyderabad. 
You can easily find good 1 BHK / 2 BHK apartments in these places in the price range of ₹12000-15000/month with good amenities offered. Moreover, you will find a proper marketplace around and numerous places to dine-in in these areas. So, without further ado, let's talk about the best affordable areas to live in Hyderabad for 2020:
Also Read: 10 Things To Do In Hyderabad If You Are A Newbie 
Uppal
Located in Eastern Hyderabad, Uppal is a well-known suburb of the town. It is known as one of the best affordable areas to live in Hyderabad that offers a wide variety of PGs, 1 BHK and 2 BHK apartments to go onboard in a price range going as low as ₹6500-8000 per month.
Best suited for students and professionals, this area has a friendly neighborhood with lush greenery and parks like Pedda Cheruvu and HUDA Park. It is also an IT Hub, attracting millennials to come and reside here. It has numerous restaurants like Gravity's Grand and Real Bawarchi and malls like Mahalaxmi Mall and Sree Hemadurga Mall, best suited for foodies and shoppers.
Moreover, it is also home to educational institutions like Lady Flower Junior College and Kakaktiya Junior College. 
Begumpet
Begumpet is one of the most affordable areas to live in Hyderabad. It was named after Basheer Unnisa Begum, the daughter of the sixth Nizam of Hyderabad, who had received it as a gift in her wedding dowry. Today the place is one of the best and most affordable residential areas in the city that offers 1 BHK houses within the range of ₹ 10000-11000 per month.
The most remarkable destinations in the area include the famous Begumpet Airport which is still operational and is exclusively used for training and chartered flights. Begumpet Railway Station connects the area to other parts of the city and so does the state-owned TSRTC bus service.
Some important places in Begumpet include Paigah Palace and the Begumpet Spanish Mosque. Moreover, the area is also home to some famous educational institutions like Gitanjali Senior School, Hyderabad Public School, and Sir Ronald Ross Institute.
Manikonda
Manikonda is yet another of the best affordable areas to live in Hyderabad. It is a commercial hub of the city which has boomed in recent years in the city due to the advent of leading IT Companies and the introduction of IT and Business Parks. Moreover, this has lead to the growth of infrastructure, shopping malls, and entertainment zones.
Filled with whatever a millennial needs in a commercial cum residential area, Manikonda offers 1 BHK flats within the range of ₹9500-10000 per month. The area has easy connectivity and can be easily reached as it lies between the Outer Ring Road at Nanakramguda/Gachibowli junction and the Lanco Hills Road.
Moreover, Manikonda is home to Khajaguda  Lake and Khajaguda Hills which are popular destinations in the city known for outdoor adventures like hiking and bouldering.
Ameerpet
Ameerpet is one of the best affordable areas to live in Hyderabad. It is a residential and commercial hub located in North-West Hyderabad. Moreover, it is also a major educational hub of the city with institutions like PAGE, TIME, etc. helping students to pursue higher career goals.
Being a student hub, the area has the lowest cost residences to offer and a 1BHK apartment in the area will rent you around ₹7500-8500 per month. The famous Center for development of advanced computing(C-DAC) is located in this area which attracts numerous students from all over the nation and even the world who come here for software training.
The area also offers easy connectivity to other major parts of the city via the Metro, TSRTC buses, and trains that run on nearby stations like the Begumpet Railway Station and the Nature Cure Hospital Railway Station.
Miyapur
One of the busiest areas in the city, Miyapur, too offers the best affordable areas to live in Hyderabad. It offers affordable residences lying in the range of ₹6500-7400, the lowest price you could ever find in a busy city like Hyderabad. With easy connectivity to all major areas of the city via the Metro and the ICBT. The major landmarks in this area include Kalwary Temple, Miyapur Cheruvu, Gangaram Cheruvu, and Hafeezpet Cheruvu. The area is also home to many educational institutions like Sangamithra school, Genesis International School, and many others.
Kondapur 
Located in the Ranga Reddy District, Kondapur is one of the cheapest suburbs in Hyderabad. It is located in the Cyberabad information technology zone, it has the corporate offices of many famous companies like Google. Once during the phase of 2010-2013, there was a huge spike in the rental rates in the area which soon returned to normalcy in 2014. Not only cheap housing, but Kondapur also provides easy access to shopping areas like Ratnadeep and Heritage Frest.  It is also a great place to stay for foodies too with numerous great restaurants and street food zones. Overall, it is one of the most feasible and best affordable areas to live in Hyderabad.
Shamshabad
Shamshabad is one of the best affordable areas to live in Hyderabad due to the presence of the Rajiv Gandhi International Airport. The rent here is also cheap for the millennials who can easily reside in a 1 BHK apartment within the range of ₹8500-10000. The place has easy connectivity to other major areas of the city and is home to two major educational institutions —   Symbiosis and TATA University. With easy connectivity, areas to shop and dine out, and much more, Shamshabad is one of the best places to stay in Hyderabad. 
Madhapur
Once a small, rocky village, Madhapur since the 1990s has become a major IT and BPO hub with the highest concentration of IT/ITES Companies. HITEC City is situated in the heart of Madhapur, it becomes a home to many IT professionals who can easily afford a 1 BHK furnished apartment within the range of ₹13000-14000 per month. It also is home to the famous NIFT Hyderabad and other institutions such as Sri Venkateshwara College of Architecture, Sri Venkateshwara College of Arts and Pharmacy, and many others. The adjacent major malls include the Inorbit Mall and the Best Fashion Outlet Mall. Overall, with numerous areas to enjoy on the weekends and cheap housing, Madhapur is one of the best localities to live in Hyderabad.
Somajiguda
Somajiguda is a commercial hub of Hyderabad yet it provides the best affordable homes to reside within the range of ₹8500-10000 per month. It gains attention from the home seekers looking for a cheap home also because it is located near Begumpet, Punjagutta, and Khairatabad city centers. The major landmarks of Somajiguda include the Raj Bhavan, The Park Hotels, and the Yashoda Hospital. Moreover, Somajiguda is one of the best places to reside for foodies as well as it has numerous famous bars and restaurants like the Irani restaurant Red Rose Hotel, Deccan Multi-Cuisine Restaurant, Carbon, Aqua, Aish and many others. 
Gachibowli
Gachibowli is one of the best locations for millennials to stay in Hyderabad as it is the software hub of the city. Yet the area offers affordable rent for 1 BHK apartments between the range of ₹14,500-15.500 per month. Just a distance of 5 km from HITEC City, it offers easy connectivity to the rest of the city via buses and autorickshaws. It has many tech parks like the  DLF IT SEZ, Avance Business Hub, and Divyasree NSL Orion. Moreover, you can experience great nightlife in various malls located here like the Atrium Mall. Sarath City Capital Mall, KK Pride, and many others. Famous restaurants near Gachibowli include Absolute Barbecues, Cascade, Radisson, The Glass Onion, and many others. 
Hyderabad —  the city of Nizams is considered to be one of the best preferable residential cities of India. It is preferred in terms of affordability over other major cities like Bangalore, Pune, and Chennai. The above areas were the best affordable areas to live in Hyderabad in 2020. With proper knowledge of the best and cheapest localities in Hyderabad, you can easily plan for a hassle-free shifting in the city. 
Moving to Hyderabad and looking for an affordable place to stay? Let Colive be your ideal partner in your home search and discover the best affordable homes across the prime locations of the city at an affordable rate. Colive not only provides you with an affordable stay but also allows you to live and build own community of like-minded individuals and enjoy a tech-enabled premium stay for single, double, triple, couple sharing options. While the pandemic of COVID-19 continues, we continue providing our residents with our services and all facilities like high-speed internet and coworking spaces to enjoy efficient work from home. Visit the website of Colive to know more about Colive Hyderabad!