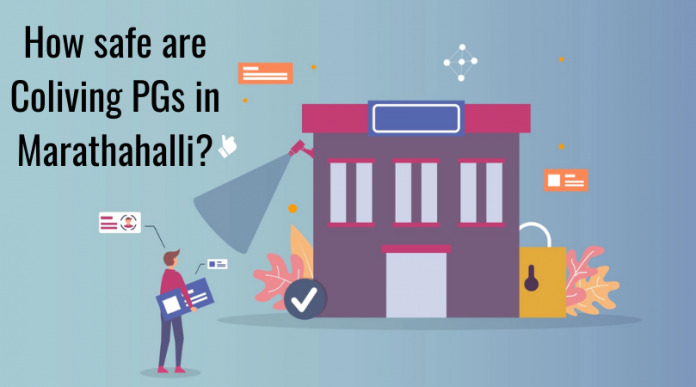 How safe are Coliving PGs in Marathahalli?
Living away from home in a new city holds great risk and the recent distressing incidences have given even more weightage to this fact. But it nowhere means that you should drop your freedom to work in a new city despite better work opportunities. The only thing that matters here is to choose your Coliving accommodation wisely. If you are looking for Coliving PGs in Marathahalli then the first thing that you must do is make sure that your PG is as near as possible to your work location so that even if you get late at work then there is not much distance to travel at late hours. This one step saves you from on road threats like theft or trespass.
The next important part is the safety within the PG premises. And that's exactly where Colive steps in as a superhero. Being in the business of providing Rental accommodation to newbies in Bangalore; we leave no stone unturned to ensure utmost security standards at all Colive powered Coliving PGs in Marathahalli. Read on to get a fair idea of Safety features provided at all our Coliving PGs in Marathahalli.
Safety features at Colive powered Coliving PGs in Marathahalli:
1. CCTV Cameras
The CCTV cameras installed at all possible nooks and corners of Colive residences helps ensure 24*7 monitoring all around the PG premises. So leave aside any stranger sneaking in; any suspicious activity is also taken into account and acted upon promptly.
2. Biometric scans and smart locks
All the safety measures are updated to best quality. Colive powered Coliving PGs in Marathahalli are secured with digital check-ins and check-outs. Entry of strangers is completely prohibited without the prior permission of the residents.Also, all our residents can operate the smart lock in their room by a single tap on their Colive App.
3. Quick emergency response
Just having the security features in place does not help if the emergency response team is not active. Just imagine somebody trying to trespass and camera is recording the same but it will help only if the desired action is taken in time. And we have got that sorted!All our property managers are active and always available to assist the residents with issues. And here our app also plays an important role as you can easily raise urgent support tickets to ask for help. Everything here is operated via app and hence all solutions to your issues are just a click away.
4. Well-trained staff
All our staff ranging from the housekeeping people to security personnel is well trained in their respective fields to provide desired support to the residents.
So, that makes your stay at Colive powered Coliving PGs in Marathahalli super comfortable and highly secure. Happy Coliving!!