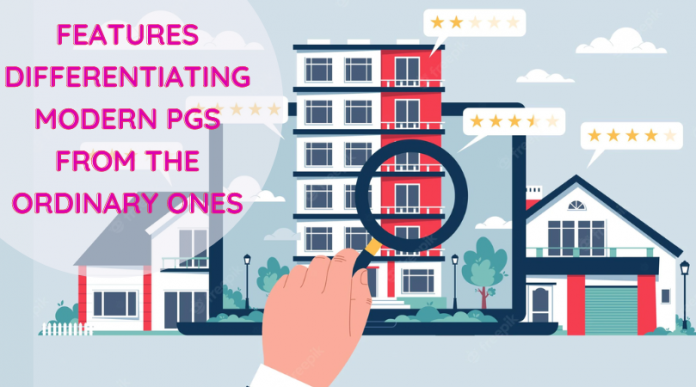 Features differentiating modern PGs from the ordinary ones
Once you initiate the search for a PG accommodation; there are numerous options available on Google. The choice is so vast that picking one amongst them becomes difficult. And it's not that just the number of PGs has increased but more variety of PGs has also come up. Hence, you would come across not just the basic PGs but also coliving spaces, modern apartments, studio rooms and so on. These modern PGs are very different from the basic PGs in terms of better features, modern amenities, hassle free move in and move out, affordability and much more.
Here's how modern PGs differ from the basic ones:
Look & Feel
The best thing about the modern PGs is that they don't look like PGs rather they look like home. The interiors are vibrant, facilities are premium and additional features are cherry on top. Hence, your stay is ought to be super comfortable. Agree?
Amenities
You name the amenity and the modern PG already has it. Yes! That's true. In fact, this is a major reason why modern PGs have taken over the ordinary ones. If we talk about Colive powered premium PGs in Bangalore; the amenities offered there include fully-furnished rooms, professional housekeeping, delicious meals, laundry facilities, community kitchen and much more. And the list does not end here as the Colive residents are provided access to premium club Colive facilities as well i.e., Co-working spaces, fitness rooms, and entertainment lounge as well as weekend parties. What else can one ask for?
Hassle free move in and move out
The ones who have moved in and out of PGs know very well how tedious the whole task is. Not just in terms of packing and shifting stuff but also because of the intense paperwork that you have to go through in the name of house renting formalities. But at Colive, right from moving in to paying your monthly rent and even moving out; everything is app based. The rental tenure is also kept flexible unlike the basic PGs that generally sign for 1 year stay agreement. Hence, hassle free move in and move out is guaranteed at Colive.
More occupancy options
The accommodation type is not limited to just one type of rooms. We provide PGs in single occupancy, double occupancy, studio rooms with and without kitchen as well as apartment with and without kitchen. In fact, we offer premium couple residences as well. So, the variety caters to all the segments of home seekers.
Modern PGs have undoubtedly enhanced the PG living experience by ensuring top notch living facilities and premium amenities. So, level up your PG living experience by opting for the best coliving experience at Colive. Happy Coliving!!