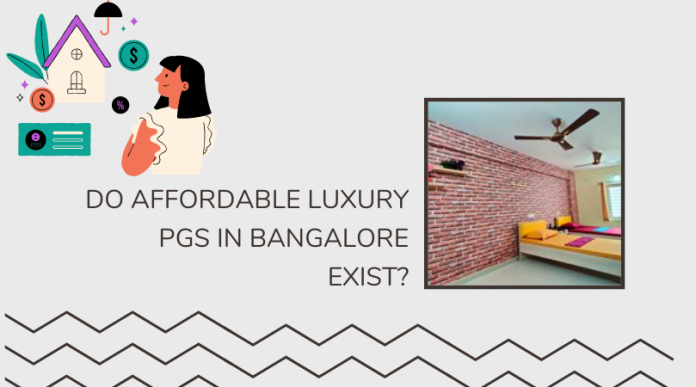 Do affordable luxury PGs in Bangalore exist?
If you have been thinking that luxury PGs in Bangalore are expensive then you have certainly mistaken. Luxurious co-living experience can be availed at an economical price too and believe us it's entirely true. Let's break the secret out to you. Quite a rhyme though!! Anyways let's get started with the fact that the products and services are considered expensive or reasonable by the value that they add to your life and experience.
Here, when we talk about affordable luxury PGs in Bangalore- the simple criteria of judging the PG's worth is by analysing value that the various amenities provided there add to your overall living experience. And then you will realize that each amenity makes a big difference in ensuring that your stay is comfortable and delightful. Next, if you wish to have all the luxury amenities and yet wish the overall expense to squeeze a bit then here's the trick. Let's get you acquainted with the tricks of converting the luxury PGs in Bangalore into affordable luxury PGs in Bangalore for yourself.
If you have grown up with a sibling then sharing a room is not that big a task. And, if you still weigh it as uncomfortable to adjust with roommates then just give a lil thought to how much you can save monthly by doing so. Sounds better? Yeah… we knew it. Moreover think about the premium amenities that you would be able to enjoy; its real value for money. And the best part is; roommates soon turn into best mates, making the living experience even better.
You must be wondering how location can play a part in reducing rent. Well, though it would not reduce the rent but location being close to your college or workplace can surely help you save some amount from your monthly commuting expenditure. Hence, the extra few thousand spent on luxury living can easily be compensated by saving on commuting expenses. Agree or not?
Monthly rent is indispensable but add-on services make it somewhat adaptable. The definition of luxury varies for everyone. Hence, you can list some of the features that you would love to have as add-on services. It could be anything ranging from nutritious meals to in-house gym etc. So based upon your specific requirements, go for co-living spaces like Colive that offer variety of add-on services to make your stay worthy.
With the above mentioned ways you can definitely enjoy living in affordable luxury PGs in Bangalore. Happy Coliving!!