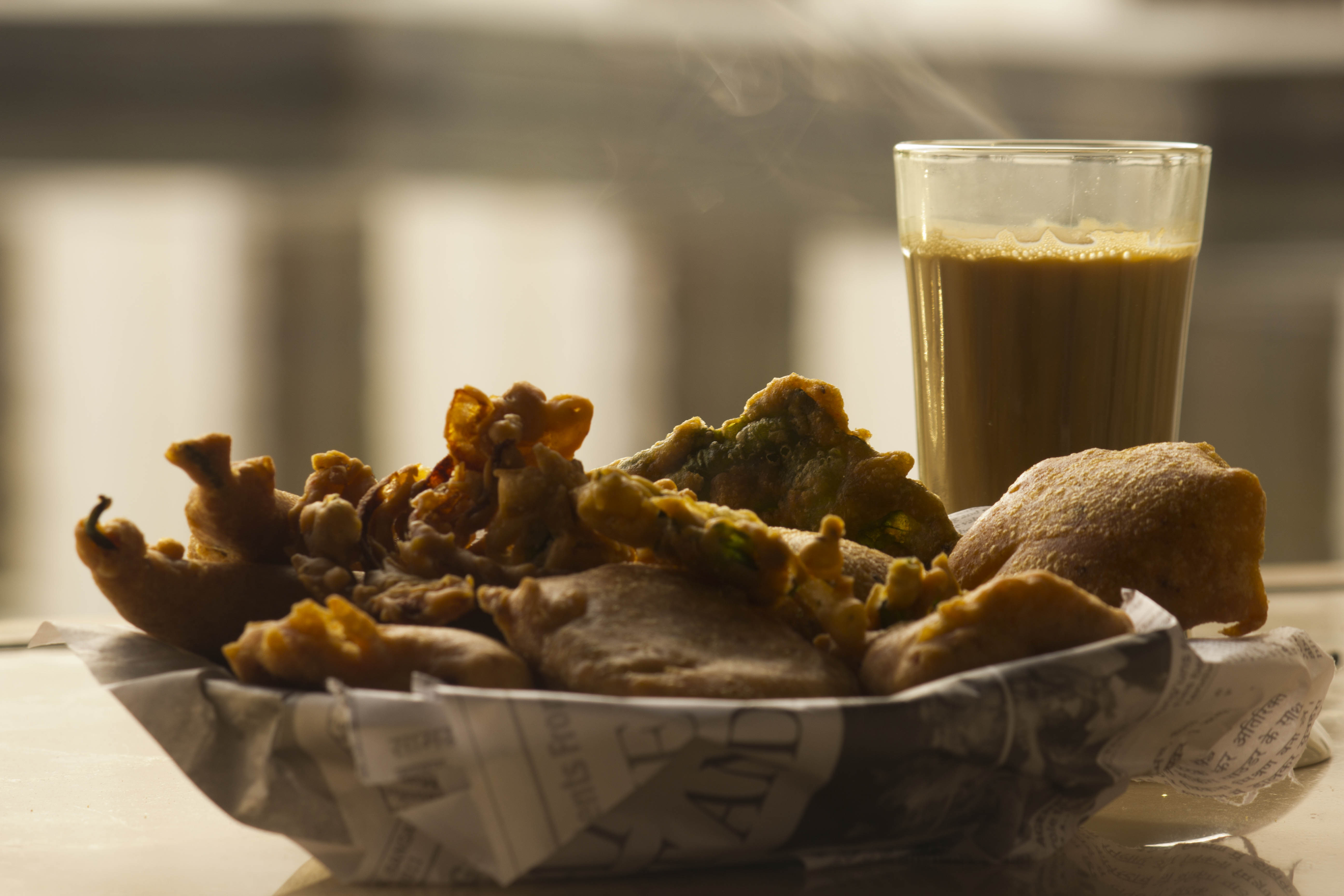 Living all by your self is an experience! While once you wanted to move out of your home and live independently, there are times when you do look to go back and spend some time with your friends and family, isn't it? And, one such occasion is a typical rainy day. In India, most of us celebrate it with special snacks for rainy days, don't we?
Running up the terrace to get drenched in the first rains of the season was more of custom then. Also, purposefully forgetting those raincoats and umbrellas at home and getting back home totally soaked was so much fun. And the best one, after that drenching episode, getting some really hot and tasty snacks to eat.
Well, these are fond memories now, but monsoon is back and has just begun, let us go back to the memory lane and list down the foods that can make your rains truly special again. Here are some of the most scrumptious snacks for rainy days.
Also Read: 10 Places To Enjoy Street Food In Bangalore
25 Absolutely Scrumptious Snacks For Rainy Days
1. Samosa
Potato, Potato-peas, Paneer, Mutton, or Noodles. The filling doesn't matter inside this triangular thing, but the reaction will always be the same – "YUM". Don't forget to pair it up with a cup of hot tea.
2. Kathi Rolls
Ok, this one makes me quite nostalgic as it takes me back to those lanes of Kolkata. In my opinion, there is nothing in this world that can soothe a rainy-day hunger pang than a good roll. Mutton, Chicken, Egg, Paneer, Mixed Veg…… the options today are endless.
3. Chowmein
Well, this one is a hit snack and this list wouldn't be complete without this one. But, let's get rustic on a rainy day, try chowmein in a roadside stall and not in a fine dining restaurant. Why? Well, give a try you won't ask this question again.
4. Garam Jalebi
Our first and the only sweet entrant in this list is Garma-garam jalebi. Make sure it's Hot off the wok, and gulp this dripping goodness in one go!
5. Aloo Bhajiya
Crispy outside and soft inside, this delicious bajji can pick your mood up the moment you eat it. Don't forget to ask for an extra dollop of chutney with it.
6. Aloo Bonda
Don't confuse this with the aloo bhajiyas, bondas are different. Dieters, you have to commit some sinful eating this time. How can you let go of even one of these hot aloo bondas?
7. Pav/Bun
No! No! I am not asking you to have it as one standalone snack. But, look at the countless delicacies that can be derived from it – Maska-Bun, Vada-pav, Misal-Pav, Dabeli, Pav-Bhaji, Omelette Bun and so many more.
8. Egg Chop
Egg chop, tea, and some friends – makes a perfect moment. It's about lightning, thunder, showers, and uninterrupted conversations- a moment worth rejoicing. Why not giving these snacks for rainy days a shot?
9. Pyazi Or Onion Pakora
Onion Pakoda, pyazi or pyazu whatever you call it, this is one of the most common snacks for rainy days. Easy to make, this snack truly serves the purpose of a rainy evening snack quite well. During the rainy season, family or friends time with onion pakora complimented with some beverage always gets thumbs up.
10. Bhutta
Charcoal roasted corn or as we call it the Bhutta is one awesome treat during the monsoon showers. What makes it even tastier is the generous amount of butter, lemon & salt, or chutney. The warmth of the burning charcoal and a bite of sweet bhutta makes the downpour feel amazing.
11. Kachori
One of the most famous snacks in India. The crunchy on the outside and crispy on the inside kachoris are a must-try on a cozy cool winter morning. Pyaz kachori, Aloo Kachori, Daal Kachori, or Hing Kachori, the options are endless when you are looking to satiate your taste buds with some amazing snacks for rainy days.
12. Chips & Dips
Ok, now this is a good option for the lazy ones. If you don't want to go out to grab some snacks for rainy days, simply pick up a bowl of your favorite dip/chutney and couple it with a packet of chips. How about some leisure time on your couch while it's pouring?
13. Bhel Puri
Enjoying monsoon drizzles with some bhelpuri on the roadside stalls is quite a familiar view. This is one of the best snacks for rainy days and is so enticing that it drives most of us crazy. The best part about this dish is that you cannot really store it for long as it loses its crispy taste, so the option is to enjoy it right away in the rains.
14. Bread Chop Or Bread Pakora
While it might be common for you to have bread and jam these days, why not try a different avatar of bread? I am talking about the bread chop. Bread stuffed with some spiced potato and dipped into a thick batter and deep-fried, sinuous yet yummy snacks for rainy days.
15. Beguni
Begunis are every bong's favorite and you should try them too. Thin slices of brinjal dipped in batter and crispy fried. Crispy on the outside and silky inside this bhajjis make simple monsoon day simply heavenly.
16. Paneer Pakora
Considering the varieties of pakoras we Indians eat the list is surely endless. Well, our paneer pakoras are just one of the most delicious ones. Irrespective of being fried these are healthy as they hide within them high-in protein cottage cheese. Well, I hope that was enough to convince you to commit some sin and include them in your list of snacks for rainy days.
17. Keema Tikki
Absolutely amazing cutlets made of mutton that is fried by street vendors. These tikkis are every meat lover's dream and needless to say it is delicious. Non-vegetarians can absolutely enjoy these snacks for rainy days.
18. Fish Fingers
Hot and spicy, these fried fish fingers will make you lick your own fingers. Once you get soaked in a rain shower, this snack will warm you up in a jiffy. Perfect snacks for rainy days especially for fish lovers.
19. Momos
Steamed momos are magical comfort food, and when it's raining outside there is nothing more comforting than a plate full of hot steamed momos. These are some of the most sought-after hot snacks for rainy days.
20. Gobi Pakoras
Yummy cauliflower pakoras are delicious and very easy to make. With a cup of hot coffee or tea, these are something that you won't be able to resist having some more, making them the best snacks for rainy days.
21. Chicken Pakora
Crispy Chicken Pakoras that are super spicy is a treat that can brighten your gloomy day. So, if you are missing home this rainy day, grab a plate of these mouth-watering pakoras to lift up your mood instantly.
22. Mirchi Bajji
Well, I cannot miss out on this epic monsoon snack that makes us celebrate even heavy rainfall. Hot piping Mirchi bhajjis during an intense downpour is more than enough to complete your day, making it one of the best snacks for rainy days.
23. Sabudana Vada
Sabudana Vada served with a dollop of green coriander chutney is something to die for always. And when it's raining outside, there is nothing more you can ask for.
24. Fafda
One of the most simple and tastiest snacks for rainy days that come from the land of Gujarat. This one dish is enough to keep you busy on a boring summer day, just make sure you have a generous quantity of them.
And #25 Ek Pyali Kadak Chai (Hot Tea)
Rain and Tea! A combination that is truly inseparable. Tea without a doubt is one of the most preferred drinks on a typical rainy day and there is nothing that can't beat the feeling of enjoying a cup of tea in the balcony when it's showering outside. Well, for those who don't prefer tea. coffee is an alternative.
So, whichever snack you choose, don't miss out on a cup on kadak chai to make this rainy day setting complete.
Read: 7 Refreshing Summer Drinks To Help You Beat The Summer Heat