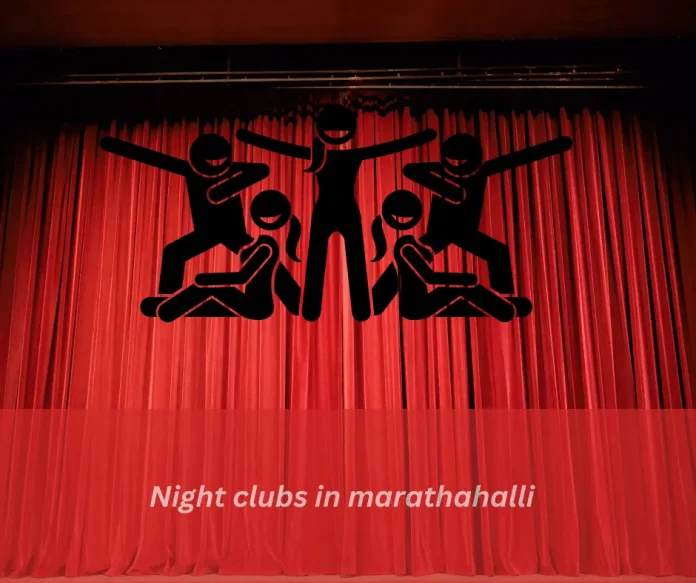 Are you thinking of moving to your favorite dance beats at a crowded place tonight? These loud yet sound spaces have a vibe that can make you up and chilling. Night clubs in Marathahalli have everything you need to keep up your energy! 
The feel and look are such that you don't have to miss out ever again in Bangalore city.
Nightclub in Marathahalli Where You Can Thump In
Marquis 
You'll get submerged in the sophisticated nightlife this place has to offer. The designs here speak of a connection between music and dance. With earthy outdoor seating, it has an open kitchen to embrace you with vibrancy. 
The monolithic bar section over here offers premium, signature cocktails, and liquor to sip and cherish. While you are high on the drinks, there is only one way you can stay apart from the wooden dance floor that has commendable acoustics. The cocktail is lip-smacking, and so is the delicious food prepared using unique cooking techniques. 
It is the go-to place to keep your shoes on, and hair loose and go on for a lit-themed evening experience that lasts till the night. The terrace, the DJ, and the Disco await your arrival. 
To head there: 
Location: 90-4, Marathahalli Outer Ring Rd, Marathahalli Village, Marathahalli, Bengaluru, Karnataka 560037.
Price for 2: 2500 including the alcohol 
2. Dive
Missing the fun in the nightlife? This place will add light differently! The dance floor is unique on its own with the aquarium in it. It is situated on the 16th floor and who wouldn't like to move like Jagger out there right? While you are stepping on the dance floor, you don't have to worry about the fish down there. It is safe below you! A fancy nightclub in Marathahalli with an aquarium that you wouldn't have experienced anywhere else.
The evening is lit open in the Dive outdoor seating in the watery theme with all shades of blue in the backdrop. It has community seating with curtains that give the charm of being in the Mediterranean Sea. When you are here, you don't have to worry about fitting in a large crowd of people anywhere between 20 at a time. 
There is no way that you wouldn't like the boozy trips over the cocktails and the flambé cuisine in Dive. The food menu ranges from an oriental to continental style, you can munch on quick bar bites, starters, or sizzlers before you are served with alcohol. The alcohol, like cocktails, and margaritas are served in a fish bowl. With top suggestions on the list, you can consider Ravioli Mexicana, Singapore chili crab, Coffee-infused lamb chops, and Quick gun murugan among many others. 
To head there: 
Location: 25/7, Doddannakundi, Outer Ring Road, Marathahalli Near State Bank of India East Bangalore 560037
Price for 2: 1600 including the alcohol 
Also read: Why marathahalli is simply awesome
3. Cirkus 
It is spread across 3 floors and 2 floors are operational at the moment. You have two options to get served in, one being the rooftop bar and the other being the lounge. The rustic, stony and wood look in the place along with the bizarre wall paintings makes it a great place to be. 
Be it indoor or outdoor or for a family outing or a party mood, it will serve you for any occasion. It has continental, North Indian, and Italian cuisine to pick from. You get an amazing collection of spirits and cocktails to enjoy with. A dedicated dance floor is there to step up in the lit ambiance and if you are not a dancing type, you may enjoy the live sports screening on your favorite sports show. 
While the place serves all types of crowds, there's no way anyone will miss out. Whether you are hosting a bachelor party or birthday bash party, the top rooftop floor is for all the party freaks. 
The electrifying music takes you to an elevation in the mind at a place like Cirkus. The great food and choices to make in Cirkus are namely, Mai Tai, the Tight Tiger in drinks, whereas in food, Spicy Grilled Calamari, Stuffed Tandoori Taang, and Tandoori Kumbh to name a few among many. 
To head there: 
Location:#436, 1st & 2nd floor, 17th Cross Rd, Sector 4, HSR Layout, Bengaluru, Karnataka 560102.
Price for 2: 2100 including the alcohol 
4. The Irish House 
The Irish House has a style that captures the style of American and European decor. A nightclub in Marathahalli that needs your visit and attention. Being spacious, it gives you a vibe like that of an American pub. The chilled environment allows you to drink while being relaxed.
The ambiance of course is appealing, and so is the food that is not just presentable but tasty. Excellence is the level at which the chef has mastered the dish to its perfection. 
If you are thinking about what to explore when you are here, the suggestions like southern chicken & beer waffles, whacko pizza taco, vintage tiramisu, and drunken waffles. 
Their fridge has a collection of both international and local beers to vouch for. In other drinks, you can sip on Summer Chills for a refreshing tone, and if you are a person who savors sweet tooth then Bonbon Shake is a must-try.
To head there: 
Location: RMZ Ecoworld Rd, Adarsh Palm Retreat, Bellandur, Bengaluru, Karnataka 560103.
Price for 2: 2000 including the alcohol
5. Big Pitcher 
This red property brimming in the main road is a multi-level building with a unique theme on each floor for you to enjoy. The iron structure with open sides makes it for natural ventilation. 
The first floor is a space for all the party animals with a dance floor and a la carte served. The middle floor is dedicated to the buffet alone. The top floor is called the Star Lounge, a location curved out perfectly to enjoy the weather of the city. 
They host you with brewed beers on tap with different flavor profiles for those who love sipping on the beers. 
They have an appealing bar that presents you with creative cocktails bringing both drama and taste together. This place is popular for outings and lunch already amongst the crowd, they serve both buffet and a la carte or even grill barbecue buffet.
The glowing place while the DJ is by your side is something you don't want to miss in this place. It is a place that you definitely would want to explore. 
To bead there: Doddakannelli, 116/9, Ambalipura – Sarjapur Rd, Kaikondrahalli, Bengaluru, Karnataka 560035.
Price for 2: 1500 including the beer.
Conclusion
Having a nice place to dance the way out of your emotions on a day off a weekend or a Friday night in Marathahalli is much needed by the working folks. If you wanted to head out but wandered off to the best nightclubs in Marathahalli to be in, we got it listed for you.  Do visit them and experience the vibrancy of the nightlife in the best nightclubs in Marathahalli.
Seeking PGs in Bangalore? Your search concludes here! Delve into the details below to find the ideal PG that aligns with your preferences.