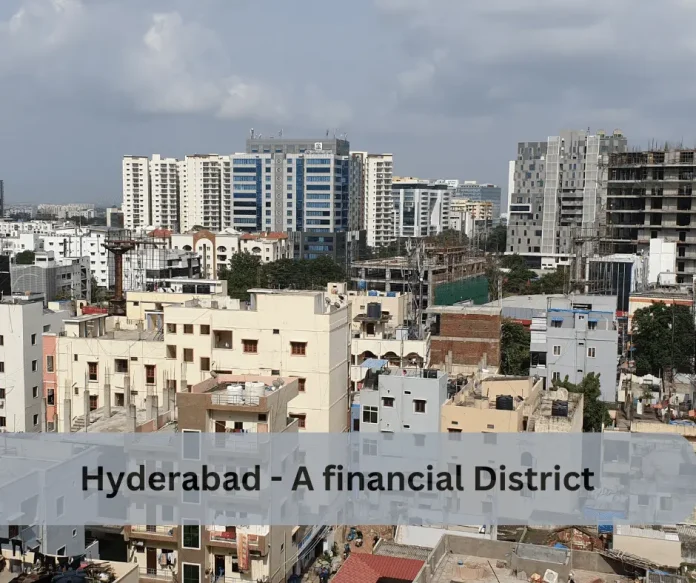 In recent years, Hyderabad, the capital of the Telangana state in India, has slowly grown into a significant center for commerce and industry. The Hyderabad Financial District stands out among its many bustling areas as the go-to spot for a variety of businesses, from start-ups to international organizations. 
In this blog post by Hyderabad sensation, we will examine the causes of the Financial District's appeal and why it has evolved into the top option for companies wishing to open offices in Hyderabad, as well as a sought-after location for those in search of the best PG in Hyderabad.
About Hyderabad Financial District

Hyderabad Financial District is an area in Serlingampally mandal of Hyderabad, India, that specializes in information technology, real estate, and architecture. The financial district spans approximately 75 acres (0.30 km2).
The areas that were a part of the Financial district's initial phase were Nanakramguda and Gachibowli. The WaveRock Building, which houses international conglomerates, and TSI Business Parks, special economic zones, are located in the first phase. A 2.5 million square foot Information Technology-Special Economic Zone called WaveRock occupies around 12 acres in Nanakramguda. 
Over 25 information technology businesses, including Apple, GAP, Accenture, Development Bank of Singapore, and DuPont, are housed in the special economic zone, which also employs between 25,000 and 30,000 people. WaveRock was acquired from Tishman Speyer by the Shapoorji Pallonji Real Estate Fund in December 2019 for Rs 1,800 crore.


Factors that make Hyderabad Financial District a preferred location
Strategic Location –
The strategic position of the Hyderabad Financial District is one of the major elements influencing its popularity. It provides good connectivity to the city's key landmarks and transport hubs while being located in the western section of Hyderabad. Business travelers from abroad will find it convenient because the Rajiv Gandhi International Airport is close by. The Outer Ring Road (ORR) additionally offers seamless access to different areas of the city, cutting down on employee commuting times and enhancing logistical effectiveness for enterprises.
Infrastructure and Amenities –
The Financial District is renowned for its cutting-edge amenities and top-notch infrastructure. Modern amenities, such as high-speed internet, sophisticated security measures, and plenty of parking are available in the area's business parks and office buildings. In addition, the presence of renowned hotels, eateries, and shopping areas guarantees that workers and visitors have access to a convenient and comfortable lifestyle, boosting their whole experience.

Educational institutions –
The Hyderabad Financial District's proximity to prominent educational institutions is another aspect that adds to its attraction. Hyderabad is home to major research institutes and universities like the International Institute of Information Technology (IIIT) and the Indian School of Business. These organizations facilitate partnerships between universities and industry, fostering research and innovation while also producing a trained labor force.

A Hub for IT and Tech Companies –
Hyderabad has established itself as India's "Cyberabad," and the Financial District is at the center of this technology-driven change. Numerous IT and tech businesses, including international behemoths like Microsoft, Google, and Facebook, have offices in the district. This concentration of technological innovation and expertise has produced a thriving ecosystem that draws startups, business owners, and investors from all over the world.

Well-planned urban development –
A prime example of beautifully planned urban development is Hyderabad's Financial District. With possibilities ranging from small office spaces to vast corporate campuses, the district's structure is made to accommodate companies of all kinds. Due to the diversity, businesses can easily locate a place that meets their needs and budgetary restrictions.

Networking opportunities –
Being in the Financial District puts you close to a wide range of businesses and professions. This location advantage promotes networking opportunities, enabling businesses to create worthwhile alliances, work together on initiatives, and exchange ideas within a vibrant corporate community. The district frequently organizes business conferences, seminars, and events, which improves networking opportunities.
Real Estate Investment –
The Hyderabad Financial District's potential has been recognized by investors and property developers. As a result, there has been a large investment in both the area's business and residential real estate. Modern, environmentally friendly structures that adhere to international standards are now being built in response to the constant demand for housing and office space. This offers an alluring chance for long-term growth for investors.
Conclusion

Due to its advantageous location, top-notch infrastructure, concentration of tech companies, close proximity to educational institutions, government support, well-planned urban development, high quality of life, networking opportunities, real estate investment potential, and sustainability initiatives, Hyderabad's Financial District has become the preferred location for businesses.
The Financial District is anticipated to remain at the forefront of the city's economic development as Hyderabad continues to expand and draw enterprises from a variety of industries, offering an excellent environment for businesses to thrive and succeed. The Hyderabad Financial District offers a promising environment for your business endeavors, whether you are a startup hoping to break into the tech industry or an established company wishing to increase your presence.
Are you currently seeking PG accommodations in Bangalore, Chennai, and Hyderabad? Your search concludes right here! Explore further below to discover the perfect PG that caters to your needs and aligns with your preferences.