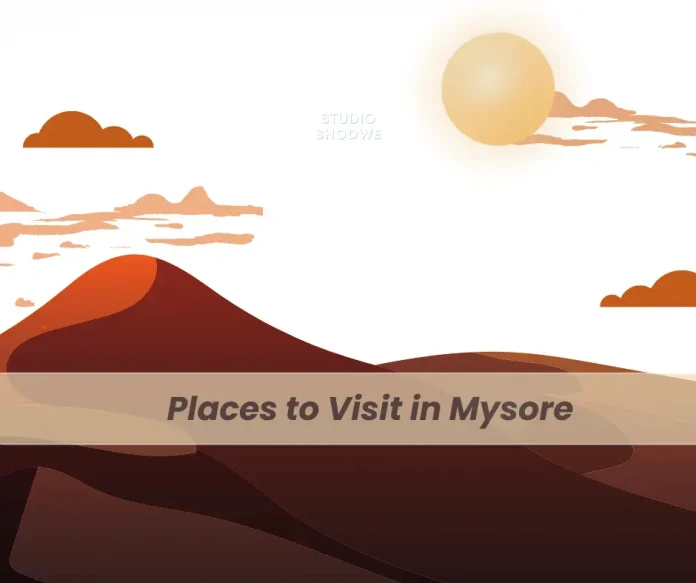 So you are all prepared to go to Mysore. But thinking about which are the best places to visit in Mysore? If you are in Karnataka, Mysore must be on your bucket list to visit as it is one of the famous places to be in India. The fact is that Kings and queens resided in Mysore for almost 550 years. 
The fascinating part is that you can still stop by the tombs and palaces built back then. The place is not just known for its history all the time but is also known for its beauty. In the guide, we'll also cover the best place to stay in Mysore. 
Where to Go – The Best Places to Visit in Mysore
1. Mysuru Aramane
A palace that takes you back in time to history is also known as Mysore Palace or Ambar Vilas Palace in other words. The depiction of the palace is of a Dravidian and Indo-Saracenic style filled with a treasure of artifacts to look at. If you may wonder whose palace was this, it is from the Wodeyar dynasty in the 19th century. It is built close to the Chamundi Hills. The beautifully crafted palace mesmerizes millions of tourists with its architecture from the inside out. 
While it has been designed to their needs, this place is made sure to be lit during public holidays and on Sundays.  If you are interested in paying a visit to the palace, you can go ahead to buy a ticket to visit the 
 2 Ranganathittu Bird Sanctuary
If you are an enthusiast of seeing many different birds then this place is for you. The speciality of the place is that some birds visit here during a season, well to other birds it's already a home. You can even get on a boat to view the birds from a closer angle. 
While that is a glimpse of the place, it is just 18 km away from Mysore to visit this largest sanctuary known in the state. If chirping birds make your day, then no wonder your camera will like them to be snapped. Sight the rarest bird in the sanctuary and enjoy the glory of nature.
3. Karanji Lake
Karanji Lake is an urban oasis spread across 90 acres where you see the other part of nature. Lotus blooms are so amazing to retreat on during the season and gazing at the birds nesting in the summers is another beautiful thing. A boat ride in the beautiful lake with lush greens around is an experience you can't miss. It certainly takes you away for a while from the hustling city vibes. 
At some distance, you can find a park that houses the butterflies, formerly named Butterfly Park. In the nicely curved pathway, you can see not just colorful butterflies but also mesmerizing birds and the fountain. 
4. Brindavan Garden 
A garden spread over 60 acres has a lush lawn, colorful flower beds, and fountains that dance to the music. This garden is an inspiration from the Mughals and has become an attractive spot for picnics, and walks. 
It brings together nature's beauty and the creativity of the human to have created this. You can also visit the Krishna Raja Sagar at its closest proximity. In other words, as KRS dam is constructed on the Cauvery River and serves the Mysore region with water supply as well as for irrigation purposes. 
5. Chamundeshwari Temple 
The temple is a place of the Goddess Chsmundsdhwari whom we have pictured to be fierce. It has an architecture of Dravidian style dating back to history. The path to the temple had 1000 steps and those who can't make it through that way can opt for the road to walk instead. 
Being one of the Shakti peethas to be visited, it is also a place that offers scenic views of Mysore city from the top. As it is at an elevation of 3300 ft above sea level, the beautiful view is obvious to be witnessed. 
That covers the 5  best places to visit in Mysore amongst many other things to explore. Let's also explore your stay in Mysore.
Finding the Budget-Friendly Best Places to Stay in Mysore 
1. Parklane Hotel
The hotel situated in a radius of Mysore Palace approximately 200m away from the palace is where Parklane comes in. The elegant style of the room makes you want to stay. It has a private balcony in a few of the rooms, a common outdoor swimming pool, a garden to walk in, and not forgetting the library in a hotel. Rooms have a fully furnished setup with features such as air conditioning and a bathtub. With their in-house hotel, they serve you food from Continental to Chinese and Indian varieties. 
2. Aishwarya Residency 
This hotel is at the forefront of giving the best service to the guests who arrive. There is no wonder why it is one profiling budget-friendly place to stay. It is situated in a place that is in proximity to tourist attractions. 
The spacious rooms are well furnished and comfortable to stay in with a decent interior. On the rooftop, it is a hang-out place. With some of its rooms offering balconies, the building has both a garden and a sun terrace in it. During your stay, you can rest well indoors, read a book in the library, or head out renting a car to the best places to visit in Mysore. 
3. Hotel Lok Sagar 
With classic chic decor, this place has a nice stay. For the guests to relax they have a lounge and terrace area. You can feel comfortable in the fully furnished space that offers 3 types of room options to pick from. 
An in-house restaurant has a diverse menu to serve you with. Being in the city center, it is closer to the tourist attraction spots. To the nearest, you can visit Curzon Park and Mysore Palace. 
4. Le Oak Inn 
Le Oak Inn offers you a luxury stay experience with outstanding rooms in it. Its terrace view is the best place to view the cityscape of Mysore. Being closer to the tourist place, there's no way you can miss out on visiting the attractive locations in Mysore. 
With the air conditioning to all basic amenities, it has got you covered. The in-house restaurants offer you vegetarian, vegan, and halal options for food. 
The nearest tourist spot to visit is the Church St Philomena which is 2.5km away from the hotel. 
5. Roopa Elite 
The hotel in the city center has elegant decor that keeps you pleasant throughout the day. It is spacious and has beautiful lighting inside the room that makes it more comfortable. 
A Balinese-style spa and wellness center, an outdoor pool, a rooftop restaurant, a garden, and a terrace are the highlights of this hotel. Including all the others mentioned above. 
Conclusion
Mysore is a must-visit destination known for its rich history, beautiful gardens, and temples. When you are in Mysore, make sure to explore the best places mentioned above and consider staying at one of the budget-friendly accommodations, including PGs, which provide convenient and comfortable lodging options. Enjoy your trip to this charming city with its diverse attractions and vibrant culture!
Looking for PGs in Bangalore? Your search concludes here! Deep dive into the details below to discover the ideal PG that aligns with your preferences.