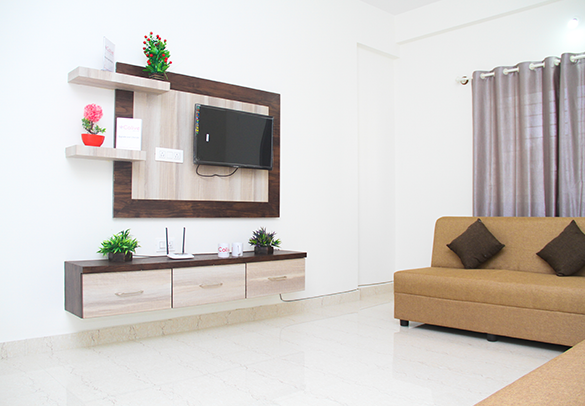 If you are planning to take a room on rent in Chennai, it is important to make sure that you are prepared, so that you know what to expect when you start your search. Though moving to a new apartment sounds very exciting, searching for a new one can be an equally daunting task, especially for millennials who don't have many economical options available other than that of renting a PG or an apartment.
4 Things to Consider Before Taking a Room on Rent in Chennai
1. Determine Affordability
Decide how much you can afford to pay for a rented room in Chennai and follow the "rule" of not to go beyond 30-percent of your monthly income. Restrict your search to your budget.  You may be forced to compromise when finding a bigger apartment in a better location but make sure it's worth spending the extra money. If you're looking for a cheaper room on rent, picking a shared accommodation would be the right choice.
2. Start Hunting
Don't leave apartment hunting for the last hour.  In an ideal case, it should start somewhere around three months before your 'shifting' date keeping in mind that you will have to let your landlord know about the vacancy in advance.
There are a few basic things you should look for before hunting for a room on rent in Chennai:
Transportation – If you're currently without a car, choose a location that is closest to public transportation. After all, you don't want to spend most of your time walking or calling cabs to commute. Also, don't forget to include the cost of transportation into your budget for a realistic picture of the total cost.
Convenience – Getting a rented room in Chennai that is at a nice location can make your life a lot easier. Look for a place that's near your workplace, major shopping/recreational areas, etc.
Safety – Not only should the rented room be in a safe neighborhood, landlords should make an extra effort to ensure that their residents are safe inside. Proper locks on each door, private entrances, and security guards are few things to consider.
3. Decide the Lock-in Period
The lease agreement between tenant and owner should clearly mention the minimum lock-in period (minimum stay duration) such as 6 months, 1 year or 3 years. Also, at the time of vacating the flat, the adjustment of the security deposit should be discussed. To make this discussion a fruitful one, it's important to read the agreement carefully before signing it and any confusion should be clarified before moving in.
4. Do a Proper Walk-Through
Don't sign any lease before everything falls in place. You should do a final walk-through of the rented room before signing on any document and ensure that you won't be responsible for any issues/damages made before your stay.
Come prepared and check for the following:
Turn on lights and faucets, and flush toilets throughout the apartment to check they all function properly.
Rodent or insects, particularly in cupboards, kitchen area, and storage spaces.
Bring along a cell phone charger and plug it into the sockets to make sure they are in working conditions.
Check smoke alarms and look for fire safety equipment, such as an extinguisher in the kitchen.
Open and close and lock and unlock doors and windows.
Turn on all included appliances to make sure they're working.
Examine floors and walls for any type of damage or damp.
Take pictures of any problem areas and show them to the landlord. Make sure the issues are fixed before you deposit your security.
So if you are currently on a house-hunt and in search of great rented rooms in Chennai, you are always welcome to Colive that offers converted spaces, single rooms, master bedrooms, shared rooms, and many other options to suit your co-living needs.
The rental homes are perfect for those of you who enjoy learning from other people and like having neighbours as their good friends.
But if you need your own space, you also get the comfort of chilling in your own room with all the convenient services right there for you.