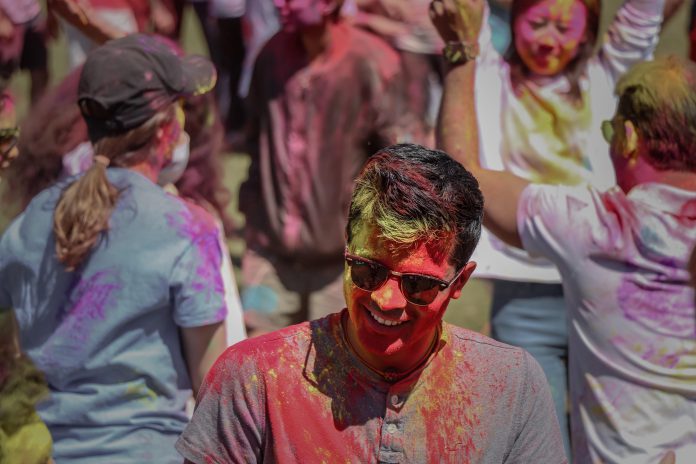 Holi — the festival of colors is here! This means that it is the perfect time of the year when you get to celebrate with your family. This also means that it's time for you to evade the daily boredom of your office and find some quality time to spend with your friends. Yet many of us don't get time to plan a trip home due to a busy schedule or even pre-planned budget constraints. 
Are you facing the same situation? Don't worry, today we here at Colive will share with you the best ideas on how you can make your Holi the most memorable one this year. 
Thinking of festivals like Holi, many of us get a vibe palimpsest of colors of gulaal, red, yellow, green, and blue in the air. This vibe is obviously incomplete without the aroma of sweets and cuisines prepared on this special occasion, mostly enjoyed with friends and family. 
India is a country of numerous cultures and the festival of Holi is celebrated in varied ways across all corners of the nation. This special day is celebrated with friends and family prominently in all the states of North India — most famous among them all being Delhi, Uttar Pradesh, Gujarat, Punjab, and Bihar. While today the youth likes to enjoy with friends, going in for pool parties, discos, and DJ nights, who can forget the traditional Lathmar Holi of Varanasi, Vrindavan, and Barsana? 
This festival is also reminiscent of the various delicacies prepared at home and available in the markets around during the Holi Season. Thinking of Gujiya, Jalebi, Dahi-Bhalle, Chole-Bhature, and many more mouth-watering cuisines often remind you of your home during this month. 
Coliving The Festival Of Holi
Feeling the blues when working on Holi can be common among the people staying away from their homes in cities like Bengaluru, Hyderabad, and Chennai. It can be really frustrating for you to work on a special day like this when some of your friends are enjoying in their hometown. Coming to your rescue then is the most trending way of accommodating — coliving, which most working people nowadays prefer over a PG or a flat. 
The way of coliving is affordable, secure, and comes with premium amenities but most of all it promotes the idea of community living. Here you can enjoy your quality time with like-minded people in the most lively way. You can organize fun activities, share your recipes, and ask your colivers to join-in. And, a festive occasion like Holi is the way to go!
While coliving, you can enjoy with your flatmates, get to know more about them, share their interests and truly enjoy the spirit of Holi while coliving. Here are 5 interesting ways to make your Holi reminiscent this year while coliving in a new town:
1. Invite Your Colivers Home
A fun affair like Holi can turn sham if you're not enjoying it with your friends and family. The spirit and enthusiasm in people that revolve around them during this month can turn dull without like-minded people. But while coliving, you can build your own small community of people with similar interests. You can invite them home to enjoy Holi, play with gulaal, and enjoy the brunch of special Holi dishes of Gujiya, Dahi-Bhalle and much more. 
You can even organize fun activities at home, chitchat, and share your old Holi memories together. You can invite your old friends and ask them to join you over a glass or two of Thandais, some Malpuas, and other mouth-watering delicacies. And, who knows? Your colivers may become your new friends and you would recall these cherished moments with them years later!
2. Organize Fun Activities
Holi is a festival for which most Indians wait for months to celebrate. Since it's a one-time affair in the entire year, people do not want to waste it sitting back at home or in an office cubicle. Coliving is all about living in harmony with like-minded people, sharing their interests and socializing with them. Your colivers may be from different backgrounds, cultures, and from a different region of the nation. Holi is called the 'Festival of Colours'. Not only playing gulaal and eating special cuisines show the true spirit of Holi but also making new friends and rejoicing with the old ones. 
And, coliving is not only about getting affordable rental homes with premium amenities but also about living in a community and sharing ideas with like-minded people. While coliving, you can organize and enjoy fun activities this Holi Season. You can bring in all the colivers and your old friends and arrange activities like pool parties, dance, and DJ night. You can even bring in special guests and entertainers, musicians, and bands to bring in the feel of Holi in the air around you. Moreover, you can organize fun contests and programs meant to attract more and more colivers and socialize with them.
3. Share Recipes
The festival of Holi is remembered for its mouth-watering delicacies and the feeling it leaves behind months after it's over. The day is remembered throughout the year and people can't wait for the season of Holi to get back. Many varieties of food are enjoyed on this day — Malpua, Gujiya, Jalebi, Dahi-Bhalle, Chole-Bhature, Thandai, and many more you might not have even heard of. You might want to visit home and not miss a single Holi without your family and hometown friends. But, coliving offers you an opportunity to make new friends and get to know more about their culture and tradition.
Get to learn about the culture of your colivers and learn how they celebrate Holi and what it means to them. But most importantly, you can grasp the idea about the kind of cuisines your potential new friends enjoy at their homes. You can even share your own cuisines and recipes. Moreover, you can even prepare those recipes together and get to know about new cuisines that you would have never heard of. And, who knows you might also discover the 'Master Chef' living unknowingly within you and even might be applauded for it?
4. Tune-in To Some Bollywood Music
Every special occasion in India is incomplete without Bollywood Music. Bollywood movies have often showcased the culture of India in their own way, mixed with some music. Holi is the best example of them all. We've long known movies with Holi songs whether it's 'Rang Barse' from Silsila or 'Holi Khele Raghubira' from Baghban. Who doesn't love to dance along with friends and family on them! 
Whether it's North or South India, East or West, or even outside the country, Holi songs from movies have the potential to mesmerize all into swaying. Then, why should any of your coliving parties be scorned out of them?
All you need is a loudspeaker and a collection of awesome Bollywood Holi songs and you and your coliving friends can dance and turn this occasion into a gig.
5. Join A Holi Party
A Holi Party is the latest trend today, especially popular among the youth who do not get time to visit their hometown on the occasion. Famous towns and metropolitan cities organize them to celebrate Holi and this is especially joined by people staying outside their homes. Many famous spots in and around cities like Bangalore, Chennai, Mumbai, and Hyderabad organize them with fun activities like pool parties, DJ night, Bhangra Night, Rain Dance, and many more. This is also too popular among the tourists who've come to visit India for the first time and often becomes a much-loved memory to them. These special events even serve delicious Holi cuisines, which people can enjoy with a glass or two of Thandais.
And, where's fun in all such special events without friends? You can bring-in your colivers here and enjoy yourself with them, make memories, and in time become great friends who've cherished memories together! 
And if you stay in a town like Bengaluru, you might already be familiar with many of the famous Holi Party destinations in and around the town like Nandi Hills Campsite, Ramanagara Campsite, Fairfield By Marriott, and many more. 
Coliving is a new way of staying in a new town for working people. Though initially it only aimed at providing them with accommodation options at an affordable rate but since its advent, it has become a way of life. People who initially come together to colive become great friends over time. Community building has become a new value that coliving brings about. Talking about special events and festivals like Holi, harmony, and friendship are the core values of it. And, what would such special events be like if not with friends and family? Coliving is truly keeping the spirit of festivals like Holi alive with its new value of community building. 
Colive offers best-rented homes to working people at an affordable rate with premium facilities, located at prime locations near IT Parks. And it's the best option to meet like-minded people and enjoy special occasions and festivals like Holi. So why wait? Explore a variety of options in major metropolitan cities like Bengaluru, Hyderabad, and Chennai today!