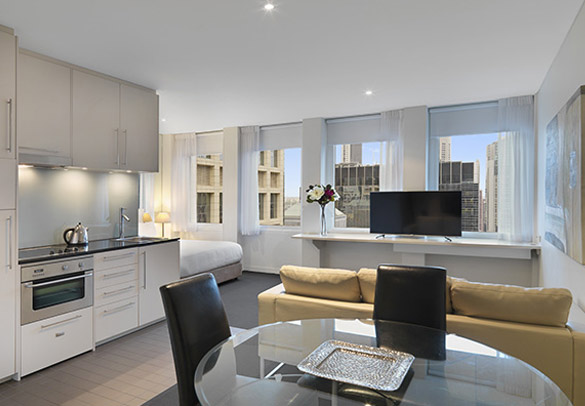 Millennials shift to a metropolitan city to make a better living and most of them have one thing in common, they are all looking for rental accommodation.
In cities like Bangalore, Delhi, and Mumbai, it is difficult to find a rental property that is both affordable and spacious. Amidst all this, living in a studio apartment undoubtedly sounds like taking a sensible decision.
Studio apartments come with a room, kitchen, and bathroom, thus making it a comfortable living space for bachelors or live-in couples.
But if you haven't made up your mind yet, here are a few pros and cons of studio apartments to help you take a better decision:
| | |
| --- | --- |
| Pros | Cons |
| Studio apartments are comparatively cheaper and best for people with tight budgets. | They are not a good option for everyone, especially couples who are planning to start their family. |
| Studio apartments are a hassle-free investment, which makes them easier to furnish and maintain. | They don't have much scope for decoration because adding a lot of furniture can make the area look crowded. |
| Studio apartments help you save a lot on other expenditures such as lighting, cooling, and heating since they are compact units. | Socialising in studio apartments can be a little challenging because of the cramped space. |
| Studio apartments are mostly located in central areas with commercial hubs and transportation options close at hand. This makes people living in such apartments enjoy benefits of location and connectivity. | For people who are not used to living in small spaces, studio apartments can prove to be claustrophobic for them. |
In case, you are looking for a studio apartment that doesn't make you compromise on space, budget, services, amenities, you can visit here. The fully furnished rental homes at Colive come with endless facilities that'll spoil you for choice. Read further to know the facilities in detail.
Hassle-Free Accommodation
Apart from getting a fully-furnished room, you can have a fulfilling experience.
Affordability
Irrespective of the changing preferences, everything does boil down to affordability. Given the shoestring budgets, millennials prefer to live in economical and convenient accommodations. At Colive, you can enjoy all the luxury and amenities at an affordable all-inclusive rent.
Security Services
Our rooms use technology to strengthen security in the rental homes including biometric cards, facial recognition, CCTV, Sensors, etc. making life easier for the Colivers.
Some of our other services include:
Free Wi-Fi with a 24/7 back up service
Online rental payments
Fitness room
Movie room
Community kitchen
Laundry, and so much more.
So before you make any decision, don't forget to measure the pros and cons of studio apartments against your own requirements and budget.