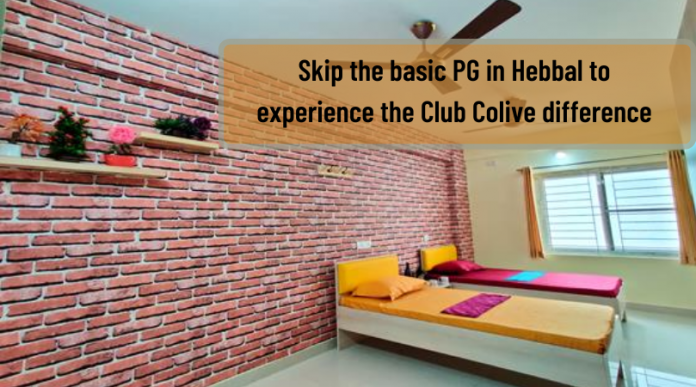 Skip the basic PG in Hebbal to experience the Club Colive difference
Bangalore undoubtedly has plenty of PG options but not all of them are apt to satisfy the millennial lifestyle requirements. And the choices become even narrow when you are looking for an accommodation in a specific location, say PG in Hebbal. Some might be spacious but fail to provide good food while others might seem awesome at first sight but choke you with weird rules later. So, is that really what you are looking for when planning to start a good life in a new city? The answer is a big NO! With the aim to ease your hunt for perfect accommodation, Colive team is here to guide you with the ways to find the best PG in Hebbal or any area of your choice.
But wait; what if there were better options than the basic PGs? Well, there are! You just need to give Club Colive a try.Unlike local PGs, Club Colive PG accommodations are managed by certified on-ground staff. All the desired amenities are also provided within the monthly rental amount. This includes homely meals, Wi-Fi, house help for daily chores, fitness zone, entertainment lounge and much more; all under one roof. Seems dreamy, right? Well, visit the Colive property to see for yourself. But ok, more about Club Colive experience later. Let's first acquaint you with the ways to find a good PG in Hebbal.
In present times, all the searches start and end on Google. So, why not search for a good PG online. Just enter your desired criteria and all the available options will be listed in front of you to choose from. In places like Bangalore, it is indeed time saving and gives the best results. And if you wish to ease your search even more then search on Colive website or app. Some of the best Colive PGs in Hebbal include Colive 447 Millenia 1, Colive 005 Athina Vasudha, Colive 158 Winster, Colive 456 Millenia 2, Colive 633 Delphi 2, Colive 150 Premerio Towers, and Colive 004 Akshaya Vasudha.
You can take suggestions from your friends and acquaintances that are already living in the city as they can provide the most reliable options within your requirement criteria.
You can contact reliable property dealer in the city to guide you with good co-living accommodations at pocket-friendly rates. But do remember hiring a property dealer always costs you extra as their commission is involved in each property dealing. So, go for this option only if you are ok with paying the additional commission amount as well.
This by far seems like the best option especially when your friend is already working or studying in that city. If there is a room for adjusting one more person in their PG accommodation then what better? This choice will not only benefit you in getting a good PG to stay at but will also make living more affordable as the rent and many other expenses will get split.
You can also use your creativity to find cool ways of hunting for a suitable coliving PG in Hebbal. And if all your creative insight gets exhausted at the workplace then don't burden yourself with this additional task and simply visit Colive to avail best and affordable options for PG in Hebbal.