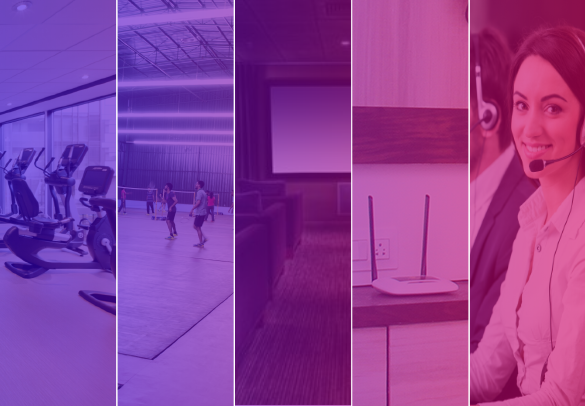 Shared accommodation is no longer something only students endure. It has become a popular choice of living, particularly for those living in metro cities where the cost of living is typically high. It's also very common to see people renting an apartment or staying in a PG accommodation.
PGs are considered pocket-friendly by many but after the monthly rental bill of the shared accommodation, there are tons of other expenses such as furniture, WIFI, utensils, TV, maid, laundry, and other things that prove heavy to your pocket. After all this, there is this constant issue of getting used to living with people who have different lifestyles.
What if someone tells you that there is another new-age concept of co-living that will relieve you of all the hassle. You can stay in smart and stylish rental homes with access to world-class amenities and a community of like-minded people; everything in an all-inclusive rental bill.
Here are the 5 things you need to know about co-living and shared accommodation before your next house hunt:
Utilities:
Buying a bed, TV, refrigerator every time you change locations is a big hassle. Co-living spaces give you rental homes that are smart and fully-furnished. The co-living space includes shared spaces with a community kitchen, dedicated house-keeping services, Wi-Fi, fitness rooms, sports area, movie rooms, and much more. So, you not only eliminate the extra cost of buying and then transporting the furniture from one place to another you also get a hassle-free living with access to every service 24/7.
Community Living:
When you live in a community that shares similar interests and ideologies, it feels like living with your loved ones, who know your likes and dislikes. From events, activities, tournaments to cooking together & watching movies, you will never feel alone.
Privacy:
Are you someone who takes his/her own sweet time to make friends? If yes, you don't need to worry about interacting with 10 people every day. Co-living offers a perfect combination of private & community spaces, ideal to unwind after a long day at work.
Flexibility:
One of the best things about co-living is its flexible lock-in period, which is any day better than a long term lease or a mortgage. In a co-living space, it is you who can decide the time period and duration of the stay. While terms will vary depending on where you stay, many communities offer a few terms you can choose from.
Colive offers converted spaces, single rooms, master bedrooms, shared rooms, and many other options to suit your co-living needs. Now enjoy the perks of community living with Colive. Know more here www.colive.in