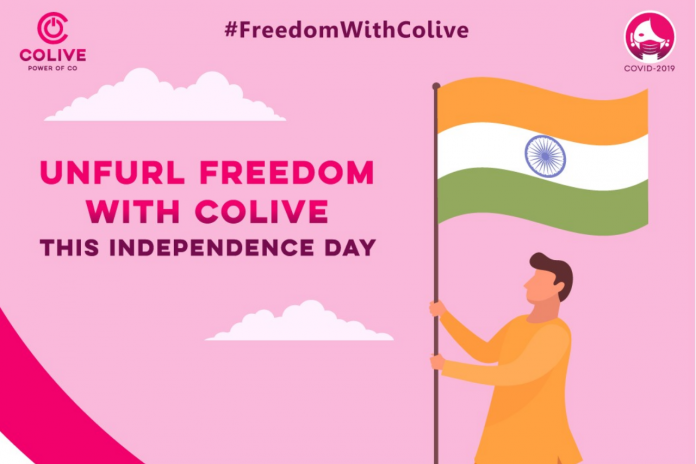 Coliving is a brand new concept which is taking the world by storm. As the name suggests, Coliving means community living or in other words, it is a community where like-minded people living together. Preferred over PGs and apartments by millennials and the working people in big cities like Bengaluru, Chennai, Hyderabad, and Pune, coliving is helping them get affordable rental homes in prime locations near their workplaces with premium amenities. 
Much like the other major sectors, Coliving Industry too has witnessed many ups and downs through the course of the last four months. Yet, Coliving remains one of the safest ways of finding a rental or shared space for millennials in Bangalore, Chennai, Hyderabad and other big cities in India. It offers clean, hygienic, and well-maintained spaces and has emerged as a safe haven for home seekers in times like the Coronavirus pandemic. 
Talking about the Independence Day —  the day on which the country attained its freedom from the British Rule —  its essence lies in attaining true freedom. And, for the millennials who step out of their hometowns in order to lead an independent life, numerous challenges come forth. The major challenge is of finding a suitable home to reside in which is affected by major factors like affordability and location. Then, depending upon their budget and lack of availability of resources, they mostly have to settle to live in a PG or a shared space. Where is there freedom there?
Coliving ensures an independent life to all the millennials living in big cities like Bangalore, Mumbai, Pune, and Chennai. It not only gives them affordability, style, and services but also an opportunity to reside in a community of like-minded individuals with whom they can share their thoughts and ideas. Here are five ways in which Coliving ensures an independent life to all the millennials especially in harsh times such as the Coronavirus pandemic. 
Read: 7 Great Tips On Being A Good Roommate
How does Coliving make you Independent?
1. Freedom to Upgrade Your Lifestyle and Live Smart
The concept of Coliving is all about providing the most affordability and maximum community living experience. But the concept since its advent has been evolving more and more, providing a tech-enabled, modern lifestyle to millennials across big cities in India. 
Various players in the market have been bringing-up new and innovative means to give their customers a new and modern lifestyle at an affordable price with smart features like tech-enabled door locks, community kitchen, and living in a community, enjoying with friends. Thus, Coliving surely provides the millennials with the freedom to upgrade their lifestyle and live smarter. 
2. Freedom to Save More
Saving money is a necessity when you are staying outside your hometown. Though you may long a luxurious lifestyle and going with the trend may seem tempting, a small saving from your end will surely ensure a great future ahead too. And securing your future requires a healthy investment in the long run too.
But can saving money and a luxurious lifestyle work hand-in-hand? This is where Coliving comes in handy. The concept of Coliving is all about providing an affordable and luxurious living to all Colivers in big cities. 
3. Freedom of a Safe and Sanitized Stay
While the crisis of the Coronavirus pandemic continues spreading its wings across the nations globally, looking out for a safe and sanitized rental spaces has become a necessity for all millennials. There have been many cases where the landlords in the wake of the COVID-19 crisis have asked their tenants to vacate their facilities immediately.
What would be the best rental option for them in such a scenario? Coliving surely has given the opportunity to youngsters and corporate employees to thrive, becoming their safe haven in times like the Coronavirus Crisis. 
4. Freedom of Maintenance and Support
All millennials living in cities like Bangalore, Chennai, and Hyderabad lead a busy life. They have little to no time apart from their corporate life to think about something else. And, getting oneself a rental space requires some maintenance. Not only maintenance, but millennials also don't even find to do other household chores like cooking. 
Coliving comes as a saviour to them in such a scenario where they get fully furnished and well-maintained homes to reside in. These rooms don't require maintenance and thus support is provided to them ranging from food, lodging, and even laundry servicing.
5. Freedom to Choose a Like-minded Roommate
When you decide to move out of your hometown, you will come across many challenges. Deciding on shifting to a PG, a shared room or an apartment will be the new choice to make, you'll come across when you leave behind your hometown. But where would you be living in? Would be living alone? And, if not which kind of roommates would you prefer living in with? 
 The best solution can be to choose your roommate and your living space wisely. And what would provide you with a chance to live in a community of like-minded people? It's definitely Coliving —  which now has become a way of living for the millennial generation in cities like Bangalore, Chennai and Hyderabad. 
Related: Shared Economy: Should 'Co-Working + Coliving' Work Together Post Lockdown?
Coliving surely is one of the best ways to ensure an independent life to all the millennials living in big cities like Bangalore, Mumbai, Pune, and Chennai. Not only does it come with affordability, luxurious living, and a better lifestyle, it also promotes the new way of community living alongside like-minded people.
Talking about the concept of Coliving, Colive is a leading player in the industry which not only helps millennials get rental facilities at affordable rates but also have premium amenities, giving them a chance to build their community of like-minded people. While many worry about a safer stay in the ongoing crisis, Colive continues to provide them with a hassle-free stay with top-notch safety near IT parks and top corporate offices. 
While Coliving at our rental spaces, the millennials can avail a high-speed internet 24×7 to let them have a stress-free work from home and bide their time in their facilities during the phase of the ongoing crisis and lockdown. Visit the website of Colive to know more!