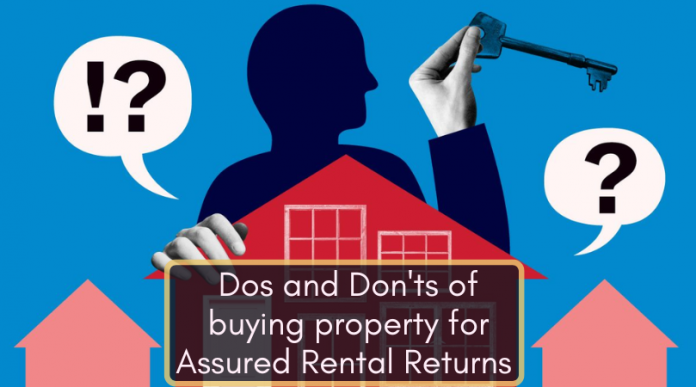 Do's and Don'ts of buying property for assured rental returns
Are you planning to buy property with the aim to reap assured rental returns? If yes then you must know that investment in rental property requires a lot of planning and research. Starting from property hunt to final buying decision; you must follow a step wise process for assured rental returns. Confused about where to start from? Don't worry as Team Colive is here to your rescue. We have curated a list of important things that must be considered when looking for rental property that promises assured rental returns. Read on:
Location
The quality of location matters as it highly defines the kind of renters that would show up. And you obviously wish to acquire decent renters. Right? Hence, if your rental property is near a university or workplace hub, you would never face dearth of good renters. So, choose location wisely, have a look at its various on-going projects and make sure that all important facilities like shopping malls, gymnasiums, cineplexes, public transportation etc. are conveniently available. These factors not only entice renters but also contribute towards hike in property as well as rental rates.
Project value
Today, people don't wish to compromise on their lifestyle requirements whether being at home or on rent. Hence, rental home seekers look for projects that add value to their lifestyle. Nowadays there's increased number of people migrating to new cities for work but they nowhere seem to compromise on their lifestyle needs when choosing a rental accommodation. So, opt for projects that provide the modern amenities like spacious rooms, lift, children's play area, garden, gym,cleanliness, good ambience, reliable security and professionally managed maintenance.
Monthly Rental
Property purchase should always be done keeping its next 5 years prospects in mind. Check the current rental prospects in the region of your interest and also carefully evaluate its worth in the following 5 years. Once you have selected the right location, consider projects that are within your budget or slightly above it to have good number of options available to choose from. You can also go about investing some amount in modifying the property to attract tenants for paying higher rent.
Purchase & Renovate
When planning to invest in property for assured rental returns then the aim is not to buy a brand new property rather you must buy a property worthy of ensuring good returns on investment. Hence, if you come across a property on sale that holds the potential to fetch you good rental incomes then grab the deal. If the property is a bit old then all you need to do is invest some amount in maintenance and repair to have your rental property ready for tenants. And the repair cost will be recovered in just a few months.
We really hope that this blog post proved helpful for people planning to invest in property for assured rental returns. Good Luck for your property purchase deal!!