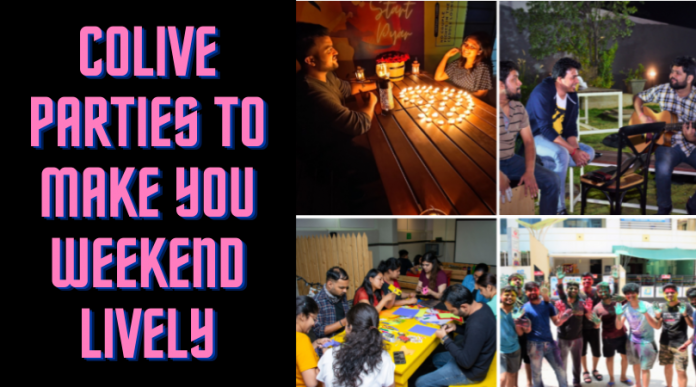 Colive Parties to make your weekends lively
Weekends at PG don't sound that fun. Right? Well, you can say so if you have chosen a PG that is into the business just for business. But if you have been a resident of Colive PGs or plan to be one then apart from having access to a whole lot of facilities; you also get to have super fun weekend coz of Colive parties!
Being into the rental accommodation industry, we understand the needs and requirements of people relocating to a new city. They don't just miss the homely comfort but also the homely vibe, especially during the festive season. Hence, Colive team has always strived hard to make sure that each Colive PG provides the desired amenities to make the stay comfortable for residents. And when it comes to providing homely feel and vibe; nothing works better than community events and parties.
The Colive parties are organized with the intent to bring the community members closer. Each weekend is filled with fun and enthusiasm at Club Colive hubs where theme based parties are organised. So, if there is a festival approaching then the Colive parties are organised around it and on other weekends you enjoy random theme based parties like barbeque night, Karaoke night, etc. And believe us; it's great fun! 'Good Food and Good Mood' is the vibe of all Colive parties. The schedule of the upcoming Colive parties along with the theme, timing and venue gets updated on the Colive website so residents can plan accordingly.
And now if you are curious to know more about Colive parties then here you go! The weekend parties at Colive are all about meeting the community members, singing, dancing, playing fun games, relishing good food and most of all having real good time to gear up for the work week ahead. Here you don't just meet the community members but get to know them better and form connections based upon common interests.
Now, if your curiosity is diving deep then you must start your coliving journey at the best suitable Colive PG and then you automatically become a Club Colive member entitled for all the benefits including the Colive parties on weekend.