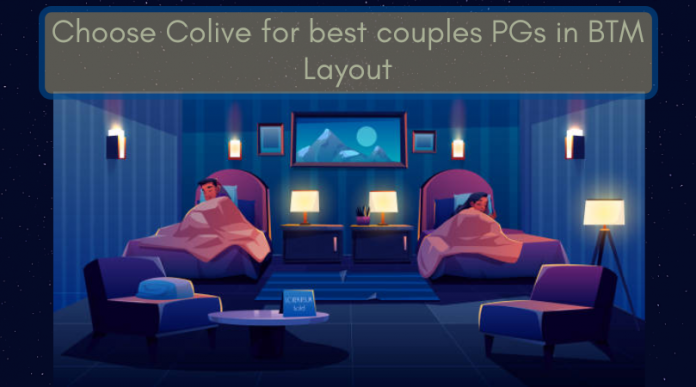 Choose Colive for best couples PGs in BTM Layout
Are you tired of searching for apt Couples PGs in BTM Layout? And the only thing ringing in your mind is PGs PGs everywhere but no PG for couples? Hold on bro! Maybe you haven't come across the Colive powered couple friendly homes, also referred as Colive Cuddle. The Colive cuddle homes being equipped with all the desired features and amenities; they free you of the unnecessary stress of daily chores and leave space only for more cuddles!
Colive strives to meet all the expectations that couples have from their new home. Below are the top reasons that make Colive PGs the best couples PGs in BTM Layout. Read on:
1. No hassles of carrying furniture
A fully furnished home is a vibe! Agree or not? Colive cuddle properties are especially curated to provide you pleasant stay experience with your partner. Hence, all the necessary arrangements have been made to ensure that you don't have to go through the hassle of carrying or purchasing new furniture.
2. Ensures personal time
After a long week of work and stress, all you need is some personal time with your partner. Hence, our professional staff takes care of the household chores like housekeeping and cleaning to provide you time and space to rejuvenate.
3. Community Events
Community events give the opportunity to spend some fun time with your partner along with other community members. At Colive,weekly events are held at flagship Club Colive Hubs. Here you can have the best time while grooving over romantic tracks with your partner. Moreover, you get the chance to meet and network with other colive community members.
4. Better Savings
When you save together, you grow together! Couple friendly homes provide you the opportunity to stay together and hence bear the monthly rent together. This gives each of the co-living partners the opportunity for increased monthly savings. At Colive, the amenities provided completely justify the monthly rent and also proves less expensive as compared to renting a place and individually paying for every service provided.
If you are looking for the best couples PGs in BTM Layout then Colive is undoubtedly your go to place. From property tour to PG booking; everything is app based to make the process simple and hassle-free for you. Happy Coliving!!