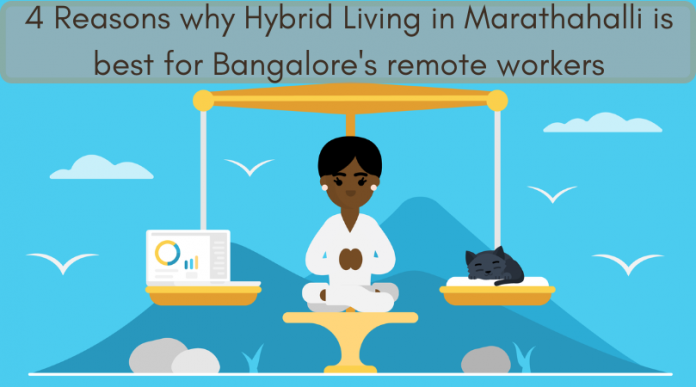 4 Reasons why Hybrid Living in Marathahalli is best for Bangalore's Remote Workers.
If you thought office cubicles and desk-bound meetings were the best way to get the job done, think again! Today, people have switched to working from home and this trend seems to take over your daily office run. Hence, the remote workers in Bangalore are growing fast and so is the need for hybrid living. Here are the 4 reasons why Hybrid Living in Marathahalli is best for Bangalore's remote workers:
1) Time saving
Bangalore traffic jam conditions nowhere seem to improve. Hence, there's no doubt in the fact that remote working saves time as not even a minute of the day is wasted in commuting. And even if you are required to visit office on certain days of the week then Hybrid living in Marathahalli is the best option as this area of Bangalore is well connected to many other areas.
2) Restaurants and Cafes
Remote working should not take away the charm of spending some leisure time with friends and colleagues. Hence, if you go for Hybrid living in Marathahalli; be sure of having ample restaurants, eateries, and cafes around. The mornings here start with a cheap cup of tea or coffee available at nearby cafes and street stalls. And if you choose Colive rented accommodation then right from morning tea to late night cravings, everything is taken care of within the premises.
3) Affordable Living
Affordability is the first criteria for choosing a place to stay in Bangalore. If you are getting a whole lot of amenities but the rental cost is high; you would not end up choosing it. But when you opt for hybrid living in Marathahalli, there is no dearth of coliving facilities, PGs, and shared spaces. The rental cost is also quite affordable based on the amenities offered. Thus, Coliving in Marathahalli automatically becomes very reasonable for all youngsters who are looking out for an affordable place to stay.
4) Presence of Colive
Colive is a major player in the Coliving Industry. We have our presence in all major areas of Bangalore like Whitefield, AECS Layout, Kundalahalli, ITPL, Marathahalli, KR Puram, Silk Board, and many other places. If you choose to stay with us; all amenities and facilities will be available for you within the monthly rent.
Hybrid remote working is the future of workplace. If you too are working remotely then Colive is here to make your experience exceptionally better by providing professional setup that replicates your official workstation.