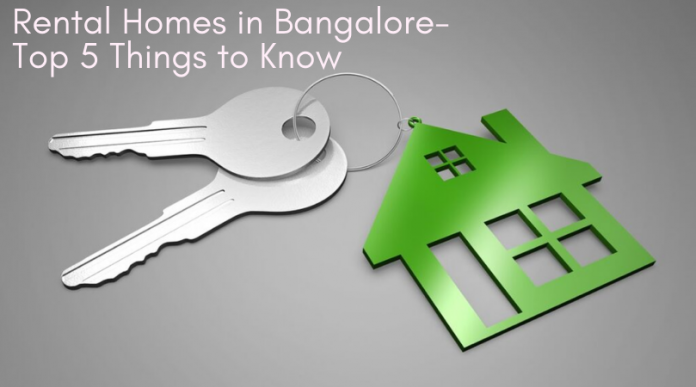 Rental Homes in Bangalore – Top 5 things to know
Well, if you are looking for rental homes in Bangalore then be sure to have ample options at your disposal. But in order to choose the one that provides you value for money; have a look at the list of top 5 things that you must know as a tenant. Read on:
1. Rent Agreement
This official legal document is signed between tenants and owners once renting is finalized. Rent agreement is a very important document and hence must be read very carefully. If you feel the need for any modification in the agreement terms then discuss with the owner and get the same done before signing.
2. Security Deposit
Security deposit is the money that you pay to the landlord other than the advance rent payment. Though the concept of security deposit exists since quite long for rental homes in Bangalore but it is important to get clarity from the owner regarding the security deposit amount that he expects from you. If the amount is decent and suits your budget then make a point to have it mentioned in the Rent agreement to avoid unnecessary hassles at the end of your rental tenure.
You can have your security deposit amount refunded at the time of exit but there is a catch in this provision;you might get the refund after certain deductions from this amount. So, it's important to make sure that the exit plan is carefully documented listing out all the major deductions that are legible at the time of exit.
3. Maintenance Charges
Whether you own a flat or stay on rent; maintenance charges are inevitable. This is because all the apartment's requirements need to be taken care of. Usually, it goes to tenants for the duration of their stay in the flat. So, before renting a flat just get clarifications regarding who has to pay that amount if there is any increment in maintenance charges by society.
4. Brokerage Charges
You cannot escape the brokerage charges if you have reached the owner via an agent. But what you can do is negotiate the said charges if at all seems high. Another important point to be noted here is that sometimes brokerage agents set their terms and condition for agreement renewal wherein you might have to pay the brokerage charges during each renewal. It's better to avoid such kind of provision in availing their services to save yourself from unexpected payments to the booking agency. Please prefer one-time payment only.
And if you are seeking a brokerage fee free option; then go for Colive! Yes, here you get your desired rental home in Bangalore at a much reasonable monthly rent without having to pay any amount to the broker.
5. Notice Period
Always discuss the notice period. It generally varies between one to two months but some owners may even ask for a three-month notice. So, discussing the same before signing the agreement can make the exit process hassle-free.
All the above mentioned points must be discussed clearly with the owner before signing the rent agreement. Also read the agreement carefully to check if all the points agreed between you and the owner are well documented in it.