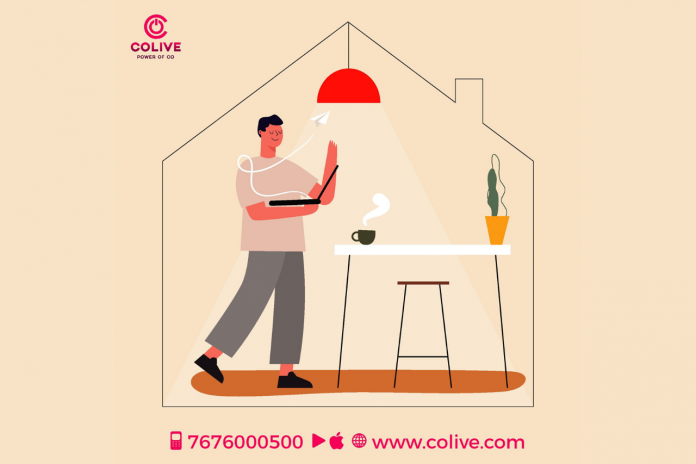 The Coronavirus outbreak which started back in December 2019 has now taken the world by storm. The pandemic which originated in China's Wuhan has now triggered a global health alarm, taking most of the globe. The WHO has declared it as a 'Global Health Emergency' and as of today, around 3.5 Million positive cases of the virus have been reported. This has affected many nations around the world, especially India which has been under a strict lockdown for more than a month now. No doubt, with the corporate offices, shut down, the economy too has been widely affected. Does this apply to the Coliving Industry too?
The coronavirus outbreak spread its hands in India on January 30, 2020, when the virus was found in a student from Kerala who had just returned from Wuhan University. But that was back in January and as of now, more than 42,500 people have been affected by the coronavirus, leaving around 1,5000 casualties in total.  The lockdown which was initially implemented back in March has now been extended twice till May 17, 2020. The lifestyle of all people in and around us has changed manifold. We now have to stay at home all the time, eat healthily, maintain social distancing and take precautionary measures into consideration. 
All businesses have been affected by the ongoing health crisis and lockdown with strict orders to remain shut and direct all employees to work from home until the threat is dealt with. Evidently enough sectors like the real estate which solely relies on customers for bringing revenue is going through a harsh time. What about Coliving industry which too relies upon customers? Is there any scope for the Coliving Industry post the lockdown? 
Definitely, yes. Much like the other industries in India, the Coliving Industry in India is suffering through a hard phase as it too relies on customers to generate leads and revenue. The dire need of the hour is to decide on how to cope up with the ongoing crisis. Though it will need to change its strategy post the phase and adopt the measures sharing the economy and much more, the Coliving Industry also has a huge scope even after going through the pandemic of COVID-19. Here are 10 things favouring the industry:
Also Read: Shared Economy: Should 'Co-Working + Coliving' Work Together Post Lockdown?
1. Real estate purchases to get postponed and rental markets to flourish
In times like the ongoing Coronavirus health pandemic and the strict guidelines of lockdown implemented by the Centre, the real estate business is finding a hard time finding potential customers. As a result of this, there will be more scope for the rental markets and especially the Coliving industry which promotes community living. And, rentals and residential rentals are always countercyclical and are more attractive to retail investors in tough times. With credit tightening, real estate purchases will get postponed and rental markets will flourish. This will definitely help the Coliving industry increase its leads and emerge unharmed by the ongoing crisis.
Tenants will look out for flexibility and prefer Coliving 
The ongoing crisis and lockdown are real and indefinite and we have no idea until when will it continue. Moreover, there is no halt to the number of cases rising rapidly and none of us is sure when will these numbers go down. Flexibility is key in such times of uncertainty. Purchase of illiquid assets will be the last on the retail customer's mind. In fact, an 11-month lease contract will also look long to them at such times. Flexibility will be a new criterion added to the list of options to consider in their home search. This will ultimately result in home seekers especially the millennials and students now turning towards the Coliving industry to provide them with a flexible stay.
Branded operators will be preferred 
There were many reports of landlords and PG owners asking their tenants to vacate their facilities in the wake of the ongoing health crisis in the last couple of months. This is the reason why we believe the tenants will move away from unorganized rental homes due to the uncertainty created by these players during the pandemic. Migrants will now prefer branded and reliable operators for renting their apartments and only the Coliving industry can assure them affordable rental homes with premium quality services which the local landlords and property dealers can't promise! 
'Clean Homes' trending in Google search instead of 'Cheap Homes'
With the ongoing health crisis, now the total focus for tenants is on hygiene. Even millennials are now looking at clean and well-maintained places to stay where they can feel safe. 'Clean homes' as a word is trending in Google searches compared to 'Cheap homes' with tenants willing to pay a premium for hygiene. Earlier the budget was a major concern among the millennials and cheap living facilities was a trend term people would search online in cities like Bengaluru, Chennai and Hyderabad. Today new home seekers now search for key terms like safe stay, clean and hygienic homes, etc. which is a positive sign for Coliving industry to emerge ahead and get the moon. 
Tenants to consider safety as an important factor in their home search
Safety has become of paramount importance in everyone's mind in today's world. Especially in situations like the ongoing COVID-19 pandemic, tenants want homes to have safety features that include the screening of guests, visitor management and emergency support in case of health issues. And, the Coliving industry is actively providing these top-notch features to all the tenants, and is in fact, becoming their "ICE – In Case of Emergency" when they are staying away from home. This is one of the prime reasons why the Coliving industry will bloom post the lockdown.
Homes with adequate facilities for Work From Home will be preferred 
In the ongoing health crisis and the implementation of lockdown in cities like Bangalore, Hyderabad and Chennai, the corporates have directed their employees to Work From Home (WFH). With an increased focus on WFH, tenants will prefer looking for residences which have adequate infrastructure to support uninterrupted power & internet in order to help them fulfil their targets and given tasks at hand. Coliving facilities actively provide these services at an affordable rate with coworking spaces and other amenities. Tenants will naturally look forward to them. 
Residents will look for homes near their workplaces
The pandemic of Coronavirus was a major setback for the millennials who used to stay far from their workplaces and travel in public transport facilities like buses and metros. To keep themselves safe, the residents will now look to stay closer to their workplaces more than ever. They will begin to avoid office and public transportation services due to the risks involved in opting for such facilities given the ongoing health crisis. This surely is a positive sign for the coliving industry.
Residents will prefer single or double sharing rooms over overcrowded stays
As a consequence of the ongoing health crisis, social distancing has become a norm of our day-to-day life and customers are moving out of cramped facilities to avoid crowded rooms. Coliving facilities that have low density with at least 100+ sq ft of space per resident will start gaining popularity as tenants look to live in solo sharing or double occupancy rooms. This surely is a golden opportunity for the coliving sector to increase its sale. 
Other businesses will evaluate Coliving as 'Business Continuity Plan'
Corporates are now taking an active interest in where their employees are staying as it affects their productivity during WFH. Moreover, even post the crisis, the safety of their employees and norms like social distancing will matter. They will start evaluating Coliving as a 'Business Continuity Plan' given that they provide a safe alternative to switch to seamless WFH during the times of crisis the coronavirus pandemic. 
Developers to repurpose unsold inventory into Coliving homes
The pandemic of coronavirus has left every sector affected. As the real estate is one of the sectors suffering the most in the ongoing crisis, many of the inventories of developers will not be sold and they will have to bear losses. With developer's unsold inventory piling up, and demand remaining stagnant, repurposing them into multi-family and Coliving homes are inevitable to ensure part of the interest and maintenance. 
Though currently suffering the crisis of Coronavirus and bearing losses, the Coliving Industry might have to change its strategy manifold. But with these 10 things favouring the industry in India post the lockdown, Coliving will be one of such industries which has scope post the phase of lockdown. Since tenants are now considering factors like safety, maintenance, flexibility, location and cleanliness as one of the factors to keep in mind while searching for a new abode, Coliving industry is sure to emerge victorious even after dealing with the crisis and bearing heavy losses. 
In the ongoing crisis, Colive continues to care for the safety and security of its residents. While many worry about a safer stay, we continue to provide residents with a hassle-free premium stay at an affordable price with top-notch safety near IT parks and top corporate offices. We not only provide our residents with a hassle-free stay but also offer them a high-speed internet 24×7 to let them have a stress-free work from home and bide their time in their facilities during the phase of the ongoing crisis and lockdown. Visit the website of Colive to know more!