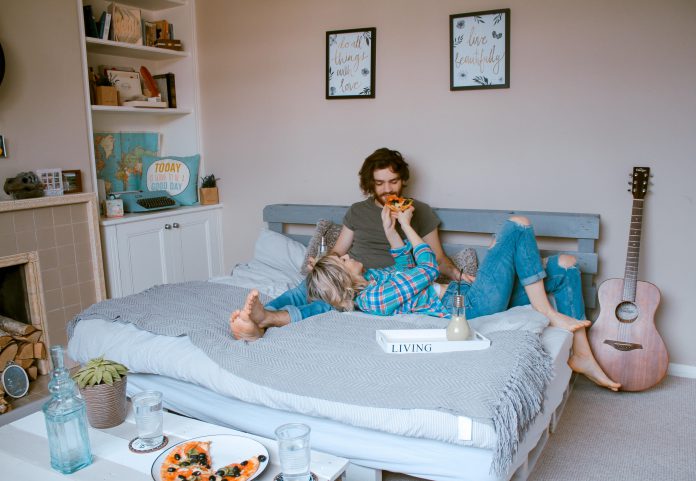 You and your partner have known each other for quite a while now. You've been in a relationship for a long time and have cherished several moments together. Your families have approved of your relationship choice. You may or may not even have plans to become life partners in the future. But is it the right time to move in together in a space to colive? 
Ask yourself this question. This is because the concept of moving in with your partner into coliving is totally new in India. The term 'live-in' is not only new here, but the idea behind it brings in a lot of challenges altogether. First of all, your decision about moving in with your partner wouldn't be approved of by your parents. Secondly, you will come across many challenges like finance, the feasibility of your respective workplaces, and many more. Lastly, the major challenge would be finding a suitable home to move in together because most landlords won't allow it.
And, finally when you and your partner move in together another set of challenges surface out of nowhere like disapproval of ideas, division of household chores, and many others. 
The concept of partners moving in together isn't new globally. An increase of 59% in the number of people following this trend is evident since 1997. As of 2017, nearly 79 million adults live in shared spaces, reports Pew Research Trust. 
Though the concept of live-in is new in India, yet the mindsets have changed manifold and many parents have started approving of it in towns and metropolitan cities. The advent of coliving spaces has helped couples move in together, yet several things need to be kept in mind before taking this big decision in your life.
To colive as partners in a shared space might be your dream. Though it is quite different than living as a married couple if it may turn bitter with time. For a married couple, filing a divorce requires a legal process to go through. Similarly, leaving your partner and moving out of your coliving space may be a complicated process too. You'll have to consider a number of things —  drawing out your share, who gets to keep which stuff and many more. Where filing a divorce is a long process and requires a legal method, separating after spending some time together may have an emotional impact on you and your partner. 
You definitely wouldn't want to go through these many complications. Don't worry! We here at Colive today, will demystify 7 important things to consider before moving into a coliving space with your partner. 
1. What's Your Reason For Moving In Together To Colive?
So, what's your reason behind moving in together to colive? You should consider asking this question to yourself and your partner numerous before deciding to move in together into a coliving space. There are many reasons for it. The most basic reason is that you are taking an important decision in your life here. This is because you are planning on sharing a room with your partner. This decision isn't only being upheld by an emotional bonding and will, but will also involve a mutual investment from both of you. 
Your reasons might be simple. You might want to move in with your partner to make a big investment together and might call it your dream home. Another reason can be both of you might consider becoming colivers to a married couple in the future. Whatever your reasons might be, it has the potential to impact your decision of becoming colivers from partners. This is why you and your partner should definitely take the reason behind moving in together as an important factor to consider. Both of you should sit down and discuss before arriving at a mutual conclusion.
2. Talk Before Moving In Together
You should definitely consider talking to each other before deciding on moving in together to colive. You might have some issues with you, some likes and dislikes, some allergies, and more. The same can be said about your partner with whom you've decided to stay as a coliver. Apart from these, family issues too, need to be discussed. Does your family like your decision of moving into coliving with your partner? Or does your partner's family approve of his/her decision of moving in with you? 
Many similar issues need to be discussed before you turn from partners to colivers. You both might have stayed in a relationship for long, have spent important moments of your life together, have cherished them but have you ever lived together? You both might think that you are perfect for each other, but things can change manifold with your decision of moving in together into a coliving space. 
This is the reason why you should think before arriving at the mutual conclusion of moving in together. So, why wait? Sit down over a cup of coffee and have a conversation about your likes and dislikes, interests, preferences, allergies, and more. This will surely help you arrive at the most rational decision which may have an everlasting impact on your life.
3. Discuss The Budget And Finances To Colive
Coliving —  hell yeah! This might be you and your partner's common expression upon deciding to move in together as colivers. But this isn't just a piece of cake. There is a lot of rational decision making involved and above all finances should be a major consideration, not to be ignored. This is because you and your partner are making a mutual investment and nothing should go wrong here. And if it does, you and your partner might have to bear the losses. 
Deciding on moving in together and imagining a life together in your dream home might seem easy at first, but money is a major factor that needs to be considered. You might feel a bit skeptical while talking about money with your partner but trust me, it will surely help you mitigate the chances of bearing a loss. 
You have long known your partner, his/her interests and preferences, but you would also like to know about their economical background. Since moving in together requires a mutual investment, you would also like to know how much share is your partner willing to bear in your investment. 
4. Is Location Of The Coliving Space Right For Both of You?
A major reason why a couple might prefer coliving can be the career perspective. You both might have obviously agreed to live together because you want to spend your moments together as partners. This may also be supported by the fact that you both might be living and working in the same city. But then you should also consider taking into account the location of your coliving facility. 
Between both of you, whose job location is the nearest? You should definitely ask each-other this question before moving in together as colivers. This is because if the job location of only one of you is near, the other will have to face a lot of difficulty in commuting and vice versa. And believe me, living in a metropolitan city like Bengaluru, Hyderabad, or Chennai, you will often find yourself distressed over long traffic jams. Moreover, just because your office isn't feasible from your home, you'll have to spend an extra penny over traveling to your required destination.
As a solution to this issue, you should make a mutual agreement on the location of the coliving facility which serves best to both of you.
5. Divide Household Chores And Duties
Finding a roommate might be a hard task for bachelors and finding a suitable abode suiting the needs of both maybe even harder. Since you have already found the proper solution to both of them, the next challenge ahead will be the division of duties at home.
In India, patriarchal norms might have already decided on the duties of a man and woman. Where men were once supposed to work outside, women were only limited to household chores. But this thinking has changed and so have the duties. Men and women both get equal opportunities to work outside especially in big cities and towns. After this, we arrive at the division of duties at home because both of them have a limited amount of time to spend at home.
If one of them has to work at home too and the other gets to spend quality time, this may cause a lot of disagreements. This is the reason why couples should consider talking about the division of chores at home before deciding to move in together to colive.
6. Always Prepare A Backup Plan Before Coliving Together
You have decided to move together to colive after a lot of talks and discussions, but have you prepared for the worst? This may seem a vague question to ask the couples moving together. But believe me, it can really help you mitigate the losses which might arise if one of you moves out after a disagreement.
You might have known your partner for long. You might have known his/her interests, likes and dislikes, and everything you should know about. But living with your partner might be a totally different scenario after all. You might have disagreements and fights, which sometimes might result in one of you leaving the facility permanently. What would you do in such a scenario?
All you need to do is sit together before deciding to move into a coliving space and come up with a backup plan. Decide on who would hold what proportion of the share and even have all financial contributions on paper, duly signed by both.
7. Remember, Moving In Together To Colive Is A Compromise
Like all relations are formed with a compromise from both ends, coliving as partners is something built along the same lines too. You need to have a mutual compromise built on some solid ground. Both of you need to contribute equally, understanding each other's needs and necessities and then arrive at the conclusion of moving in together into a coliving space. 
Both partners living together should make a compromise and be ready to make one whenever required by any of them. You must have a mutual understanding. Earlier you both were good acquaintances, later you both formed a strong relationship and now have decided to live-in together. If compromises are not made by both of the partners, then their decision of moving together is totally futile. 
Now that you have considered all these 7 important points you are all set to take your long mutual relationship to a new level. You are perfectly ready to become colivers from partners, sharing a space and living with mutual trust and eternal joy. 
Coliving is the best way for couples to move in together and Colive is becoming a reason behind it by providing couples a platform to find a suitable home. These homes not only come at affordable rates but also have premium amenities, giving them a chance to build their community of like-minded people. Get the best affordable homes in Bengaluru for you and your partner only on Colive!