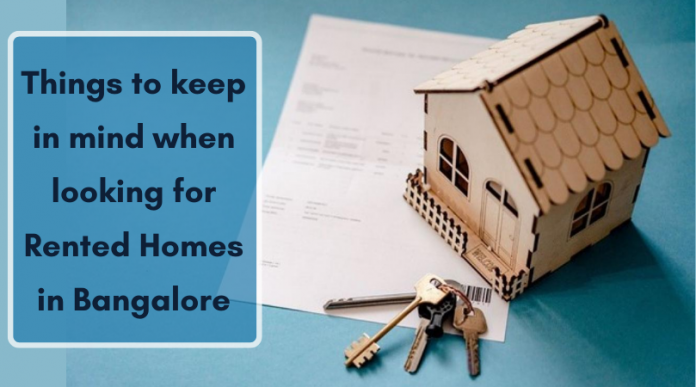 Things to keep in mind when looking for rented homes in Bangalore.
Moving to a new city surely gives you a reality check of dealing with so many things on your own. From the times of being completely dependent on your parents for most of the tasks to becoming somewhat independent; you grow up. Sounds a bit emotional… Right? So now when you have got the opportunity to decide stuff for yourself then you are expected to be a good decision-maker as well. And believe us; you will turn out to be wise if you go prepared for it. The first and foremost thing that you need to decide about is rented home in Bangalore. And that's a big decision as major chunk of your monthly expense in a new city goes here. This blog post will guide you with major points to be kept in mind while choosing the best out of many rental homes in Bangalore. Read on:
Budget is the first and foremost factor to be taken into account prior to even initiating the hunt for a rented home in Bangalore. This way you will shortlist only those options that fall within your budget criteria.

Proximity of your work location to your place of stay really matters. So choose your rental accommodation within a reasonable diameter from your workplace to save time, energy and expenses.

Prefer online search for rented homes in Bangalore. This not just saves time but also puts in front of you ample options to choose from.

Always welcome suggestions from local friends, colleagues, and relatives to make wise decision.

Once you have shortlisted a few properties; contact their respective owners via callto collect the details of property like photographs, location, rental, security deposit, year on year appreciation value, rental cycle (Usually 11 months), notice period, and renovation cost (painting & cleaning). This will prove highly beneficial in further narrowing down the best suitable options.

All that glitters is not gold! What you see in pictures, the property may not be exactly the same and hence you must visit the property to verify the same. But let us tell you that if you opt for a Colive rental accommodation then each property that you browse via Colive app will turn out exactly the same in real as well.

It's very important to read the draft agreement carefully before signing it. This is because then you stand a chance to raise your concerns, and negotiate rent and security deposit amounts if required.

The possession date and rental address must be clearly mentioned in the draft.

Add mode of transaction in the draft. We recommend you to prefer wire transfer instead of cash in order to have the proof of each payment done.

Maintenance, water, electricity charges, etc., must be reflected in the draft.

Also make sure to have owner bank details in the draft for transferring monthly rent and security deposit.
Keeping all the above mentioned points in view will definitely help you make the right decision. And if you want the whole process to be hassle free then simply visit Colive app, select your preferred location and you will get a whole list of fully furnished rental accommodation options right in front of you. And since we are a tech based rental accommodation platform; so, everything right from choosing the rental space to paying the rent and even raising a concern is via app. So, you can say that Colive is truly the app for Gen Z. Happy Coliving!