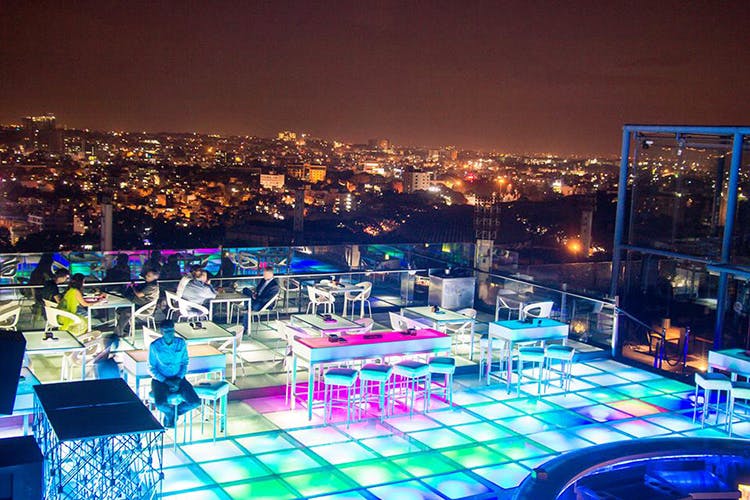 Romance Doesn't Need A Special Occasion. When In Love Every Single Day Should Be A Celebration.
On memorable days, we all want to surprise and give the very best to our special someone, isn't it? For that, most of us plan dinner dates. But many times, these dinner dates turn out to be boring. So, where did you go wrong?
For a perfect dinner date, you not only need a great restaurant that caters to your taste buds but has that perfect ambiance to make the experience truly romantic. This is exactly where a nice rooftop candlelight dinner setting works.
Thankfully, Bangalore is blessed with an awesome weather and 'n' number of romantic rooftop dinner places. So, if you are planning for a perfect rooftop candle light dinner in Bangalore, don't go wrong with your choice this time. Here are the 7 best places that assure you some of the most amazing moments with your sweetheart.
Top 7 Rooftop Candle Light Dinner in Bangalore
1. Om Made Café
Rooftop made eccentric, that's exactly what defines Om Made Café. A simple place which was transformed beautifully to a peaceful setting with potted plants and canopy shades. If you are planning for a casual rooftop candle light dinner in Bangalore under the silver moon and twinkly sky, this is the perfect place to be. This European restaurant serves few of the most delectable continental dishes accompanied with wines only.
Where: Koramangala 5th Block.
2. The 13th Floor
Just like the name suggests, this restaurant is one of the oldest in Bangalore and is set on the 13th floor offering you the finest views of the surroundings. This place is highly recommended for having a private rooftop candle light dinner in Bangalore. The atmosphere of the place is what draws the maximum number of people here but the food is what keeps them coming back.
Where: Barton Centre, 84, MG Road
3. Rim Nam
One classic favourite in the city, and even today the patrons cannot really get enough of the beauty and charm of this restaurant. Rim Nam is one luxurious place set amidst nature, adorned with beautiful lanterns that tune the romantic mood perfectly. 'Rim Nam' essentially means 'by the water', this is a floating restaurant that offers scrumptious Thai Cuisine and Fresh Seafood. Owing to its perfect setting, this place is picture-perfect to enjoy a nice cozy dinner with your special someone.
Where: The Oberoi, 37-39, MG Road
4. Persian Terrace
A luxurious 5-star restaurant known for its perfect romantic rooftop ambience. Just like the name suggest this Persian-themed place is beautifully lit up with classic lanterns after dark and the tables are illumined with aromatic candles and tea lights creating that perfect intimate feeling. Coming to the view from the restaurant, it is totally breath-taking. They serve authentic Persian and Middle Eastern food with some of the most mouth-watering mezze platters.
Where: Sheraton Grand Bangalore Hotel at Brigade Gateway, Malleshwaram
5. Tao Terraces
An enticing place with the most perfect setting that will surely thrill your partner. The romantic air of this place is bound to make you and your sweetheart fall in love over and over again. Enjoy delectable Pan-Asian food in the dim light under the silver moon. If you are looking for a luxurious romantic place to treat your partner then Tao Terraces is ideal.
Where: 5th Floor, 1 MG Mall, Opposite Vivanta by Taj, MG Road
6. Fenny's Lounge and Kitchen
This place is going to remind you of Goa. Named after the most popular Goan drink "Fenny", this restaurant is known to offer the most perfect romantic rooftop candle light dinner in Bangalore. The beautifully done décor and the candlelit walls add to the aura and elegance of this place making it perfect for a dream date.
Where: 7th Block, Koramangala
7. Skyye Bar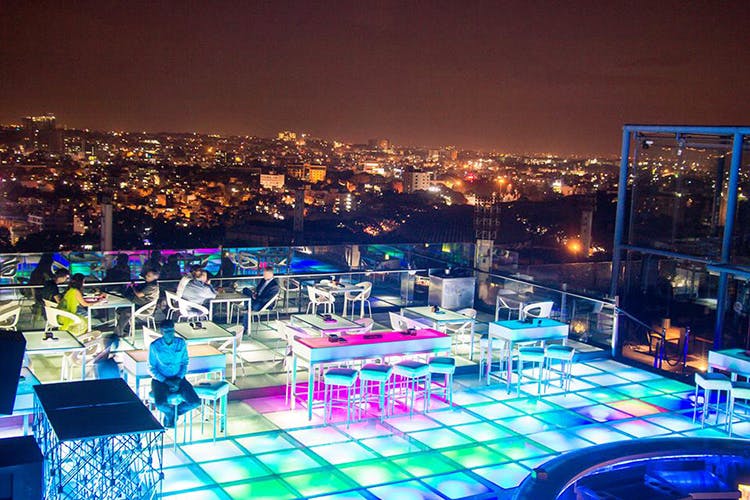 Classy and sexy is what defines this place. Make sure you hit this place after the sunset, well the night will surely do wonders. With the right company and the breath-taking view, nothing can make the moment more perfect than this. Skyye undoubtedly is one of the best pubs in Bangalore, its known for its excellent service. All you need to worry is to grab a booking! Yes, it's packed even on weekdays so make sure you plan much in advance.
Where: Uber Level, 16th Floor., UB City, Vittal Mallya Rd. (Lavelle Rd.)
Now That You Know
Think carefully about what you would want the most when you are on a special date with your sweetheart. A pleasant view, slow romantic background music, or a starry outdoor, once you know what you want, choosing the best one from this list becomes even easier.
Hope you have a great time with your sweetheart, do let us know how it was!