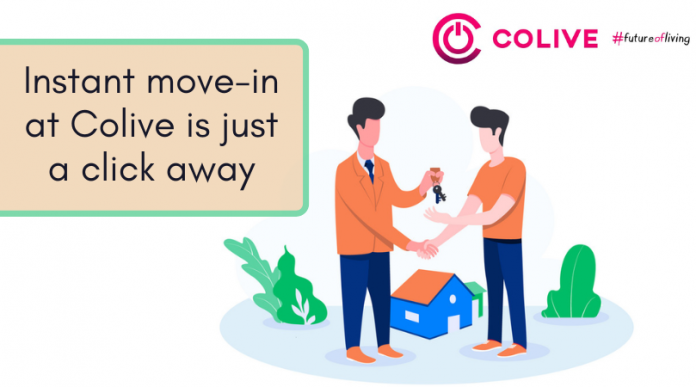 Instant move-in at Colive is just a click away!
Moving into a rental accommodation comes at an additional cost other than the monthly rent. The additional expenses can come in different forms like brokerage amount, security deposits etc. But worry not as we have curated this blog post to share all the information related to the move-in costs. But before we move forward, we have even more important information rather good news for all those seeking affordable rental accommodation in Bangalore.Colive has left no stone unturned in ensuring the best coliving experience for young folks moving to Bangalore for work or study. You get all the desired amenities, furniture and facilities along with instant move-in at Colive. Yes! You read that right; moving into a Colive accommodation does not involve any hidden or additional costs and the best part is that the whole process is app based.
But if by any chance you skip the instant move-in at Colive and plan to experience settling in a new PG then we consider it necessary to keep you informed about the additional expenses that may follow. Read on:
Brokerage Cost
When finalizing a PG or apartment for rent; make it a point to have all the terms and conditions clear well in advance. Because you don't want to be surprised about the additional brokerage costs upon finalizing everything.
Security deposit
The security deposit can range anywhere from 3 months to 10 months. So, don't be surprised if the landlord opens up about it once you reach the rental accommodation with all your bags and baggage. Our suggestion in your favour is that better check out Coliving options with instant move-in at Colive. Not only will you have to pay just 1 or 2 months security deposit but even the electricity bills will also be inclusive of the rent.
Packing and moving
If this is your first rental accommodation then you can pack and move with just the important stuff from your home and avail the desired stuff based upon your requirement in the new apartment. But if you are relocating within the city then you will probably have to spend some money on packers and movers to help sweep all your belongings including furniture, if any from your existing accommodation to the new one. We suggest you to hire a good packing and moving service so that your stuff is relocated safely.
So, having all the information in advance can help in avoiding the hassles at the time of moving into a new rental apartment. Happy Coliving!!