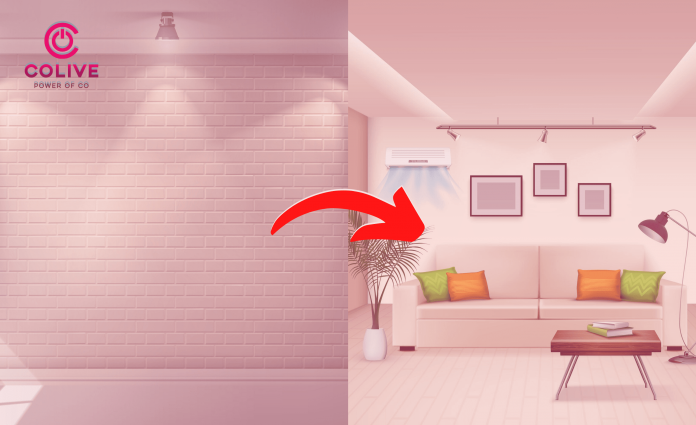 The coronavirus which began in China's Wuhan back in December 2019 left the world in utter panic and chaos. The pandemic which began from a small province of China soon spread to the world and nobody had imagined the impact of the virus and the disaster it could bring to global economies and our lifestyles which can't be the same ever. The calamity of Coronavirus is now a global health emergency. More than 7.9 Million positive cases of the virus have been detected so far and around 400,000 casualties have been reported globally. Most countries of the world, especially our nation has declared a total lockdown to mitigate the risks of the COVID-19. But the question that remains to be answered is when will normalcy return back to our lives? Conventional Homes or Coliving Spaces —  which will be suitable especially for millennials staying outside their hometowns?
Talking about India, more than 1,45,000 cases of Coronavirus have been detected so far, leaving the nation in chaos and panic. So far many adequate measures have been taken by the concerned authorities to prevent the spread of the virus and slow down its pace. Yet, every day hundreds of positive cases of COVID-19 are being reported by the media. Steps like complete lockdown were actively enacted —  an initiative was taken by the Central Government in wake of the rapid spread of the virus back in March and after strictly being followed for three months and the fifth phase has been enacted throughout the Nation with a few restrictions. But will the nation be totally safe, post the fifth phase of lockdown especially with the cases in India rising with a pace of thousands per day? Homeseekers across big cities like Bangalore, Hyderabad, and Chennai are now left to wonder where will they find a safer stay —  an apartment, PGs or Coliving spaces?
There have been many implications of the lockdown on all of us. People now have to stay at their homes, maintain hygiene, take precautions, and even the corporate sector has directed its employees to work from home. The directives suggested so far by the concerned authorities are helping people feel safe but the health alarm the pandemic of COVID-19 has triggered has left all of us insecure with numerous cases being detected across the country on a daily basis. Though most of the people find it hard to stay at home in quarantine, we as people must work hand-in-hand with the concerned authorities to mitigate the health risks of COVID-19.  Yet it's true, that it has disrupted our lifestyles and that we might find it hard to get along with. But, since health is wealth, we need to adapt to it for the well-being of ourselves as well as society, with the unforeseen future that lies ahead especially with the virus. 
Talking about the millennial generation, which forms 47% of the total workforce of India, their lives can never be the same again. They will need to ensure their health first before going back to work. They will need to make sure their surroundings comprising of the place they stay, their workplace and the medium of transportation they use to travel are hygienic, safe, and sound. They need to make make sure that their workplace is hygienic and clean with adequate infrastructure to uphold it. The medium of transportation that the millennials will use to travel post the lockdown whether it being buses, autorickshaws, or metros —  they need to make sure that they are clean and hygienic. Such is the case with the place they would like to stay in, in the coming months. The millennial generation will need to make sure that the place they are staying is clean, hygienic, and well-maintained. Then comes the decision of whether to move in conventional rentals like PGs and apartments or Coliving spaces. 
All of us have read and known the lesson of 'Health is Wealth' for long. This applies to the places we choose to live too as we do not want to end with the Coronavirus. But there are many factors affecting your home choices like budget or availability. So getting back on track, what would ideal for you —  conventional rental homes or coliving spaces? Let's elaborate. 
Are Conventional rental spaces safe? 
As a millennial, are you looking for a suitable home outside your hometown across Chennai, Bangalore or Hyderabad? Behold the many challenges you will face in your home search, especially given the ongoing health crisis. You will surely face numerous challenges once you pack your luggage and decide to move to another city. The first challenge will be finding a suitable place to live with a good marketplace and options of commutation to reach your workplace on time. Secondly, you will face the challenge of finding an affordable home, which in case you want to live closer to your workplace, will be difficult. 
Book Now – Pg In Bangalore
Additionally, there are many other challenges that the pandemic of COVID-19 has put forth. A major criterion to choose a suitable stay for you will be a place that has the best safety standards and is clean, hygienic, and essentially well-maintained. Moreover, with the corporate sector now directing most of the employees to work from home, the home seekers will now seek adequate infrastructure to efficiently work from home without fail. Earlier, where cheap home was a major requirement for people staying outside there hometown, now people look for a safer stay especially given the widespread of the coronavirus. Thus, they will now look for a safer stay and choose coliving spaces over conventional rental spaces. 
What are Coliving Spaces and how are they safer? 
Coliving spaces is a brand new concept in the contemporary world, of community living of like-minded individuals, living together in a shared space. Much like the other major sectors, the coliving industry too has been affected by the outcomes of the pandemic of COVID-19 yet it still has a long way to go. Though the growth of the industry has been lopsided for a couple of months, yet it has the potential to get back on track quickly and mitigate the losses suffered in the wake of the COVID-19 crisis. Coliving spaces will now be more preferable for millennials over the conventional rental spaces. The demand for Coliving spaces will undoubtedly undergo a major boom among the millennials post lockdown for many reasons. 
Home seekers, post the lockdown and the COVID-19 pandemic will be looking out for a clean and hygienic place to stay instead of a cheap place to stay, lacking enough safety and hygiene standards. Moreover, seeing their employees asking them to work from home, the millennials will now put more focus on homes with facilities to work from home effectively and will consider co-living spaces their obvious choice. Moreover, they will now want to stay close to their workplaces as commuting to far distances wouldn't be considered safe. Coliving spaces are especially located near IT parks and in close proximity to major corporate offices and thus will be ideal for them. 
Talking about considering a proper place to live across cities like Bangalore, Chennai, and Hyderabad, there are plenty of them. But the global pandemic of coronavirus and the health alarm it triggered has changed the thinking of millennials manifold. Earlier, where cheap living spaces were mostly preferred by the millennial generation, whether it was a shared space like a PG or an apartment, living spaces with the best safety standards are now more preferable for them. Homeseekers now more than ever want homes to have safety features that include the screening of guests, visitor management, and emergency support in case of health issues. And, the Coliving spaces actively provide these top-notch features to all their tenants and are in fact, sure to become their "ICE – In Case of Emergency" when they are staying away from home. 
Book Now – Pg In Bellandur
So these were the many reasons why while getting back on track, post the ongoing health crisis and lockdown, getting Coliving spaces will be more preferable for all home seekers over conventional rental homes. 
New in the city and looking for a clean, hygienic and well-maintained place to reside in at an affordable price? Enjoy a comfortable stay at Colive which has taken a number of steps to keep its residents safe in the ongoing health crisis, without compromising the services offered at its facilities located near prime tech and business parks around Bengaluru, Hyderabad, and Chennai. At Colive, we always care about the security and safety of our residents. Visit the website of Colive to know more!