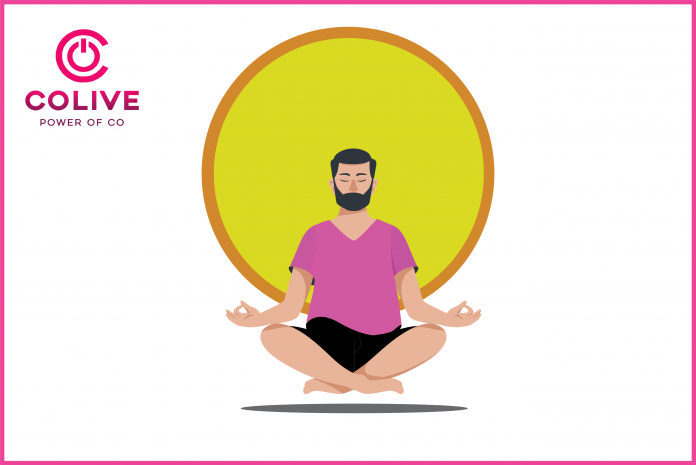 The coronavirus crisis is falling heavily on the world with numerous cases of it being detected worldwide every day. More than 25 million people have been affected by the pandemic so far. We are constantly being told to stay fit and healthy. And the best way to stay fit is with some yoga at home which can keep your body and mind healthy.
In India, more than 3.5 million cases of the Coronavirus have been reported. For staying safe and secure all services have been closed except for emergency services like grocery stores, medical stores, and hospitals. Moreover, all corporate offices and business parks have been shut down and employees have been directed to work from home for their safety and reducing the risk of transmission of the disease to others. Sitting still at home all the time and not moving out during the lockdown phase might harm your health. This is why you need to practice yoga at home to stay fit and healthy and keep away from the ongoing health crisis. 
Staying fit and healthy is the need of the hour in the advent of the ongoing crisis. We can't go down the streets to take a walk or visit a gym during the lockdown phase. Most of the people these days working from home have to sit in a chair, staring at their systems for several hours as there shouldn't be any hamper to your tasks during the lockdown phase. 
But research suggests that sitting for long periods and staying at a place constantly can have adverse effects on your body both physically and mentally. If you aren't engaging in some physical activity, you are prone to health issues like high blood pressure and cholesterol which can increase the risk of heart diseases, obesity and even diabetes. 
Being physically active on the other hand, helps you stay fit and healthy and reduces the risks of the diseases stated above. It reduces mental stress and you will naturally start to feel positive and be active throughout the day. Working for long periods can make you feel tired but by taking out some spare time to take care of yourself will make you more productive at work. 
Most people complain that since they are under lockdown their lifestyle has changed many times. They are stuck at home and have to do all household chores themselves as domestic helpers aren't available during the phase of lockdown. But to stay fit and healthy, you must show some activeness and bring in ways like doing yoga at home to achieve it. 
But doing yoga at home requires some hard work and dedication from your end and employees working from home can often find it difficult to do so. But don't worry! Colive has got you covered with 7 things to consider when doing yoga at home. 
Also Read: 7 Best Plants to Keep in a Shared Space to Spread Positivity Around
What to consider when doing yoga at home?
1. Keep your mind free from all distractions
Much-like finding some free time from your usual time is important for doing yoga at home, keep yourself free from all distractions is essential too. By distraction, we not only mean the noisy neighbours and kids around but also your habit of checking your phone for notifications constantly. Keeping your mind free from distractions is a necessary step to consider before even planning to do yoga at home. 
2. Find the perfect balance between mind and body
Though doing yoga at home involves a lot of hard work but it also necessary means keeping your mind free and keeping a healthy balance between body and mind. You know your body well and know your limits. Thus, it becomes important for you to bring in the balance between your body and mind. 
Thus, it is often suggested that before considering to do yoga at home, you must do meditation and breathing exercises or pranayama as this will help you find the balance between your body and mind.
3. Get a Yoga Instructor
You can strictly yoga an exercise. This is because unlike normal exercises, doing yoga at home involves sitting in a correct posture and breathing properly. The first-timers might find doing it a bit difficult. This is the reason why it is often suggested that they must seek help from a proper trainer. 
Doing some yoga poses incorrectly might even result in injury. This is the reason why if you are not sure what you're doing, you must consult an expert to learn first. You can even join free yoga sessions online on websites like cure.fit.
4. Do not Hurry Up! 
When doing yoga at home, you need to find ample spare time to relieve yourself from stress. This is that time of the day which you have chosen to focus on your health. This is the reason why you shouldn't rush into doing yoga at home. 
Yoga requires a lot of focus and if you rush into it, it might cause you more harm than good.
5. Do it at the Right Time
So you have decided to do yoga at home to maintain your health and stay fit but are you doing it at the right time? Ask yourself this question because as much as yoga needs flexibility and correct posture, it also requires a good time too. 
It is best suggested that you must do yoga either early in the morning, amid fresh air or during the evening. Yoga surely benefits the body but doing it at the right time increases the benefits manifold.
6. Choose the Right Equipment
When considering to do yoga at home for the first time, your investment should also be towards choosing the right types of equipment. You should consider getting yourself a yoga mat on which you can easily perform all the asanas. Moreover, some comfortable attire like yoga track pants can help you as well.
7. Keep trying over and over
At last, we would recommend you to never give up and keep trying again and again. Yoga isn't a thing which can be perfected in a fortnight. It is affected by many factors like your body type and stamina. You should start with simple and easy asanas and then proceed to the harder ones.
Yoga is often defined as the union of soul and body. It relaxes your body and mind. While the world is struggling with the COVID-19 crisis, doing yoga at home is the only way to maintain positivity and stay healthy and fit. It nearly seems impossible for millennials to find time to practice yoga but our 7 tips will surely work for you. So, why wait? Find your inner peace and start practising yoga at home today!
We, at Colive, help you get rental facilities at affordable rates but also have premium amenities, and a chance to build your community of like-minded people. Moreover, we also offer them a high-speed internet 24×7 to let them have a stress-free work from home and bide their time in their facilities during the phase of the ongoing crisis and lockdown. Visit the website of Colive to know more!