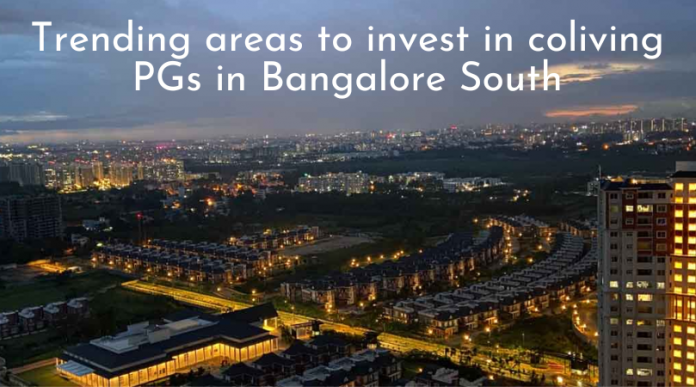 Trending areas to invest in coliving PGs in Bangalore South
South Bangalore is famous owing to its developed infrastructure, boom of IT companies and good connectivity to major highways of the city. Though this area has evolved a lot over time yet its greenery, lakes and parks give the feel of old Bangalore. So, if you are interested to invest in coliving PGs in Bangalore South then here are the top 4 areas to consider.
Below listed are the top 4 areas to invest in coliving PGs in Bangalore South:
1. Bannerghatta
Bannerghatta is one of the most favourite destinations for not just builders but also for seekers of coliving PGs in Bangalore South. Reason being; the location's good connectivity to posh areas like BTM Layout, Electronic City and JP Nagar. Apart from being in close vicinity to several top IT companies, Bannerghatta Road offers well-planned infrastructure,  including gardens, hospitals, schools, colleges, malls, restaurants, and entertainment venues.
2. Sarjapur Road
The residential development is growing at a very fast pace in this area of Bangalore. The property rates are also quite reasonable here. The Bangalore-Mysore Infrastructure Corridor (BMIC) and the Global Tech Village are the main reasons for its dazzling growth. And you can find good hospitals, reputed educational institutions, and entertainment centresin this locality; so, this is a good area if you wish to invest in coliving PGs in Bangalore South.
3. Kanakapura Road
Kanakpura Road is in close proximity to IT hubs in Electronic City, Sarjapur Road and Bannerghatta Road. There are sundry residential project options like premium villas and apartments to choose from. And if we talk about the amenities then right from shopping complexes to malls, schools and universities are available nearby to make life easier. And the best part is that traffic in this area is quite less as compared to other parts of Bangalore. Hence people looking for coliving PGs in Bangalore South, opt for this location.
4. Electronic City
Electronic City is one of the largest IT parks in India and a preferred location in Bangalore South for coliving PG investment. It offers excellent residential properties with top-notch urban amenities. The pros of opting for this location are the presence of good IT companies as well as other amenities like major hospitals, educational institutions, commercial complexes, and shopping centers. Staying in this area, one gets easy access to some of the key locations of both North and South Bangalore.
5. Jayanagar
Jayanagar, located in the heart of Bangalore, is a residential locality cherished for its serene ambiance and strong sense of community. It is characterized by tree-lined streets, lush parks, and a peaceful atmosphere, providing a welcome contrast to the city's hustle and bustle.
One of Jayanagar's unique features is its well-structured layout, divided into different blocks, each with its own distinct charm. Residents here have easy access to a plethora of amenities, including top-notch educational institutions, healthcare facilities, shopping centers, and recreational spaces. This makes it an ideal choice for families looking for a well-rounded living environment.
The iconic Bull Temple, housing a massive monolithic Nandi statue, is a cultural and spiritual landmark in Jayanagar. It reflects the neighborhood's rich heritage and history.
Jayanagar's well-connected public transportation system ensures seamless connectivity to other parts of the city, making it a practical choice for daily commuters. Additionally, the local markets in Jayanagar are bustling hubs where residents can find a variety of goods and experiences.
Check out: The finest PG's in Jayangara
6. BTM Layout:
BTM Layout, short for Byrasandra, Tavarekere, and Madivala Layout, is a thriving locality in the southern part of Bangalore. This well-established neighborhood is known for its blend of residential and commercial spaces, making it a bustling and dynamic area.
One of BTM Layout's key advantages is its strategic location. It enjoys excellent connectivity to other parts of the city, with arterial roads like Outer Ring Road and Hosur Road nearby. This accessibility has made it a preferred choice for both residents and businesses.
Check out: The finest PG's in BTM Layout
Coliving PGs in Bangalore South are gaining weightage. So if you are planning to invest in coliving PGs in Bangalore South then go for any of the above mentioned locations for assured returns on investment.
Also read: Expand your knowledge by exploring our blog: 'Checklist Before Buying Any Property.