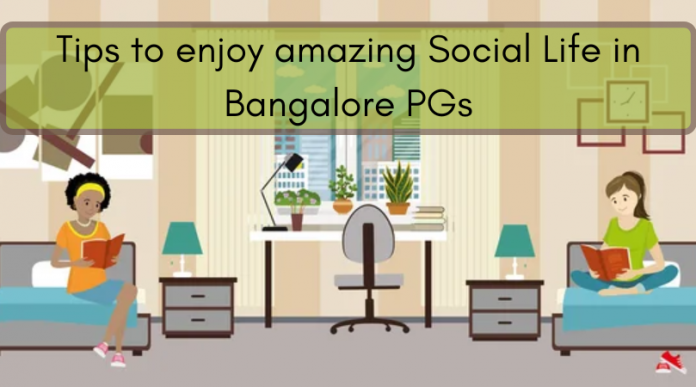 Tips to enjoy amazing social life in Bangalore PGs.
Humans are social animals and thus are bound to thrive happily when living in community. But when you move to a new city say Bangalore; the one question that keeps lingering in your mind is that how can you have a good social life in Bangalore PGs. And the question is valid as everything will be new for you; be it friends, PG mates, room, and even the surroundings. How can one adjust with this sudden change? But wait! What if we tell you that Colive PG will be one such place where you can meet like-minded people who would not just become your good friends but also prime support in this new journey. So if you are looking for a PG in Bangalore then consider Colive as your prime option.
This blog will discuss how you can enjoy amazing social life in Bangalore PGs. Read on:
Being surrounded by friends and acquaintances keeps you happy and refreshed. And when you are staying in a PG, your room mate is your best mate. Colive understands this youngster's need to socialize and thus offers twin and triple sharing rooms to keep you closer with friends. This gives you the opportunity to not just share the room but also share some good memories. Having a good roommate also means that you never feel lonely and bored while staying in a completely new environment. Gaming, playing sports, hanging out, study sessions, and many more fun activities in PG turn into group activities when your roommates are your good friends.
Late-night Coffee/Tea Sessions
Coffee and tea are a source of energy for many. College students need to balance between both study and enjoyment. And when in PG, night seems like a good time to focus and study well.And when you and your PG mates are studying together then how you can miss out on the energy boosting Tea/Coffee sessions to keep going till late until your study target is achieved. Colive provides you the facility of an in-house cafe that operates 24/7 to help you with your late-night cravings. It is the perfect spot to spend time with your roommates and make the bond grow even stronger.
Attend Community Events Together
Colive is a PG in Bangalore and home for students and working professionals coming from different cities and backgrounds. Many times the new PG residents are not familiar with the local culture which can cause anxiety and stress. Hence, it becomes very important to help people settle and cope with the new environment. Colive eases this hesitation and anxiety by organizing weekend parties to help people bond with each other. Festivals are a doorway for people from different backgrounds to come together and celebrate the essence of different cultures. You can have great fun in these events with your roommates. This is yet another way to evolve your bond and carve beautiful memories with each other.
New city offers a lot of new things to explore. And when in Bangalore, you have the opportunity to explore a lot of new places and eateries. This means you will never run out of places to visit on weekends with your roommates. Since Colive PGs are spread in different popular areas of Bangalore, you will easily find a dozen of explore-worthy places nearby.
We have always evolved as part of the community and wish to evolve the same way even when away from home and family. The community not just makes us feel secure but also creates an environment of togetherness. And least to say, being with friends and like-minded people brings out the best in us and makes the social life in Bangalore PGs a lot amazing.