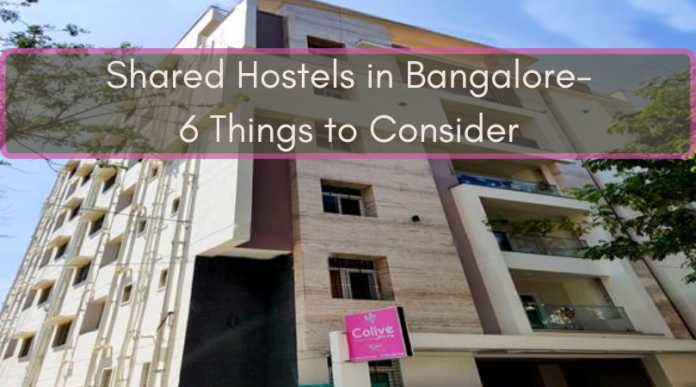 Shared hostels in Bangalore – 6 things to consider
Is it your first time of moving to a new place for study? If yes, then having the fear of starting everything from scratch is very common. Hostel is considered as one of the most cost-effective accommodation options for students moving to a new place for further education. But accommodating in the new environment can be daunting during the initial days when you are still struggling to figure out basics like daily chores, meals etc. But Colive shared hostels in Bangalore are a safe and affordable option to consider amongst all the PGs and hostels that are available. The reason is that we ensure to provide all the facilities that hostels must have. We make sure your stay is comfortable and completely worth every penny.
The tenure of staying at a hostel starts somewhere from 1 year and could extend to maximum of 3 to 4 years. Since hostels are not for short-term living every minute detail about the place must be taken into consideration before finalizing. Everything ranging from food to room size or washrooms should be according to your expectations as it will be your home for a couple of years. Here are some important features of a good hostel:
1. Lively common spaces and comfort
The hostel must have some cheerful common areas for students to spend some good, recreational time with each other. There should be a gym, TV room, and sports area having both indoor and outdoor games. This would keep you energetic and ensure that you are not hooked to your phone or laptop all the time.
2. Good Hygiene
Clean and well sanitized washrooms are a necessity. While living in a hostel, you just have to share washrooms with your roommates and hence regular cleaning of the washroom is a must. At Colive, we make sure that the washrooms are cleaned and sanitized every day. Apart from this, we also maintain the utmost quality of hygiene in the other areas of hostels as well like kitchens, common areas and even rooms, which our housekeeping staff cleans regularly.
3. Connectivity
Being in a college, you may regularly have outings with friends which make it a must to have well connected transport facility from hostel. This not only makes it less troublesome when you are going in or out of the city, but also ensures that you reach back safely and timely to your hostel. And if malls, cafes, and other necessary amenities are in close vicinity then it is an added advantage.
4. No boundations or rules
At Colive, we believe college students are mature enough to decide right and wrong for themselves and hence we never aim at imposing strict rules. We expect you to behave decently and have a sense of mutual respect for each other.
5. Unlimited Wi-Fi
Nowadays, good internet connection is a must for study as well as for scrolling through social media. The Colive sharing hostels in Bangalore provide unlimited free high-speed Wi-Fi. The good internet connection gives you the advantage of binge-watching and streaming or gaming without interruption.
6. Good food
Good food is good mood! Moving away from home, one thing that students miss the most is good home cooked food. Unlike the basic Hostel food, we provide students with fresh and hot meals daily. Colive kitchen staff is well trained to bring you sumptuous meals. We serve fresh food which is healthy and tasty at the same time.
So, now you know the list of facilities that need to be taken into consideration before choosing a hostel. At Colive sharing hostels in Bangalore, we have made sure to provide you all the required facilities at affordable monthly cost. Get in touch with us for more information.