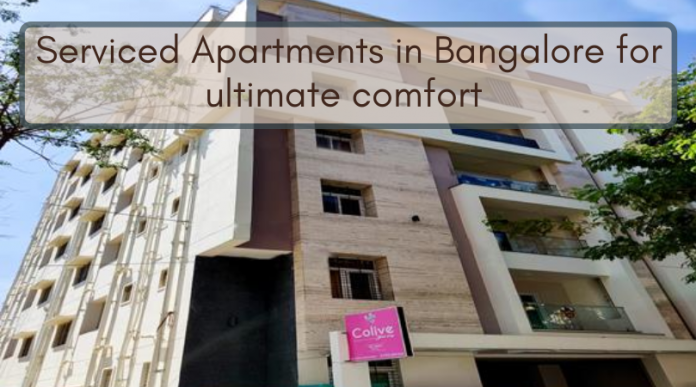 Serviced Apartments in Bangalore for ultimate comfort
Are you planning a visit to the bustling city of Bangalore and seeking a comfortable and convenient place to stay? Look no further than serviced apartments in Bangalore. These accommodations offer a unique blend of comfort, convenience, and affordability, making them an ideal choice for both business and leisure travelers. In this blog, we'll explore the world of serviced apartments in Bangalore and why they are the ultimate choice for a comfortable stay.
Book a Paying Guest PG In bangalore
What are Serviced Apartments in Bangalore?
Serviced apartments in Bangalore are fully furnished units available for short-term or long-term stays. They offer a range of amenities similar to traditional hotels but with the added advantage of a homely atmosphere. These apartments come in various sizes, from studios to multi-bedroom units, catering to the diverse needs of travelers.
Key Features of Serviced Apartments in Bangalore:
Furnished Comfort: Serviced apartments are equipped with stylish and comfortable furniture, providing a cozy and homely feel. You'll find spacious living areas, well-appointed bedrooms, and fully equipped kitchens.
Convenient Locations: These apartments are strategically located in prime areas of Bangalore, ensuring easy access to business districts, tourist attractions, and shopping centers. Whether you're in town for work or leisure, you'll find a serviced apartment that suits your needs.
Amenities Galore: Serviced apartments in Bangalore offer a wide range of amenities, including Wi-Fi, flat-screen TVs, laundry facilities, and even swimming pools and fitness centers in some cases. You'll have everything you need for a comfortable stay.
Cost-Effective: Compared to traditional hotels, serviced apartments often provide better value for money, especially for extended stays. You can enjoy spacious accommodations and the convenience of a fully equipped kitchen, saving on dining expenses.
Privacy and Space: Serviced apartments offer the privacy and space you need, whether you're traveling alone, with family, or for business purposes. You'll have separate living and sleeping areas, making it feel like a home away from home.
Why Choose Serviced Apartments in Bangalore?
Flexibility: Serviced apartments in Bangalore offer flexible rental durations, allowing you to choose a stay that suits your needs, whether it's a few days, weeks, or months. This flexibility is perfect for business travelers and tourists alike.
Homey Atmosphere: Unlike hotels, serviced apartments provide a homely ambiance. You can cook your meals, relax in a spacious living room, and enjoy a comfortable night's sleep in a separate bedroom.
Cost Savings: If you're planning an extended stay, the cost savings of serviced apartments can be substantial. The ability to prepare your meals can significantly reduce dining expenses, and you won't have to worry about laundry costs with in-unit facilities.
Ideal for Business Travel: Serviced apartments are an excellent choice for business travelers. They offer the convenience of a home office setup, allowing you to work comfortably during your stay. Many apartments also have high-speed internet access.
Safety and Security: Most serviced apartments in Bangalore prioritize the safety and security of their guests. You can enjoy your stay with peace of mind, knowing that these accommodations often have security measures in place.
Serviced apartments in Bangalore provide the ultimate comfort, convenience, and value for travelers seeking a home away from home. With their well-furnished interiors, prime locations, and a wide range of amenities, these apartments offer a delightful and cost-effective lodging option. Whether you're in Bangalore for business or leisure, consider booking a serviced apartment for an enjoyable and comfortable stay. Experience the charm of Bangalore with the added comfort and convenience of serviced apartments in the heart of the city.
If we had to describe Serviced apartments in one line then it would go like – Hotel like services and home like comfort. Yes! That's what Serviced apartments in Bangalore are all about. We know that you are exceptionally curious to know more about this rental accommodation category and that's why this blog will provide you all the necessary information related to what all you can expect from serviced apartments in Bangalore.
Conclusion
So if we describe in a nutshell then Serviced apartments are more like home away from home owing to the freedom and comfort that they provide. Moreover, along with the room, you also get access to the common spaces like play area, fitness room, etc. Last but not the least Serviced Apartments in Bangalore are a cheaper alternative to many other rental accommodation options that fail to provide even half the facilities that you enjoy here at a very cost effective monthly rent.
Now when you are loaded with all the details about the Serviced apartments in Bangalore then let's also give you a sneak peek into where you can find one. The answer is Colive. Here you can have sundry Serviced apartment options to choose from based upon your area and budget preference. So quickly visit our website to grab the best deal for yourself.
Are you searching for PG accommodations in Bangalore? Look no further – discover more below!