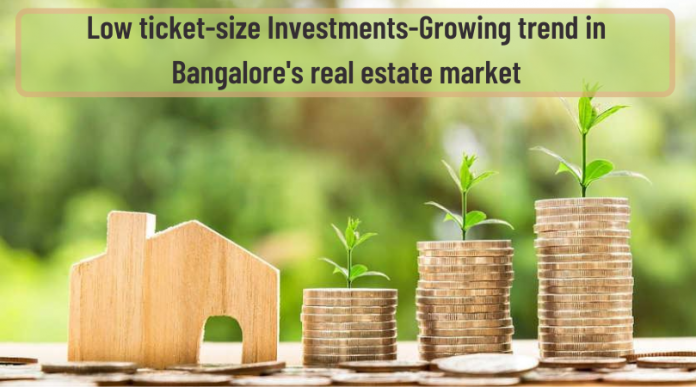 Low ticket size investments – Growing trend in Bangalore's real estate market
"Don't wait to buy real estate, buy real estate and wait."
This quote by Will Rogers very well defines the value of investing in real estate irrespective of the investment being big or small. Nowadays the investment criteria in Bangalore have seen a drastic shift towards small size houses, making them the desired ticket size for the present day real estate investors. Though, people had been interested in low ticket size investments since decades as they are affordable.But as the real estate market evolved and trend of luxury living was introduced; the affluent class undoubtedly upgraded to 3 and 4 BHK apartments loaded with all modern amenities.
This was believed to be the way forward in Bangalore's real estate market and thus more of such units were developed and sold to people who could afford this lifestyle. However, the percentage of target audience for the luxury housing segment is as small as 10-20 per cent. The remaining section includes families that still continue to live in houses with smaller configurations. This implies that majority of population is on the lookout for affordable property for both residential as well as investment purpose. Even if you consider the newbies planning to buy home and settle in Bangalore; they too can afford a small size apartment rather than a luxury villa. Hence, after a few years of saving a percentage of their income; they can plan to shift from rental accommodation to a house of their own.
But does that mean you are destined to live in a small house all your life? Not at all! You can always go for an upgrade in your property which does imply that you can buy a bigger one once it seems affordable. But another aspect of upgrading the house is revamping the existing one. This could mean including additional room, shifting from an old type of construction to modern one, getting more out of smaller spaces in your house and much more.
Options are unlimited in small ticket size investment range and you can very well choose what best suits your requirements. The ones who are planning to buy property just for the sake of investment are also good to go for small ticket size investment as it is affordable and easy to put on rent too.
Hence, there is no doubting the fact that small ticket size investments have made a drastic comeback and it's here to stay.