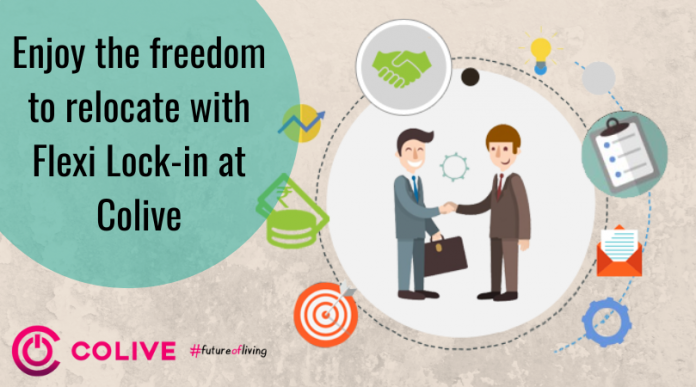 Enjoy the freedom to relocate with Flexi Lock-in at Colive
When you shift to a new city for study, work or even business; it is not feasible to buy a living space.Hence, renting a PG comes as an easy option. But quite often than not, it is not as easy as it sounds until you have thorough information about the process and procedure. You can go for renting a flat, PG or coliving space based upon your requirement and budget. But before making the final decision of renting a particular property it's very important to be aware of the terms and conditions stated in the rental agreement. In general, there are three types of clauses related to renting a space. These include Rental/Lease period, Notice period and Lock-in period. People are quite often aware of the rental and notice period but hardly have any knowledge about the Lock-in period.
Lock-in period in the rent agreement means the duration before which the tenant and the landlord cannot terminate the agreement. In case the Lock-in period is 6 months or 1 year and you have to relocate before that for any specific reason then you are liable to provide the security deposits so that the owner gets fortified. But don't you feel that there should be flexible lock-in period to ease your decision to shift to a new property or even relocate to a new city whenever you wish to without any hassle of paying extra amount to the landlord. Yes? We feel you bro! And that's why we have flexi-lockin at Colive.
Your decision and requirements are utmost important at Colive and hence you are free to choose the Lock-in period with the Flexi-Lockin at Colive. You wish to lock-in for 3 months? Cool! You wish to Lock-in for 6 months? Your wish! Basically the flexi-lockin at Colive frees you from the baseless terms and conditions that landlords force on the tenants. Isn't it cool?
So, people impressed with the feature of Flexi-lockin at Colive must visit the Colive website or app to select the best suited PG for themselves and enjoy the best ever coliving experience. Happy Coliving!!