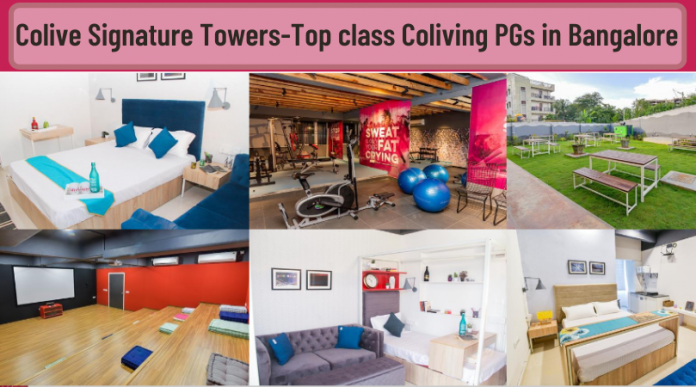 Colive Signature Towers-Top class Coliving PG in Bangalore
One word that best describes Colive Signature Towers is 'Luxury'. And this is the reason that is categorised among the best Colive powered Coliving PGs in Bangalore. Right from the location to interiors and facilities of Colive Signature Towers; everything is top class and premium. Let's give you a brief overview of the property and its features for better understanding. Read on:
Room Highlights
Colive Signature Towers is thoughtfully crafted with urban design and interiors to give you the feel of luxury at every corner of the room. The room is equipped with Bedside table, cupboards, premium bedding, premium sofa, mini fridge and reception.
Services Included
When looking for a PG, you always yearn for more facilities at lesser cost and this is exactly what you get at Colive Signature Towers. In other words, you name the facility and it is available for you! You get Bi-weekly housekeeping, power backup, community water purifier, electricity, 50 GB high speed internet, repairs, and community washing machine. You can also subscribe for the meals based upon your requirement. The list does not end here as these are just the basic facilities. The other exciting features of this property include fitness room, pool table, co-working space, cinema room, lounge, terrace lounge and last but not the least- the exciting events on weekends.
Safety Features
Safety of tenants and their belongings is priority for Colive and hence the property is well equipped with all the desired safety features like Central security monitoring system, access control, CCTV, SOS/Emergency response and security. Even the locks of the rooms are digitally operated for easy usage and effective security.
Rating and Monthly rental
While the features of the property are themselves enough to ensure that the property is top-rated. Based upon customer reviews, the rating of Colive Signature Towers is 4.5. And now comes the best part; you get all the mentioned features and amenities at a monthly rental starting from 16k. Awesome! Isn't it?
We are done acquainting you with the Colive Signature Towers features. For more details and 360 degree tour of the property, you can visit Colive website or app. Happy Coliving!!