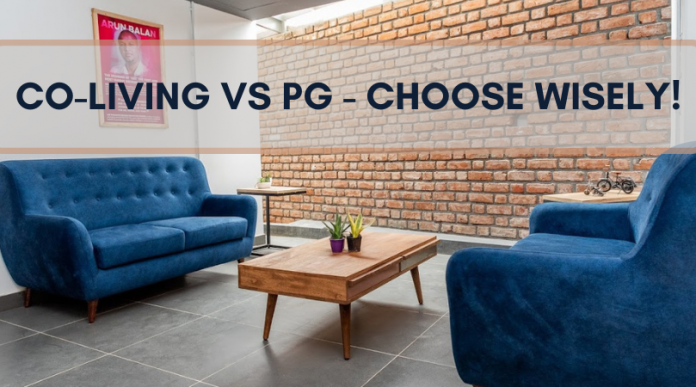 Why choose Co-live over PGs?
Co-living any day! Owing to the various advantages that this rental accommodation setting has to offer. But before listing the advantages, it's important to understand what co-living truly is. Co-living spaces provide a unique experience of living in a new city by combining the benefits of hotels, hostels and PGs. And the best part is that unlike PGs the tenants get the entire apartment or home on rent where they share the living space with other like-minded individuals. And believe us; it's as good as it sounds! Below are some of the advantages of Co-living:
The first and foremost advantage of co-living spaces as opposed to PGs or other rental accommodations is that it is very cost-effective.The reason is that in a co-living space people share the rent and at the same time enjoy add on services such as daily housekeeping, laundry, on-call resident facility management, daily meals, and much more.
Co-living spaces come fully furnished and thus you don't need to carry along the daily use stuff. You get everything, from free WiFi, kitchen equipment, and other daily necessities.
The best part about co-living that lures the millennials towards it is the 'sense of togetherness'. Here you get to interact with cool people from diverse backgrounds which ensure that you don't feel lonely in a new city. And if you have opted for Colive's rental accommodation then the fun simply doubles as regular community events are organised every week so that you can spend some fun time with your co-living mates.
The security and safety of the tenants is given utmost importance. CCTV cameras are installed and the entry in the residence is strictly access card operated. The residents also comply with the rules. Plus, you get cupboard or lockers to keep your valuables safe.
Last but not the least, co-living is again the best option to consider if you are planning a long term stay as here you get the comfort of your home and the opportunity to network with amazing people. And the best part is that you don't need to enter into a long-term agreement. Hence, if you at all have to relocate for any reason then you just need to inform in advance and you are all set to vacate the property without any hassle.
So, we have put forth the advantages that accompany when you choose a co-living rental accommodation. Now you have to decide what best suits your requirements and you are good to go!