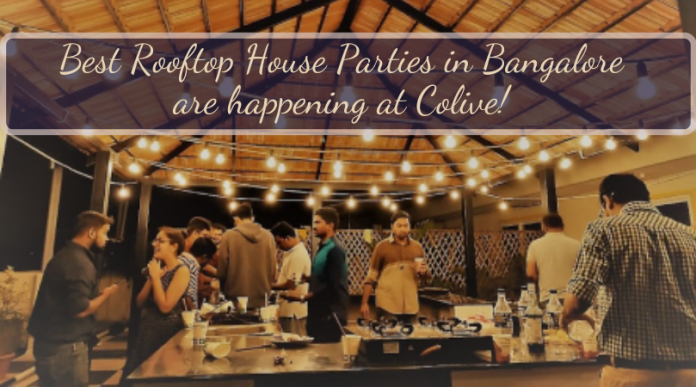 Best rooftop house parties in Bangalore are happening at Colive
We all have been doing house parties since the time we were kids. Remember the golden days when all you cousins used to gather at nani house to spend fun time together and relish the yummy delicacies prepared with love. From those old school house parties, we have definitely grown to the modern house parties on a fancy terrace with cousins and friends.  But the joy and excitement of meeting everyone, playing games together and dancing madly remains the same. But wait… you are moving to Bangalore for new job so does that mean a full stop on house parties? Definitely not! Coz now you will party Colive style!! So are you ready for the best rooftop house parties in Bangalore? We can hear that loud YES!
As you know, Colive is a technology powered network of fully managed ready-to-move in homes.The Colive powered PGs are stylish, equipped with all modern amenities, and conveniently located in close proximity to IT parks and business hubs. The idea here is not just to provide the newbies with a modern PG but also to provide them an environment where they feel happy and comfortable. The Colive Homes are targeted at single professionals & young couples who prefer living in a social community of like-minded millennials. And the community thrives only by investing quality time together.Colive team makes sure to organise weekend parties at Flagship Club Colive Hubs to bring the community members together and give them the opportunity to interact and enjoy. And the best part about these parties is that you also get to network with so many people from different professions which definitely increase your chances of growth in the new city.
And believe us, each party has something new and fresh to offer, we don't just celebrate the festivals together but also organise Barbeque nights and sometimes a soulful musical night. You can dance, sing, play games, enjoy delicious food and most of all rejuvenate. This pretty much sums up how funfilled these Colive rooftop house parties in Bangalore are. The party calendar is updated on our website every week. And we recommend you to check this calendar on Mondays so that you don't forget the venue by the time you hit the road on the weekend!
Colive residents enjoy the weekend parties and much more without having to pay anything extra apart from the monthly rental amount. So, be a Colive resident and get your free pass to the best rooftop house parties in Bangalore.