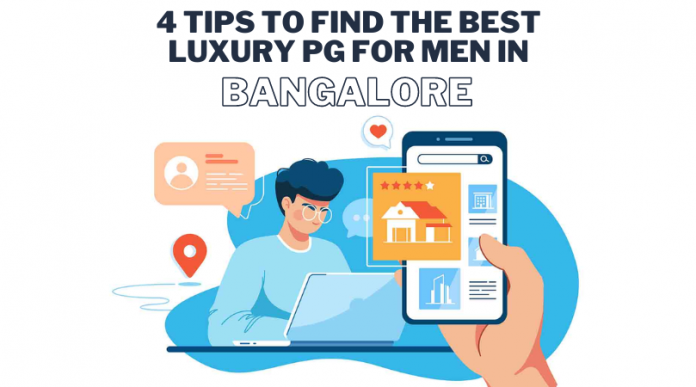 4 Tips to find the best luxury PG for men in Bangalore
The PG requirements for men and women differ a lot as both parties have their own preferences and requirements. In that case, this blog post is especially curated for the men out there planning to relocate to Bangalore. Though Google is a pro at finding you the desired PG accommodation in Bangalore just by searching -'luxury PG for men in Bangalore' but whether the PG is best for you or not completely depends on your definition of luxury. Worry not! Colive team is here to fast track the whole process for you. This blog post lists the 4 basic tips that would prove highly beneficial in easing your search for PG. Read on:
4 important tips to help find the best luxury PG for men in Bangalore:
1. Keep daily commuting easy
The basic first step that can do wonders in making your life easy in a new city like Bangalore is planning your daily commuting.This will prove highly beneficial in finding you mindspace to focus on other things. So find a PG in close proximity to your workplace or college. And believe us; this counts in luxury!
2. Daily meals to satisfy your hunger and taste buds
Good food is good mood! Food that just fills your belly but does not taste good is a big NO. Most PGs are providing daily meals service but in majority of them the food tastes pathetic. And the PG that fails to provide good homely meals cannot be counted amongst the luxury ones. So, when visiting the shortlisted PGs; you must taste their food before reaching the final decision. If you wish to save yourself from the hassles of visiting PGs and feel embarrassed to ask for taste test of food then go nowhere but Colive. Here, we guarantee to serve you delicious meals that are healthy and homely.
3. Fitness freaks favourite-Gym
When it comes to finding PGs for men; availability of a good gym in close proximity definitely counts in luxury. But what if a fitness room is available right within your PG and that too inclusive of monthly rent? It's a win-win situation! And that is exactly what you get at Colive. Available at all Club Colive properties, the fitness rooms are equipped with state-of-the-art cardiovascular & weight-training equipment to provide you premium gyming experience
4. Not to miss out on fun
Once your basic requirements are sorted, you must also check out the good party places near your PG where you can hang out with friends. Generally people have one or two go-to cafes where they love to visit every now and then to spend some quality time. If you are a clubbing freak then spot for yourself a good club to unwind after a hectic week at office.
So in case you are in process of finding a new PG or planning to change your PG for some reason, then the above mentioned tips could be of great use in searching the best PG for men in Bangalore. You can make your search even easier by simply visiting the Colive app or website to view our sundry Colive PGs located in prime localities around the city. The Colive PG accommodations in Bangalore are professionally managed and leave no stone unturned in ensuring you hassle-free stays. Happy Coliving!